Today, the Nashville International Chopin Piano Competition announced the names of the 26 finalists selected from hundreds of applicants to compete in Nashville

NASHVILLE, Tenn. - Sept. 12, 2023 - PRLog -- Administrative Director Joshua Izzard of the Nashville International Chopin Piano Competition today unveiled the names of the 26 exceptional finalists set to compete for $50,000 in prizes in the upcoming competition, taking place at Vanderbilt University's Martha Rivers Ingram Center for the Performing Arts on October 14-15. These talented young pianists were carefully selected by a large screening jury of internationally renowned pianists from a formidable pool of applicants from around the world.

Competition Artistic Director Graciella Kowalczyk was quoted as saying, "The quality and quantity of applications to the 2023 Nashville International Chopin Piano Competition was astoundingly high. Our screening jury faced a daunting task of listening to, reviewing, and rating so many world-class performances that at times it seemed like arriving at the final decision would be impossible. But they did an incredible job, and we could not be more thrilled than to welcome these 26 brilliant young pianists to Nashville."
The names of the finalists pictured in the photo from left to right and top to bottom are (in alphabetical order of last name):
Kenneth Chen - 14 (Canada)
Bingjian Chen - 19 (China)
Galileo Skye Chrisman Caro - 15 (Puerto Rico)
Athena Deng - 20 (Canada)
Kaitlyn Han - 9 (United States)
Katherine Hibbs - 10 (United States)
Leping Ho - 10 (Canada)
Kento Ishikawa - 9 (United States)
Mohan Jia - 16 (China)
Franciszek Kalus - 17 (Poland)
Ariya Laothitipong - 19 (Thailand)
Megan Lo - 16 (Canada)
Ethan Loch - 19 (United Kingdom)
Norman Lu - 15 (United States)
Zhiqian Lyu - 14 (China)
Murasaki Matsutani - 8 (Canada)
Elisey Mysin - 12 (Russia)
André Peck - 13 (United States)
Andrew Petrescu - 14 (United States)
Rae Yue Pung - 20 (Singapore)
Ryan Sheng - 19 (United States)
Kiron Atom Tellian - 21 (Austria)
Baobao Wang - 21 (China)
Qizhen Wang - 21 (China)
Nathaniel Zhang - 16 (United States)
Alexander Zhou - 7 (United States)
This prestigious competition promises an unforgettable experience for both participants and the public alike. All competition performances and jury member Pavel Nersessian's recital are open to the public. Tickets are now available for purchase at
this link
.
Contact
Joshua Izzard
admin@nashvillechopin.org
Photos: (Click photo to enlarge)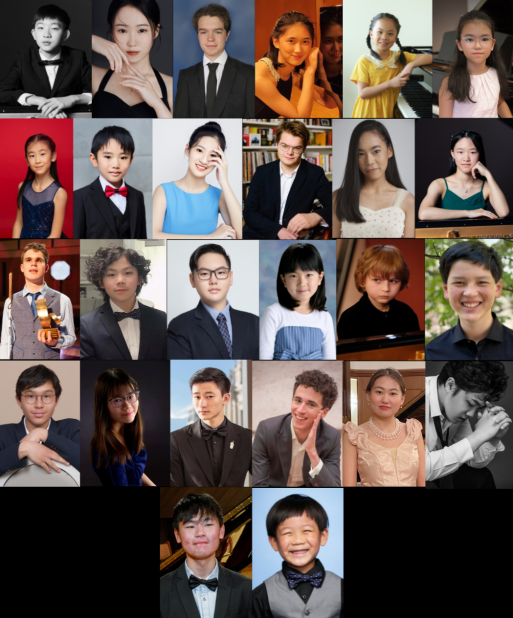 Source: Nashville International Chopin Piano Competition
Read Full Story -
Nashville International Chopin Piano Competition Announces Names of Finalists
|
More news from this source
Press release distribution by PRLog