The newest addition to the Omnichannel Toolkit empowers brands to create and manage unique, incentivized programs for brand ambassadors, pros, and affiliates.

SALT LAKE CITY - Aug. 15, 2023 - PRLog -- Quivers, the award-winning Omnichannel Toolkit for specialty brands and retailers, proudly adds Program Rewards to its Ambassador Management software. With Program Rewards, brands can now create and manage tailored, incentivized programs for brand ambassadors, pros, affiliates, and shop employees, resulting in increased sales and elevated brand engagement.

Taking Brand Ambassador Programs to the Next Level

In today's competitive landscape, specialty brands are seeking straightforward and cost-effective ways to drive growth. Brand ambassadors serve as influential advocates, utilizing their reach and credibility to amplify and disseminate the brand's message to a wider audience. Using Program Rewards, brands can leverage the power of positive reinforcement to elevate ambassador performance and achieve up to a 30% online sales boost.

Watch our video to learn more about the Ambassador Management Program Rewards https://www.youtube.com/watch?v=upLoKA1vpWQ

"This is a key addition to our already extensive list of omnichannel capabilities," said Ruben Martin, CEO of Quivers. "We remain committed to providing specialty brands with all the tools they need to thrive. That's why we're thrilled to offer such a comprehensive and effective way to incentivize and reward ambassador groups."

Program Rewards gives brands full control over the creation and management of ambassador groups. Group members accumulate points to be exchanged for rewards by:
Leveraging the automatic tracking of referral sales through personalized affiliate links and codes (created by brands in Quivers Ambassador Management)
Directly uploading on-site transactions to the Program Rewards Portal
Completing brand training and knowledge-based modules
Brands can customize both the criteria for rewarding and the way in which points are redeemed for products or unique discount codes. Each brand ambassador, pro, or employee has access to the brand's Program Rewards Portal, which showcases their total sales, a leaderboard of their peers, and visual representations of their accumulated points and rewards progress.
Ambassador Management Program Rewards is available as part of the Quivers Omnichannel Toolkit. To learn more about Quivers, please visit
quivers.com
.
About Quivers
Quivers is the award-winning Omnichannel Toolkit for specialty brands and retailers. Quivers bridges the gap between online and offline shopping by offering unique features to drive growth and performance while powering the very best in local fulfillment.
Contact
Jamie Schwartz, Marketing Director at Quivers
***@quivers.com
Photos: (Click photo to enlarge)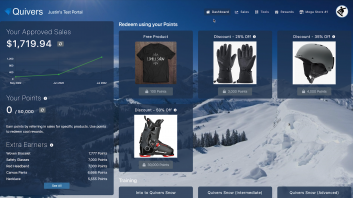 Source: Quivers
Read Full Story -
Quivers Drives Sales and Engagement With the Launch of Ambassador Program Rewards
|
More news from this source
Press release distribution by PRLog