WILMINGTON, N.C. - July 28, 2023 - PRLog -- Have you always wondered if Low-Pressure Injection Molding (Structural Foam) could be a better process for your application?

Wilmington Machinery may be able to help. Wilmington Machinery has recently expanded its lab/trial capabilities by adding a new Low Pressure Structural Foam machine.

Wilmington Machinery has always maintained a Low-Pressure Injection Molding machine in its research lab and made these machines available to plastics processors looking for validation of large parts or materials. Conducting trials at the facility also allows processors to work with Wilmington's experienced engineering team that will demonstrate how best to produce high-quality end products on this type of equipment. In addition, processors can discuss the Wilmington production-ready systems available to make their large parts reliably and cost-effectively with virgin or recycled plastics.

The low pressure machine in Wilmington's lab is available to those companies that want to trial new materials, additives, fillers, compounds, molds, or just conduct experimentation.
LUMINA 2400HE Lab machine specs: 500 tons, 50 lb. shot capacity, 70" x 80" Platen, hydraulic ejection, 72" stroke, with the latest control package.
High pressure molds with a cross section over .1875" running with chemical foaming agents can potentially be ran in a Low Pressure machine with multiple molds mounted to the large platens
Material trials such as chemical foaming agents, additives, various recycled materials, compounded materials.
Other services include customer-owned mold trials, engineering change validation, pre-production mold runoffs, low production runs, and pallet samples (Wilmington Mold or Customers).
About Wilmington's Low-Pressure Structural Foam Machines:
Wilmington's Low-Pressure Structural Foam machines are large platen machines with multiple nozzles capable of being arranged to fill several molds simultaneously. Platen sizes range from 54" x 54" to 108" x 186".
With low cavity pressures associated with short shooting a mold with gas, the machine can easily put multiple molds on a large platen and get multiple parts with each cycle. The parts don't have to be the same size, weight, or shape. Imagine the savings when running four molds simultaneously with one structural foam machine. Plus, reducing the need for extra floor space, lowering labor costs with only one operator and trimming utility costs as well as performing less maintenance.
Wilmington's Structural Foam machines can also run hot runner, gas assist, gas counterpressure, cold runner, stack, over molding, and molds of all sizes. Also, by utilizing Wilmington Machinery's Versafil, you can sequentially fill each mold independently with various shot sizes. The best candidates for low-pressure injection molding are parts with a thicker cross-section, .1875" or thicker.
Contact Wilmington Machinery for Lab rates and additional machine specifications at
sales@wilmingtonmachinery.com
Photos: (Click photo to enlarge)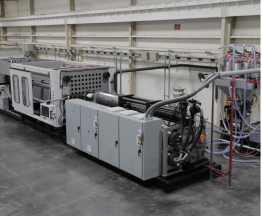 Read Full Story -
Wilmington Machinery Adds New Large Part Low Pressure Injection Machine in Research Lab for Testing of Parts and Materials
|
More news from this source
Press release distribution by PRLog