IoT solutions provider PowerFleet's (PWFL) key metrics indicate significant upside potential. Let's see why it could be a solid addition to one's portfolio this month…
As a provider of wireless Internet-of-Things (IoT) asset management solutions, PowerFleet, Inc. (PWFL) is in an enviable position to meet the increasing demand from technology companies for automation to streamline their operations and boost their decision-making.
The global asset management software market is expected to grow at a CAGR of 11.1% between 2023 and 2030, providing an excellent opportunity for PWFL's continued success. The stock ended the recent trading session at $2.89, above both its 100-day and 200-day moving averages of $2.81 and $2.86, respectively.
Optimism about PWFL's future performance is further supported by the 12-month median price target of $6, which indicates a potential upside of 107.6%.
Let's look at the trends of some of its key financial metrics.
Tracking PWFL's Net Income and Gross Margin
PWFL has experienced fluctuations in its net income since June 30, 2020, when it was reported to be -$12.2 million. However, there has been an overall downward trend, as its net income for the most recent reporting period (ended March 31, 2023) was $0.7 million, representing a growth rate of 92.8%.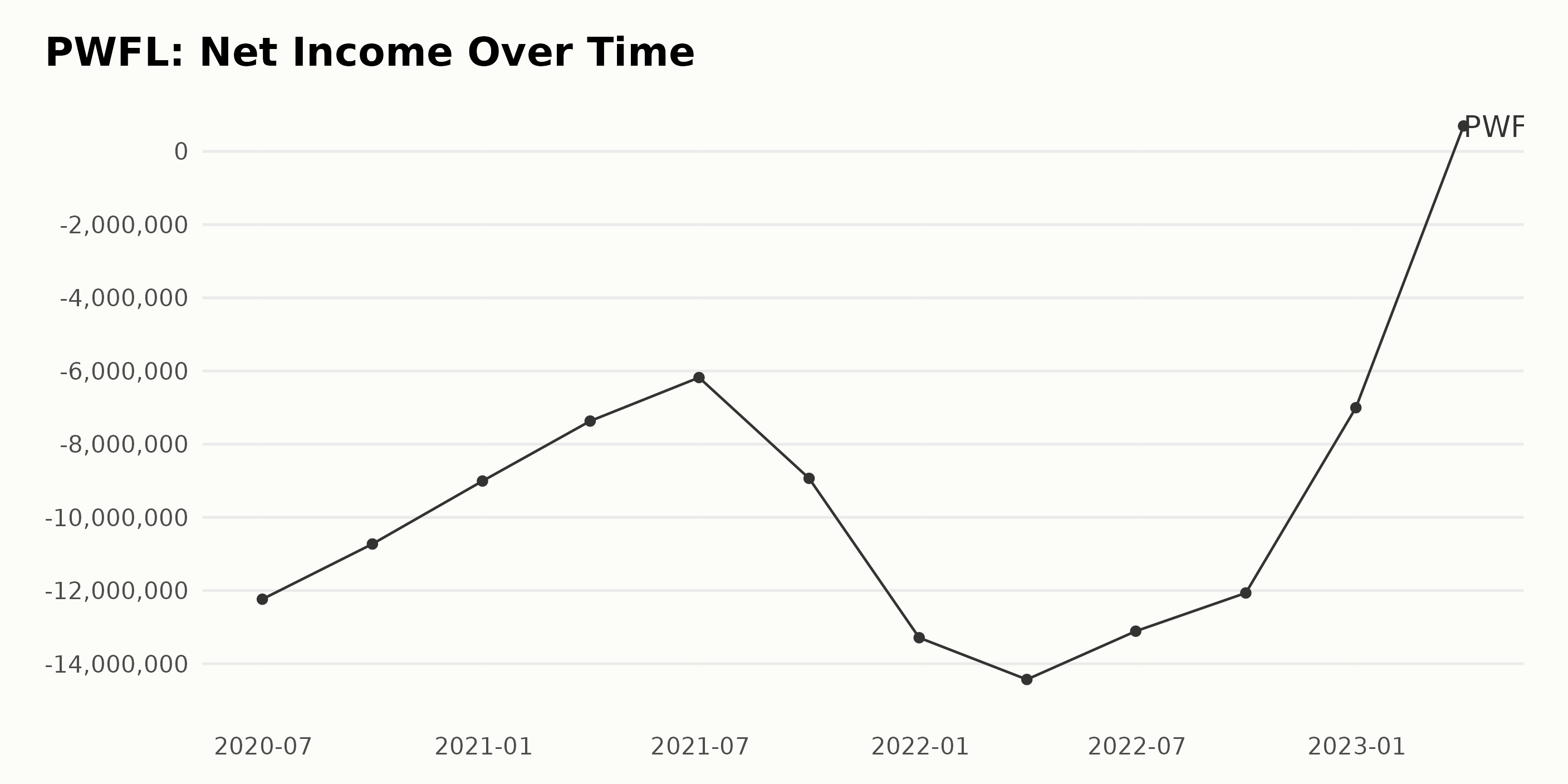 Overall, the reported revenue of PWFL has trended upward, increasing from $10.86 million in June 2020 to $13.48 million in March 2023. The growth rate over this period was 4.3%. There have been some fluctuations, with peaks seen in September 2021 ($12.12 million) and June 2022 ($13.14 million). The most recent data revealed a dip to $13.48 million in March 2023.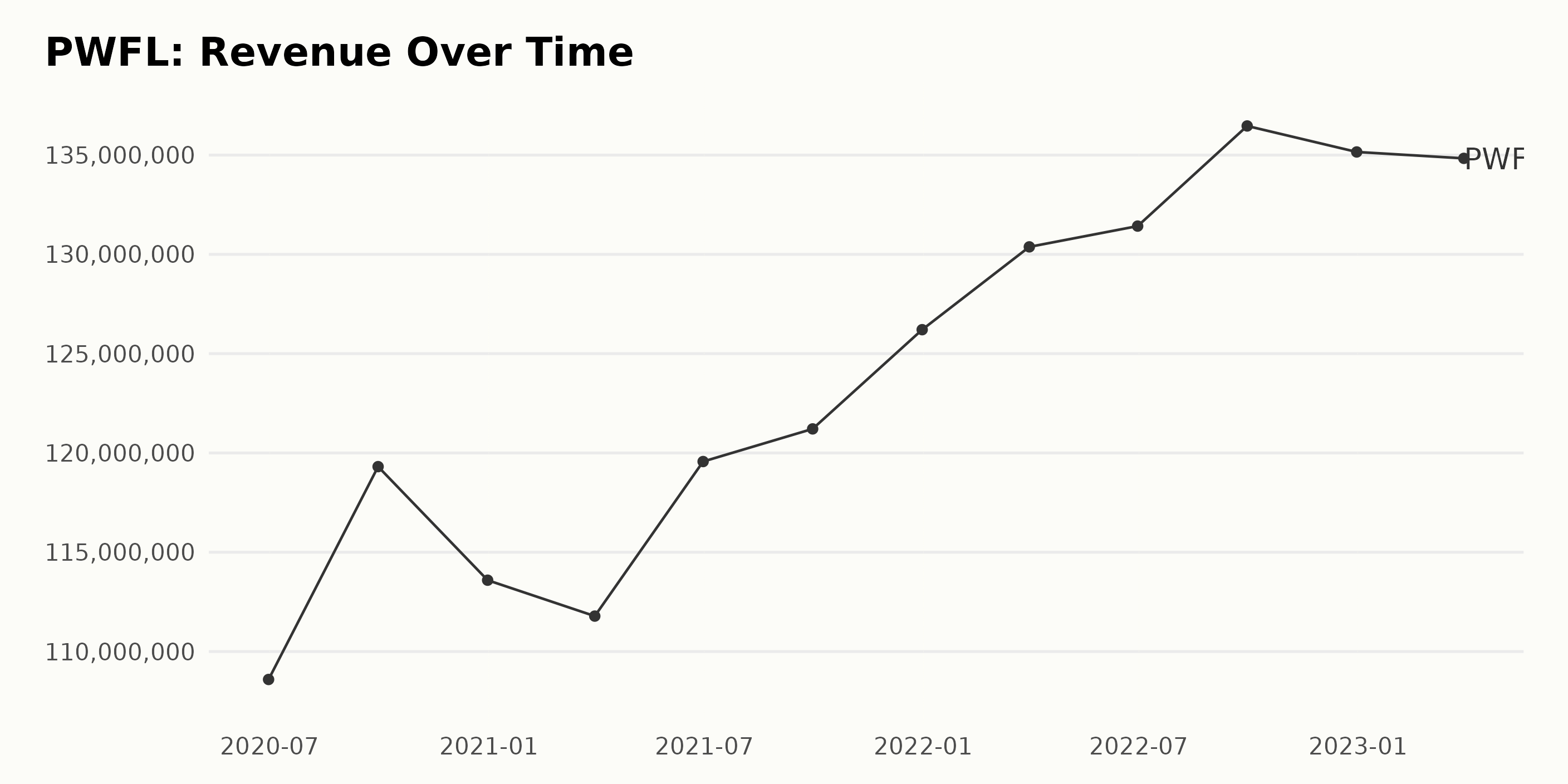 PWFL's gross margin has been gradually rising since June 2020, when it stood at 49%. The highest value of 52% was achieved in December 2020. The margin then fluctuated, dropping to 50.7% in June 2021 and again to 47.7% in December 2021 before increasing slightly to 49.2% at the end of March 2023. The growth rate since June 2020 is 1.86%.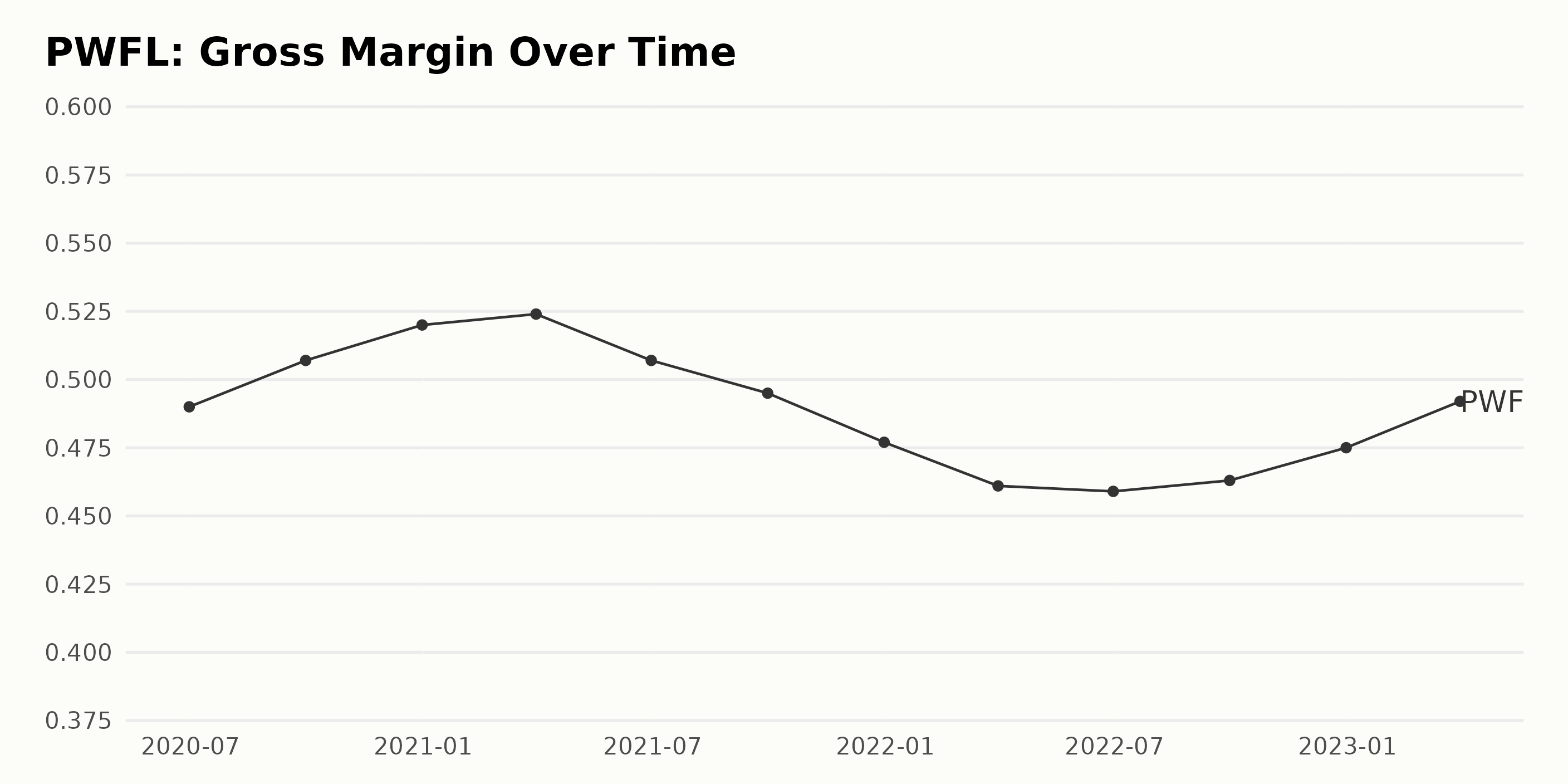 The asset turnover of PWFL has generally decreased from June 2020 (0.604) to March 2021 (0.513). However, it then increased steadily until reaching its peak at 0.611 in March 2023. The growth rate from the first value in June 2020 to the last value in March 2023 is 1.01%, indicating a slightly positive trend overall.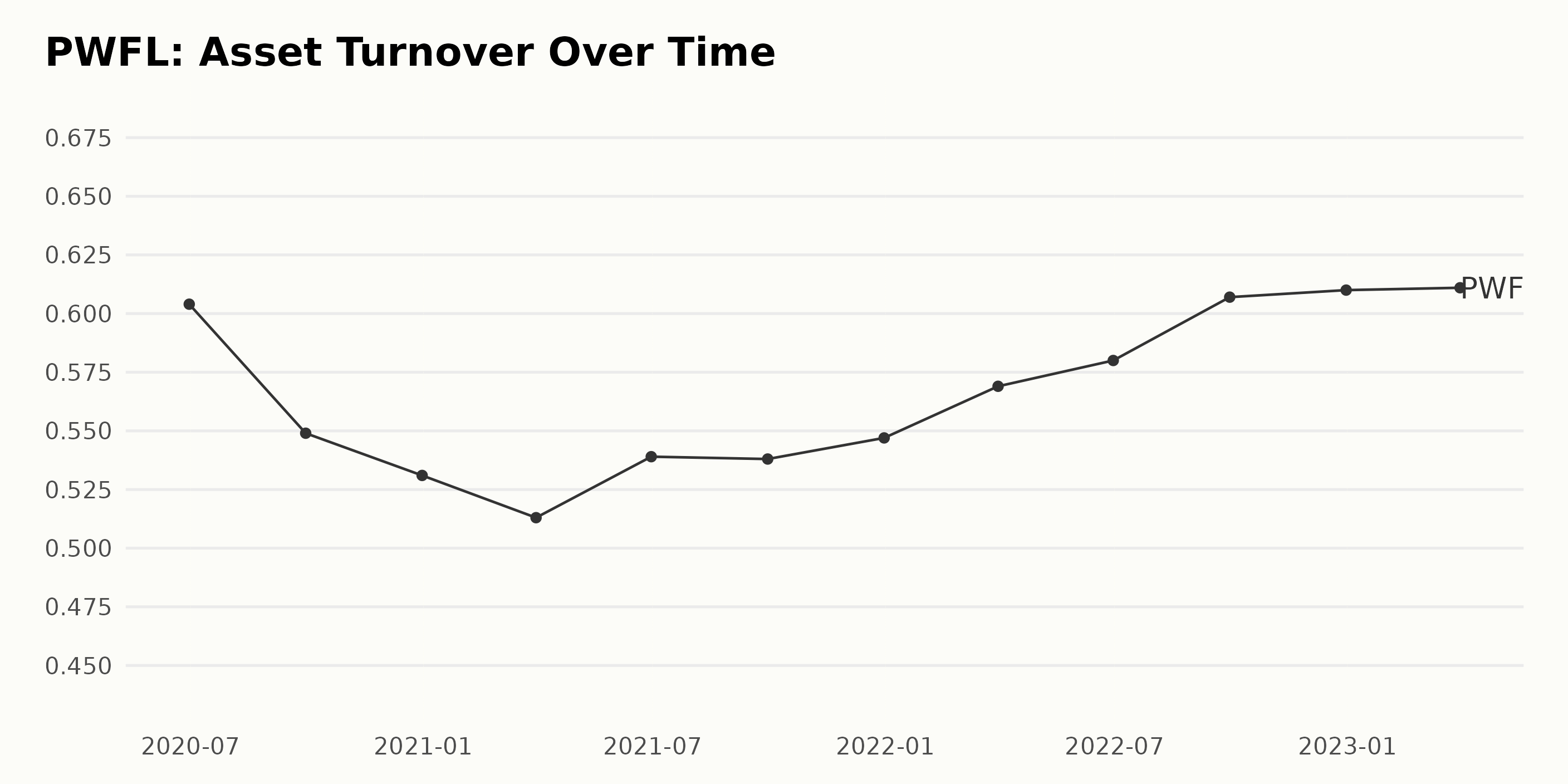 PWFL Share Price Rise: November 2022 to May 2023
The overall trend for PWFL's share price is increasing from November 2022 to May 2023. The share price started at $3.04 and rose steadily to $2.91 in December 2022 before accelerating with a steeper growth rate to the current highest value of $2.91 in May 2023. Here is a chart of PWFL's price over the past 180 days.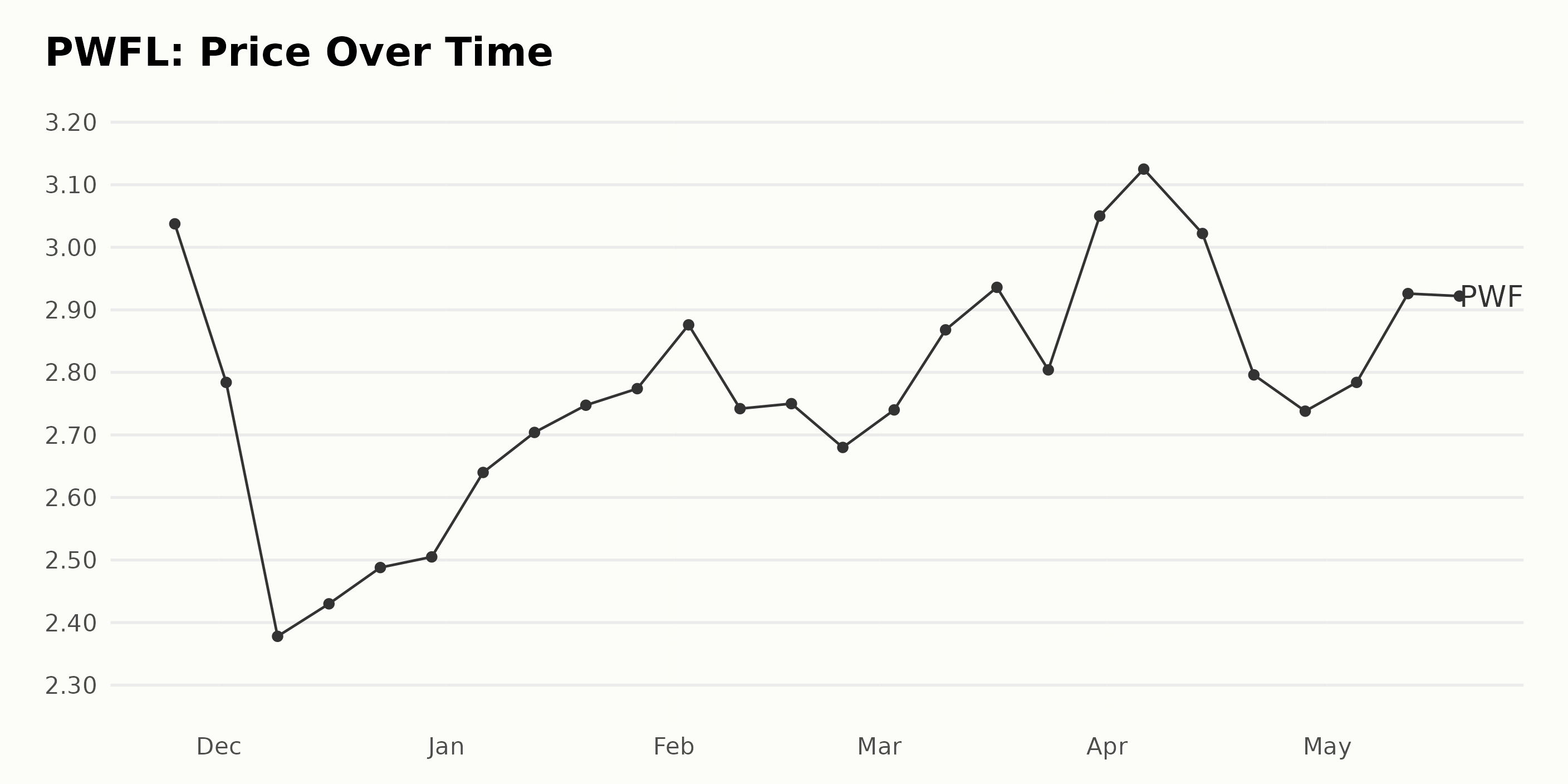 PWFL: Consistent High Ratings in 2023
The overall POWR Ratings grade of PWFL is B, which translates to Buy. It ranks #9 in the Technology - Communication/Networking industry out of 51 total stocks.
The POWR Ratings for PWFL reveal that the three highest ratings have consistently been for Growth, Sentiment, and Value. Growth has remained at a high level of 93 since the beginning of the year, while Sentiment has maintained an impressive score of 98 since January.
Moreover, Value has also remained relatively high, with scores between 76 and 79 since January 2023. Furthermore, these three ratings have shown a clear positive trend, with Growth and Value increasing slightly over the past few months. This suggests that PWFL has maintained solid performance so far in 2023.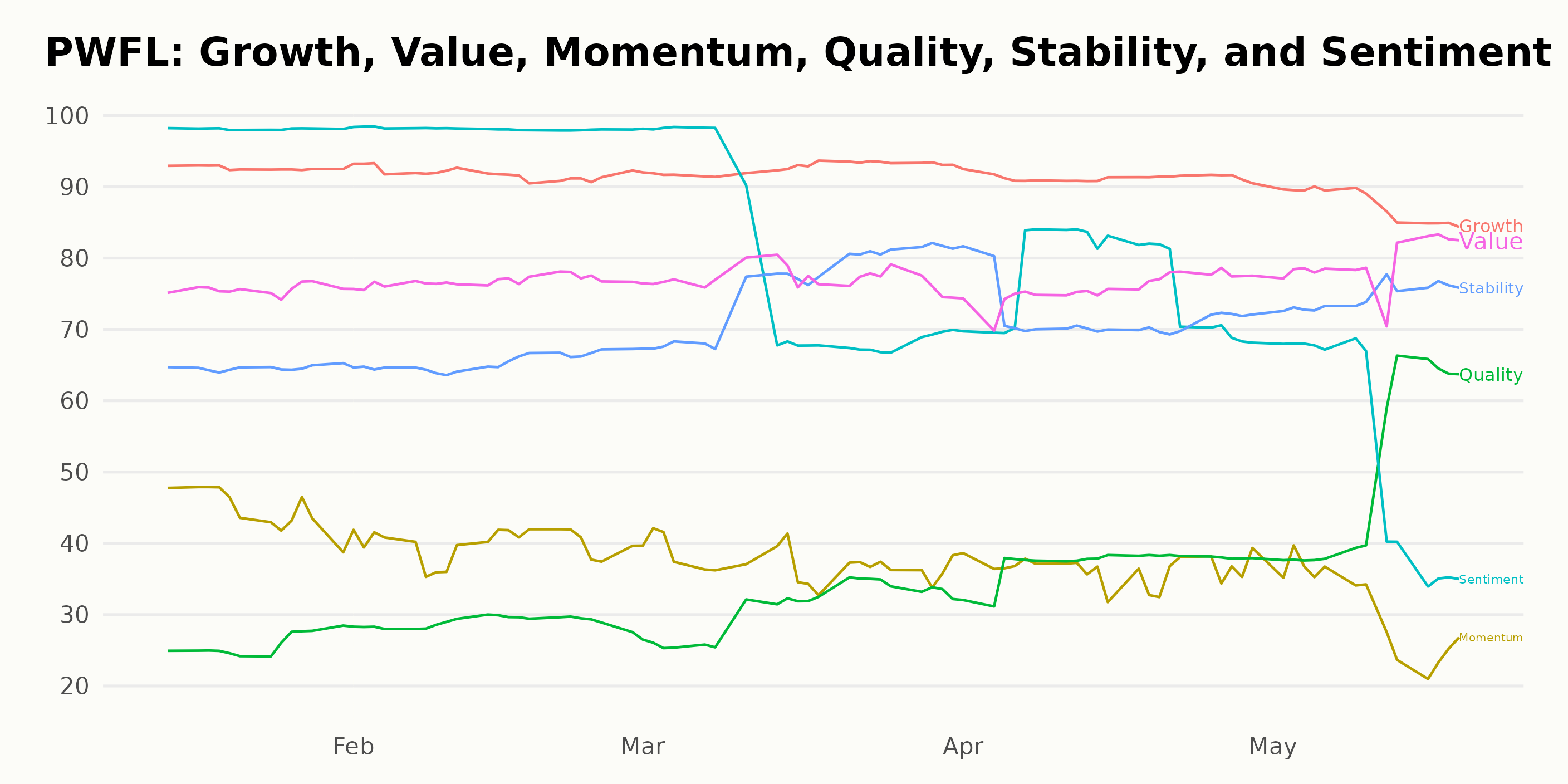 How does PowerFleet, Inc. (PWFL) Stack Up Against its Peers?
Other stocks in the Technology - Communication/Networking sector that may be worth considering are PCTEL, Inc. (PCTI), Extreme Networks, Inc. (EXTR), and Ceragon Networks Ltd. (CRNT) -- they have better POWR Ratings.
Discover 10 widely held stocks that our proprietary model shows have tremendous downside potential. Please make sure none of these "death trap" stocks are lurking in your portfolio:
---
PWFL shares were trading at $3.00 per share on Friday afternoon, up $0.11 (+3.81%). Year-to-date, PWFL has gained 11.52%, versus a 9.78% rise in the benchmark S&P 500 index during the same period.
---
About the Author: Anushka Dutta
Anushka is an analyst whose interest in understanding the impact of broader economic changes on financial markets motivated her to pursue a career in investment research.
PowerFleet (PWFL) Is a Powerful Buy This Month
appeared first on
StockNews.com