Extreme Networks (EXTR) beat analysts' revenue and earnings estimates in the last reported quarter and looks poised to maintain its performance. Keep reading to explore the trends in its key metrics that could drive its shares higher...
Extreme Networks, Inc. (EXTR) demonstrated strong performance in its fiscal third quarter ended March 31, 2023, with improving supply chain conditions and strengthening of its competitive position. The company clocked a 20% increase in bookings from new customers and sequential product bookings growth of 6%.
Moreover, both its revenue and EPS surpassed expectations. EXTR looks well-positioned to deliver similar performance in the upcoming quarters as it remains committed to top line growth and margin expansion. While the stock price has been volatile over the past few months, EXTR should deliver steady returns in the near term.
Let's explore some of its key metrics to understand the stock's upside potential.
Analysis of EXTR's Net Income, Revenue, and Gross Margin
Overall, EXTR has had a positive trend in net income, with significant fluctuations for the past three years. The most recent reported net income for March 2023 was $58.06 million compared to June 2020 net income of negative $12.68 million. Comparing the first and last data points, this is an increase of 466.4% in net income.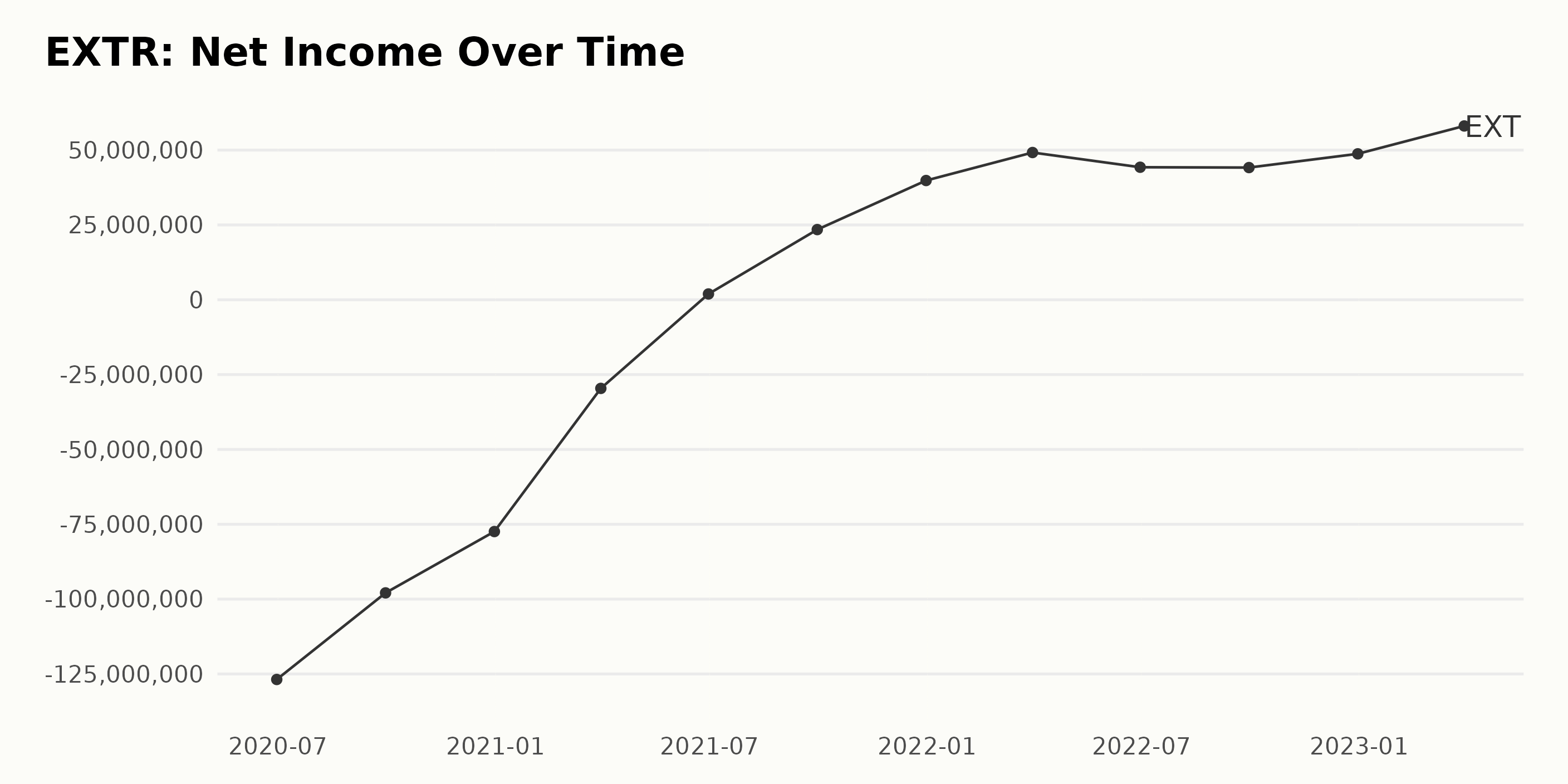 EXTR's revenue has experienced fluctuations over the past three years. The reported revenue has increased from $948.02 million in June 2020 to $1.23 billion in March 2023, indicating a growth rate of 29%. There have been more significant changes, with the most recent quarter showing an increase of 8% compared to December 2022.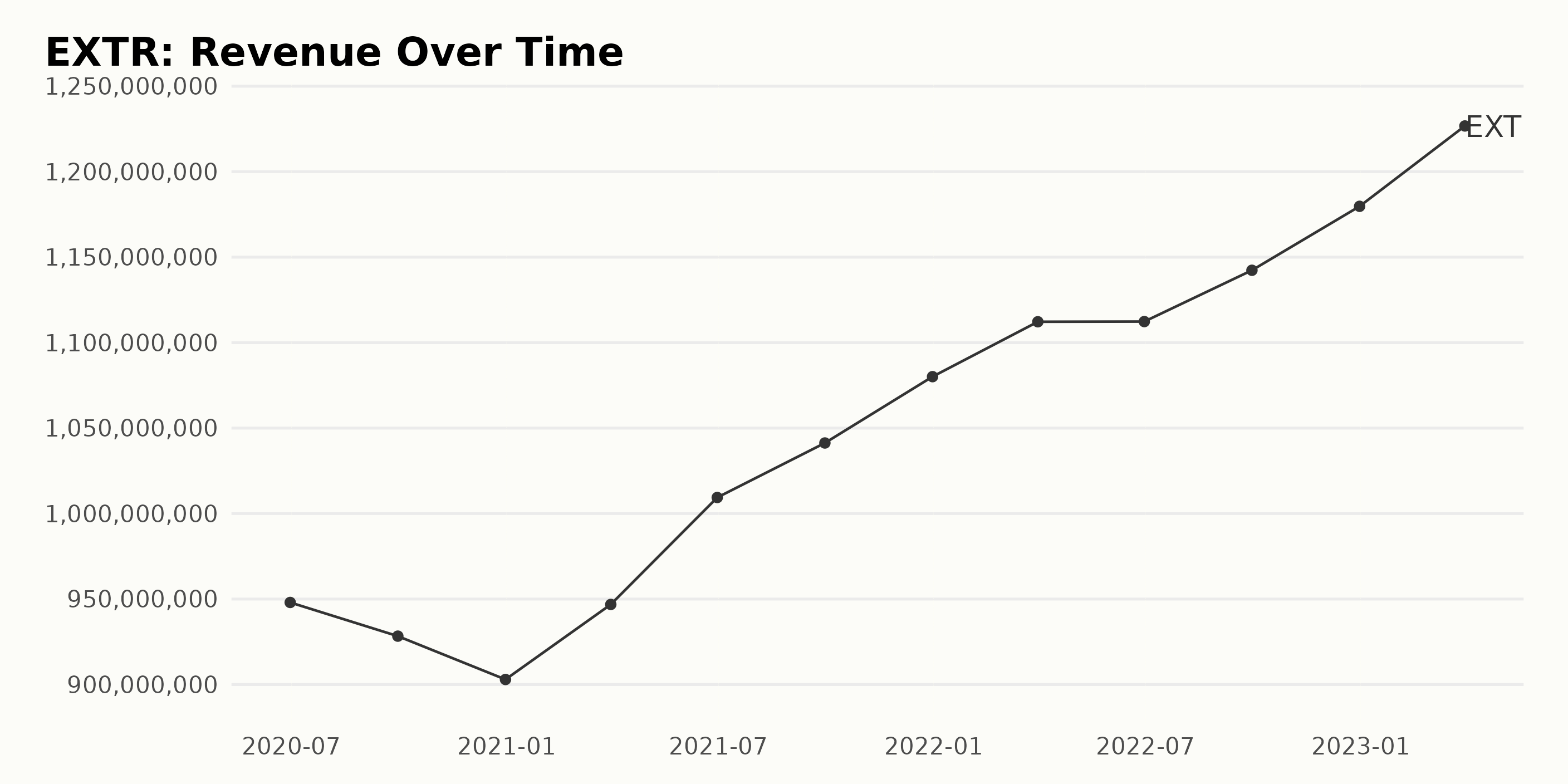 EXTR's gross margin has had fluctuating conditions over the past three years. It showed a general upward trend from June 2020 to September 2022, increasing from 54.6% in June 2020 to 56.6% in June 2022. The margin then declined somewhat to 56.1% in September 2022 before rising back to 56.3% in December 2022. This was followed by an increase to 56.6% in March 2023. The average gross margin increase over the period was 0.6%.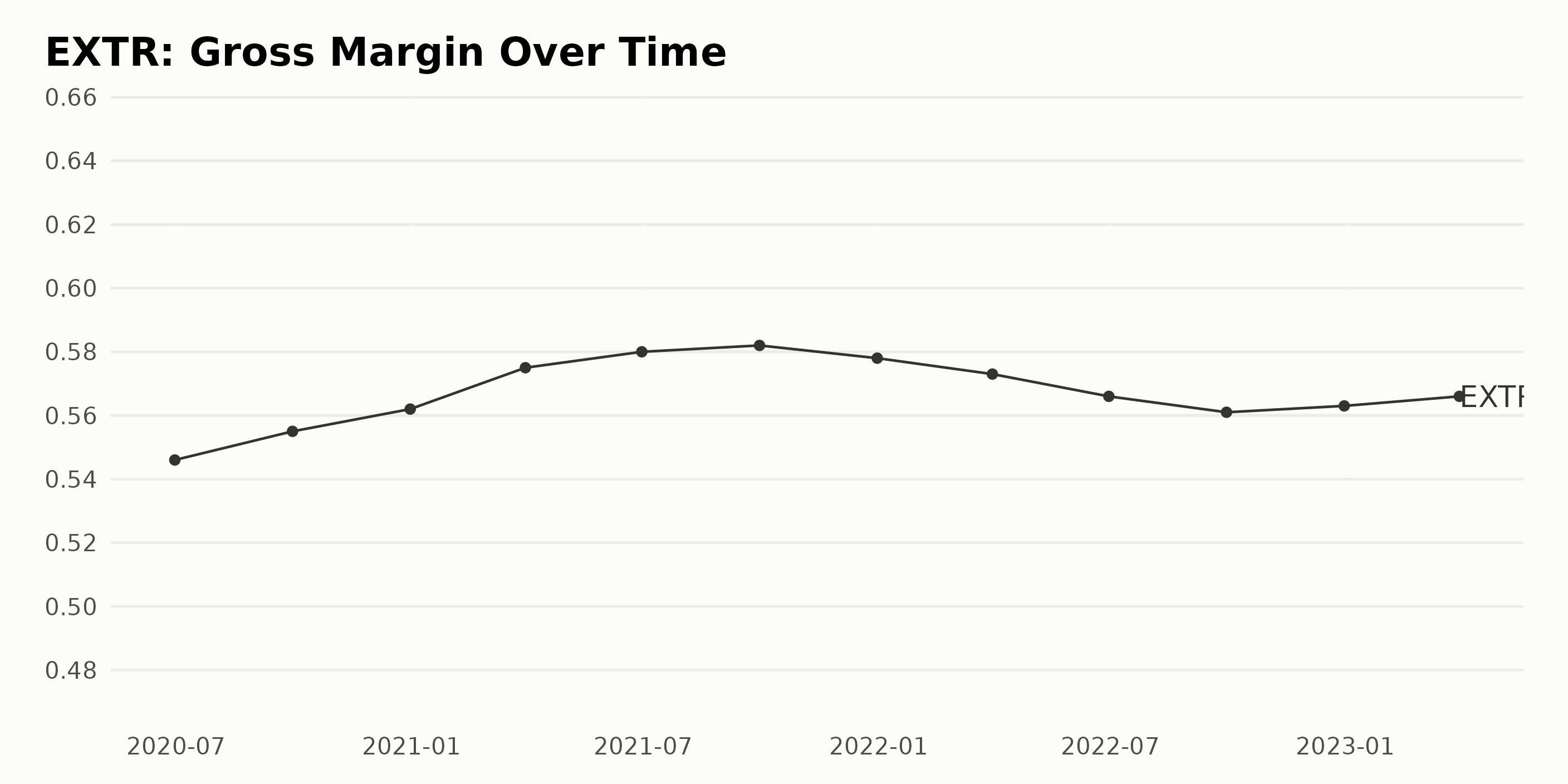 EXTR Share Price Fluctuated Between November 2022 and May 2023
The trend for EXTR's share price appears to be fluctuating, with the values alternating between growth and decline between November 2022 and May 2023. Prices started at $18.06 and rose to $19.73 before declining to $17.93 by the end of January 2023, then increasing to $19.05 by the end of February 2023 before dropping to $16.95 by the end of April 2023. As of May 5, 2023, the value of EXTR shares was $16.89. The growth rate has been slow and inconsistent. Here is a chart of EXTR's share price over the past 180 days.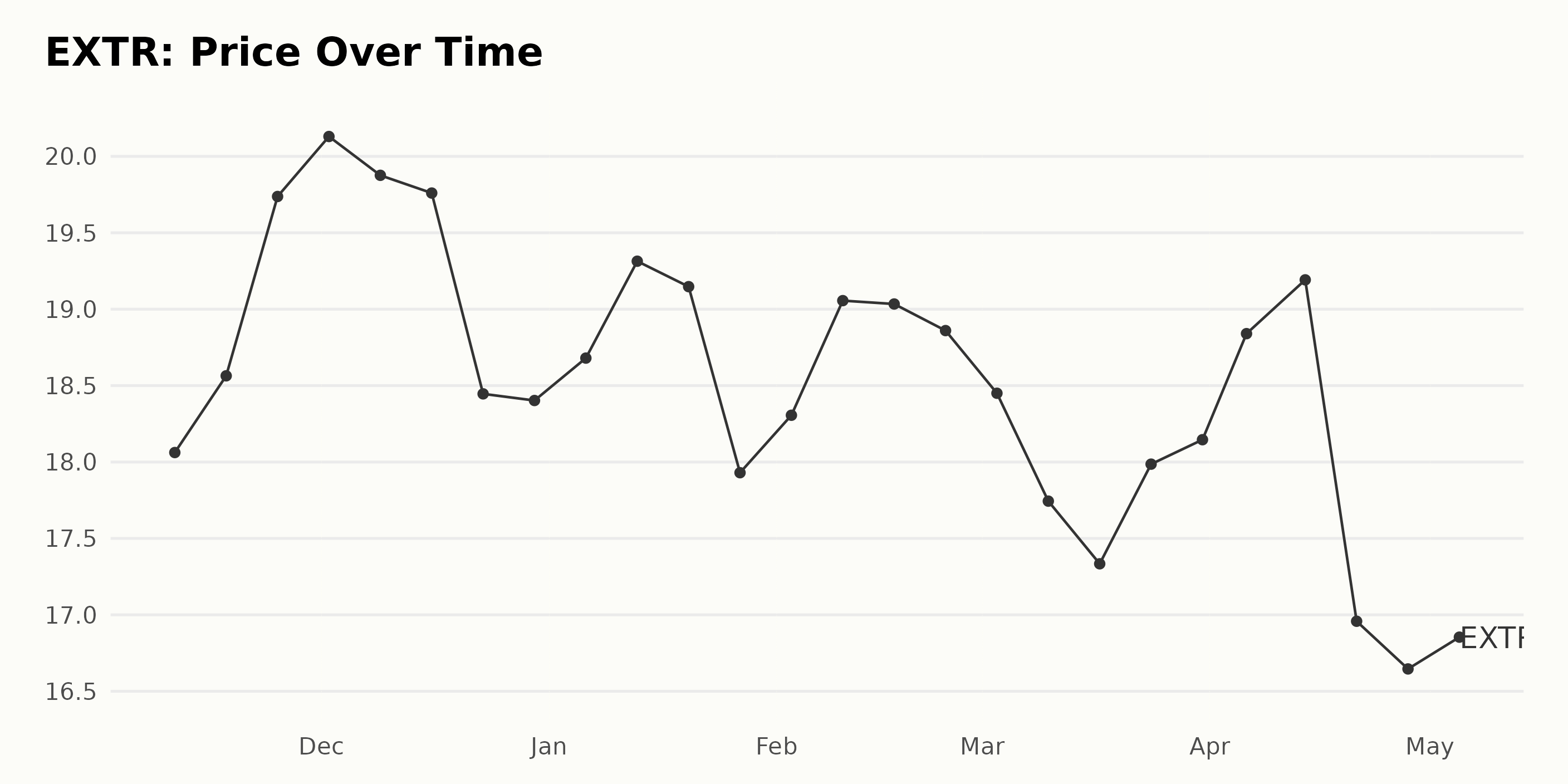 EXTR: Quality, Growth & Momentum Scores
EXTR has an overall rating of A, translating to a Strong Buy in our POWR Ratings system. It is ranked #2 in the Technology - Communication/Networking category of 50 stocks. The stock has held an A rating since November 12, 2022.
The three most noteworthy dimensions for EXTR are Quality, Growth, and Momentum. The Quality dimension consistently scored highly, with EXTR rating 97 in November of 2022 and maintaining that high score until the present month of May 2023, when it increased to a perfect score of 100. Meanwhile, the Growth score from November of 2022 to May of 2023 trended upwards, going from a 95 in November to a perfect 100 in May. Finally, the Momentum score was initially rated at 63 in November 2022 but steadily increased to a high of 75 by April 2023 before dropping to 67 in May.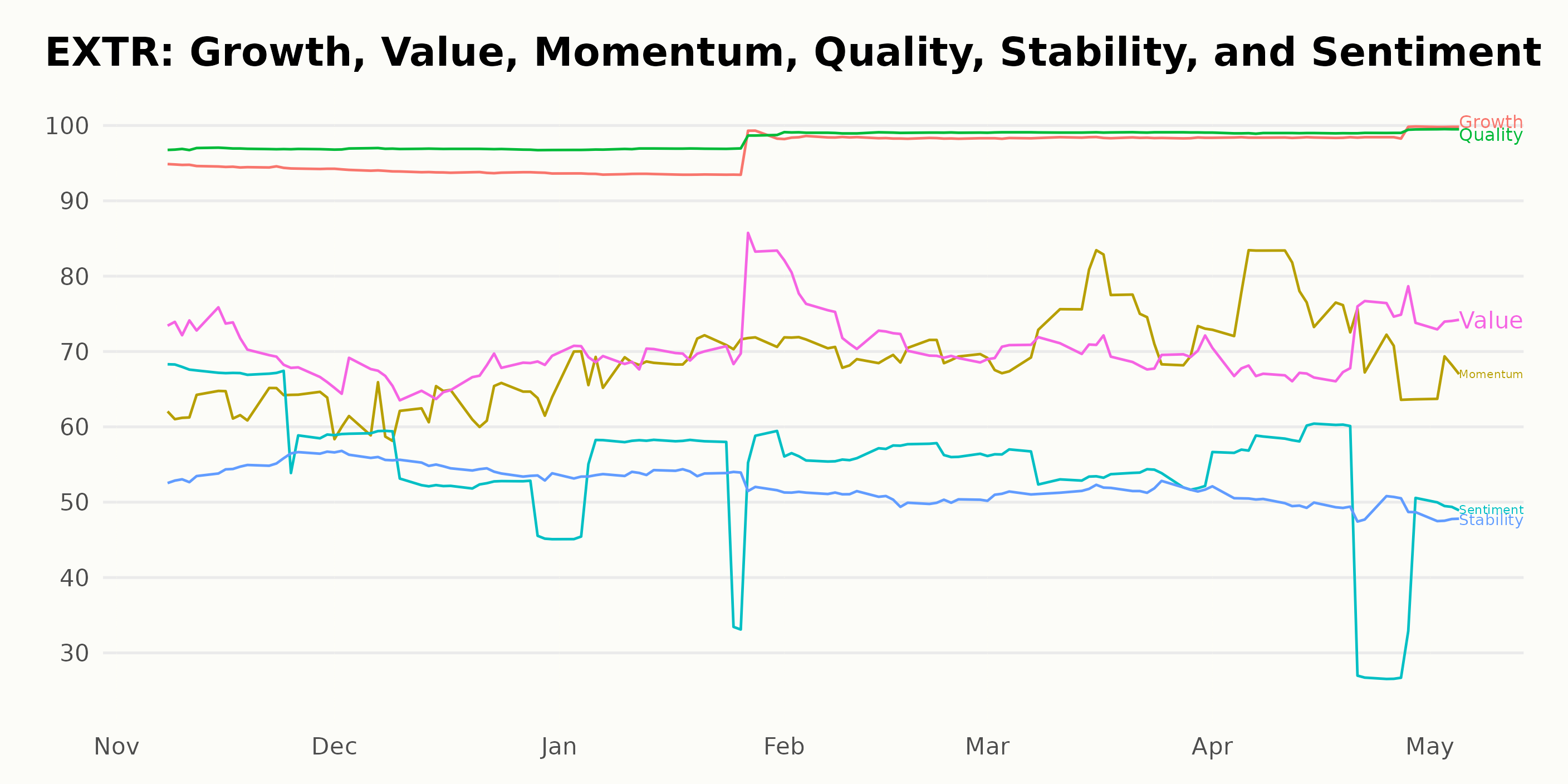 How does Extreme Networks Inc. (EXTR) Stack Up Against its Peers?
Other stocks in the Technology - Communication/Networking sector that may be worth considering are PC-Tel Inc. (PCTI), with an overall A rating, and Crane NXT Co. (CXT) and Ceragon Networks Ltd. (CRNT), with an overall B rating, equating to a Buy in our proprietary system.
The Bear Market is NOT Over…
That is why you need to discover this timely presentation with a trading plan and top picks from 40 year investment veteran Steve Reitmeister:
REVISED: 2023 Stock Market Outlook > 
---
EXTR shares were trading at $16.84 per share on Friday afternoon, up $0.41 (+2.50%). Year-to-date, EXTR has declined -8.03%, versus a 7.89% rise in the benchmark S&P 500 index during the same period.
---
About the Author: Subhasree Kar
Subhasree's keen interest in financial instruments led her to pursue a career as an investment analyst. After earning a Master's degree in Economics, she gained knowledge of equity research and portfolio management at Finlatics.
Maximize Your Returns: The Best Networking Stock to Buy This Week
appeared first on
StockNews.com