Retail giant Costco Wholesale Corporation (COST) has a long history of dividend increases, reflecting its financial strength. Let's explore the company's growth potential with the help of some of the company's key metrics...
Costco Wholesale Corporation (COST) recently revealed a 13% increase in its quarterly dividend, raising it to $1.02 per share from the previous 90 cents. This adds to the company's long history of dividend growth, showcasing its financial stability. In market response, shares of the retail giant saw an upsurge.
Characterized by strong balance sheets, high sales volumes, and rapid inventory turnover, COST shows great potential for further growth and expansion. In this article, let's get a closer look into some of the metrics that display the company's growth prospects.
COST's Steady Net Income Growth: An Overview
COST's net income has experienced a steady trend of increasing growth over the reported series of data. Starting at $371 million in May 2020, the most recent value was $6,051 million in February 2023, resulting in a growth rate of 63%. There have been a few fluctuations in between, such as a temporary decrease to $4,002 million in August 2020 and a subsequent increase to $4,344 million by February 2021. The most significant increases occurred from May 2021 to August 2021 and from August 2022 to November 2022.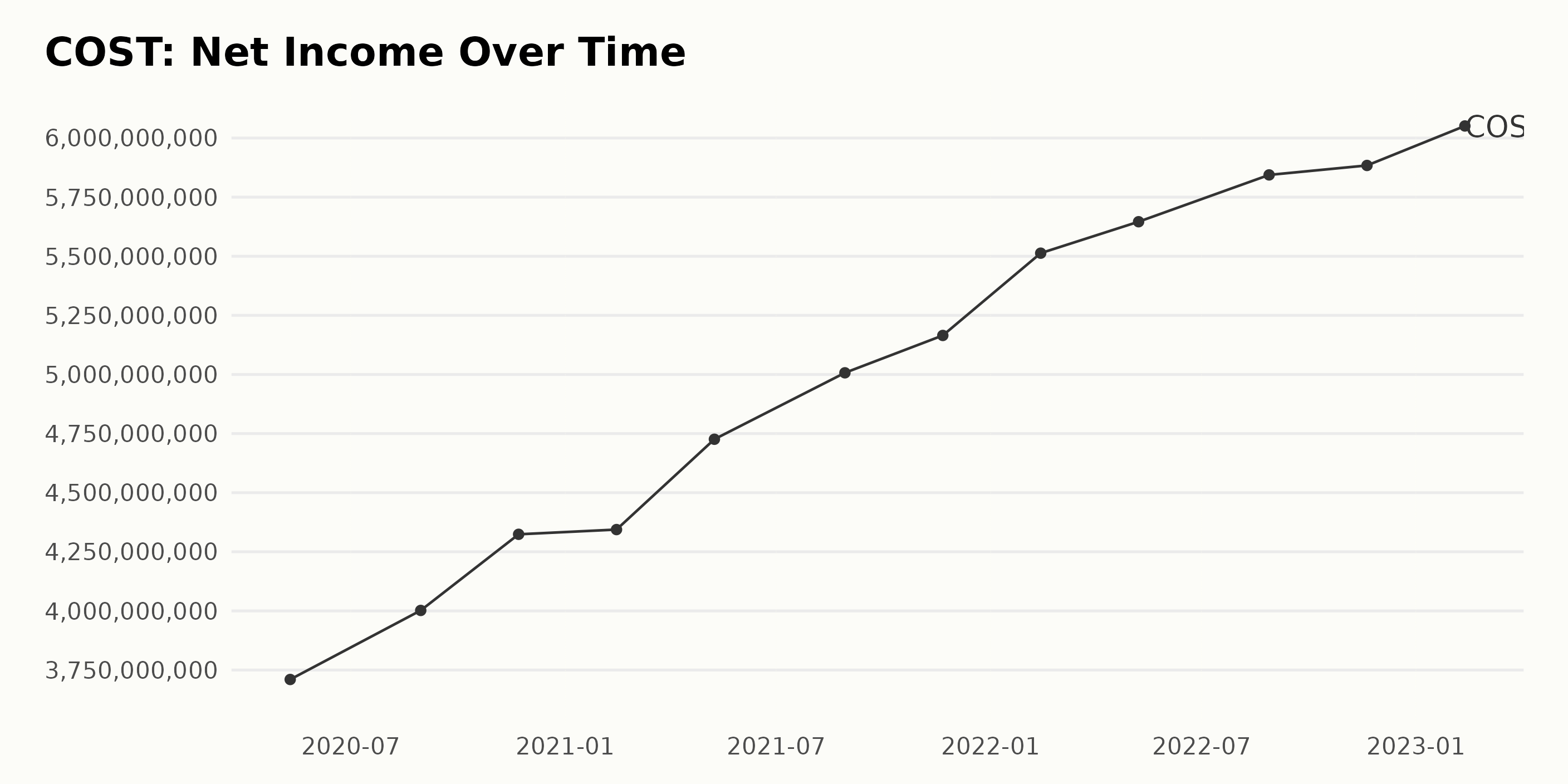 The series shows an overall increase in revenue for COST from May 2020 to February 2023. During this period, the revenue rose from $160.90 billion to $234.4 billion, representing an average growth rate of 5.67%. There were fluctuations along the way, with notable dips in November 2020, August 2021, and February 2022, but the general trend was upward.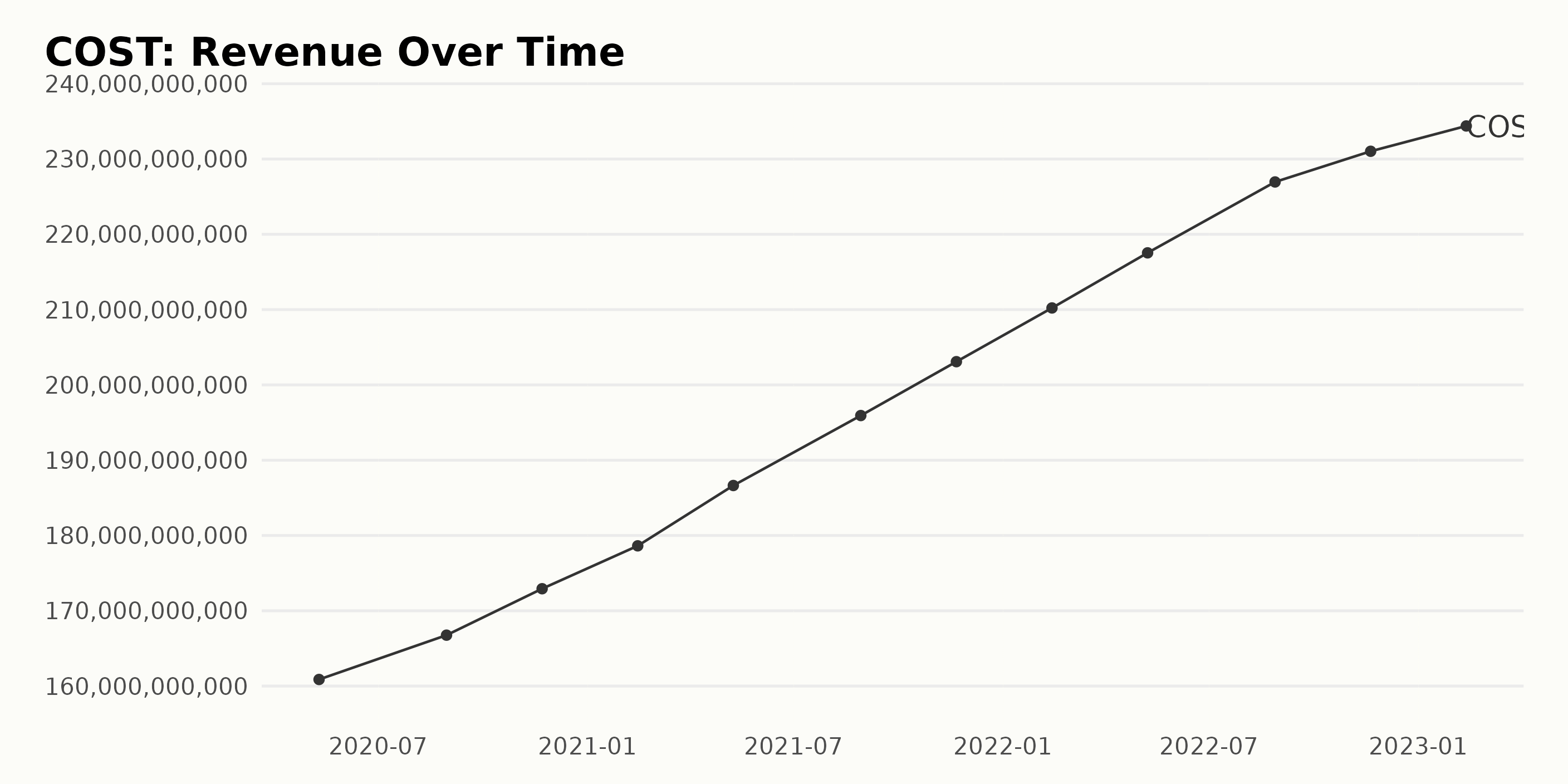 The DPS of COST has seen large fluctuations over the past few years. Starting on May 10, 2020, with 2.65 DPS, it increased more than 770% to November 22, 2020, at 12.75. The most recently reported DPS on February 12, 2023, is 3.60, a growth rate of 35.2% from the initial value in 2020. Overall, the DPS has seen consistent growth.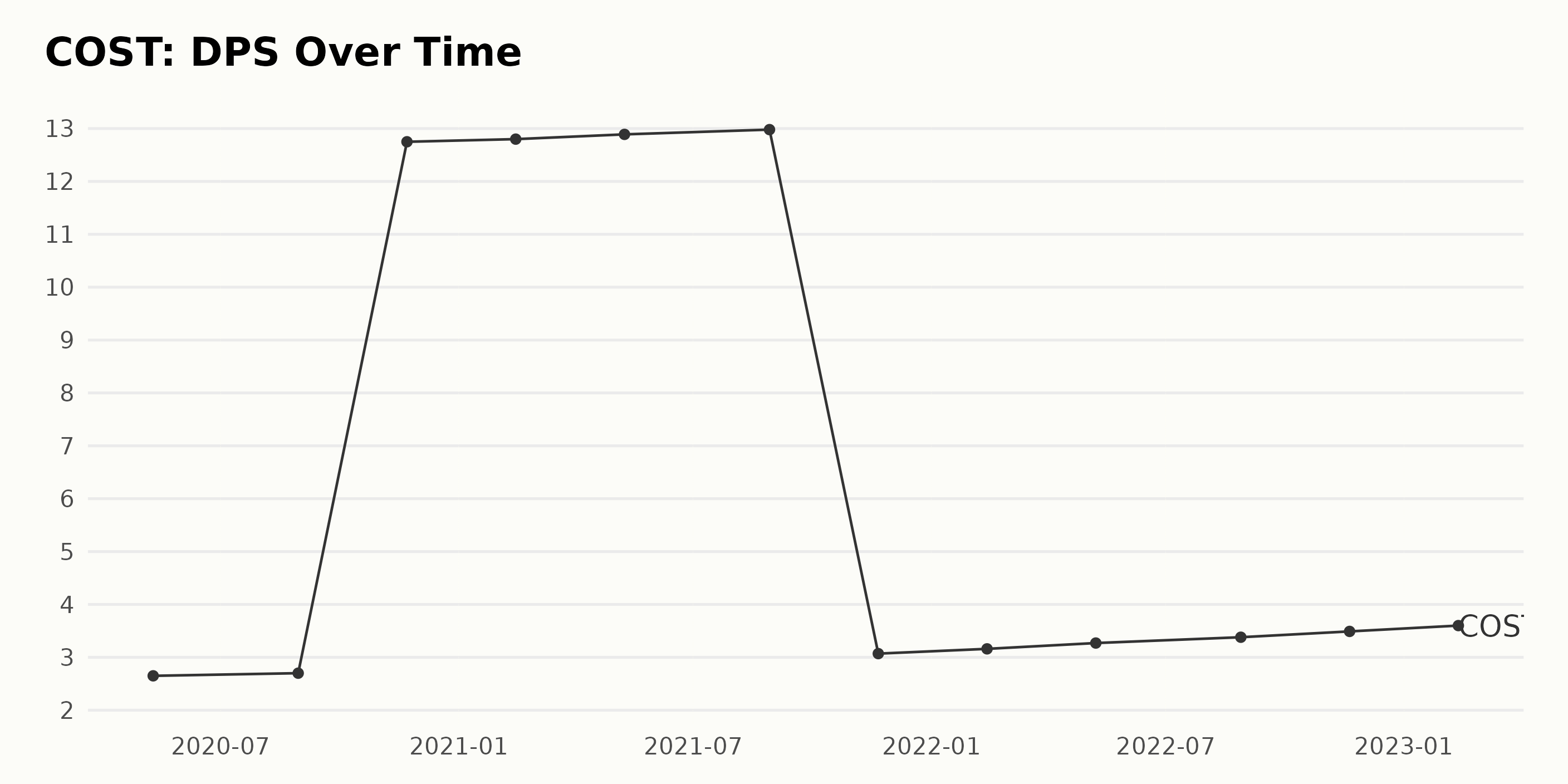 COST's Price Fluctuations in 180 Days
The share price of COST fluctuated between $459.09 on December 23, 2022, and $530.72 on November 25, 2022, with a $71.63 swing in the stock price. The share price of COST has generally been increasing since November 18, 2022, when the stock price was $521.17. The growth rate for this period appears to be accelerating, going from an initial increase from $493.43 (November 4, 2022) to $530.72 (November 25, 2022). Since then, it has slightly decreased to its current price of $500.07 (April 21, 2023). Here is a chart of COST's price over the past 180 days.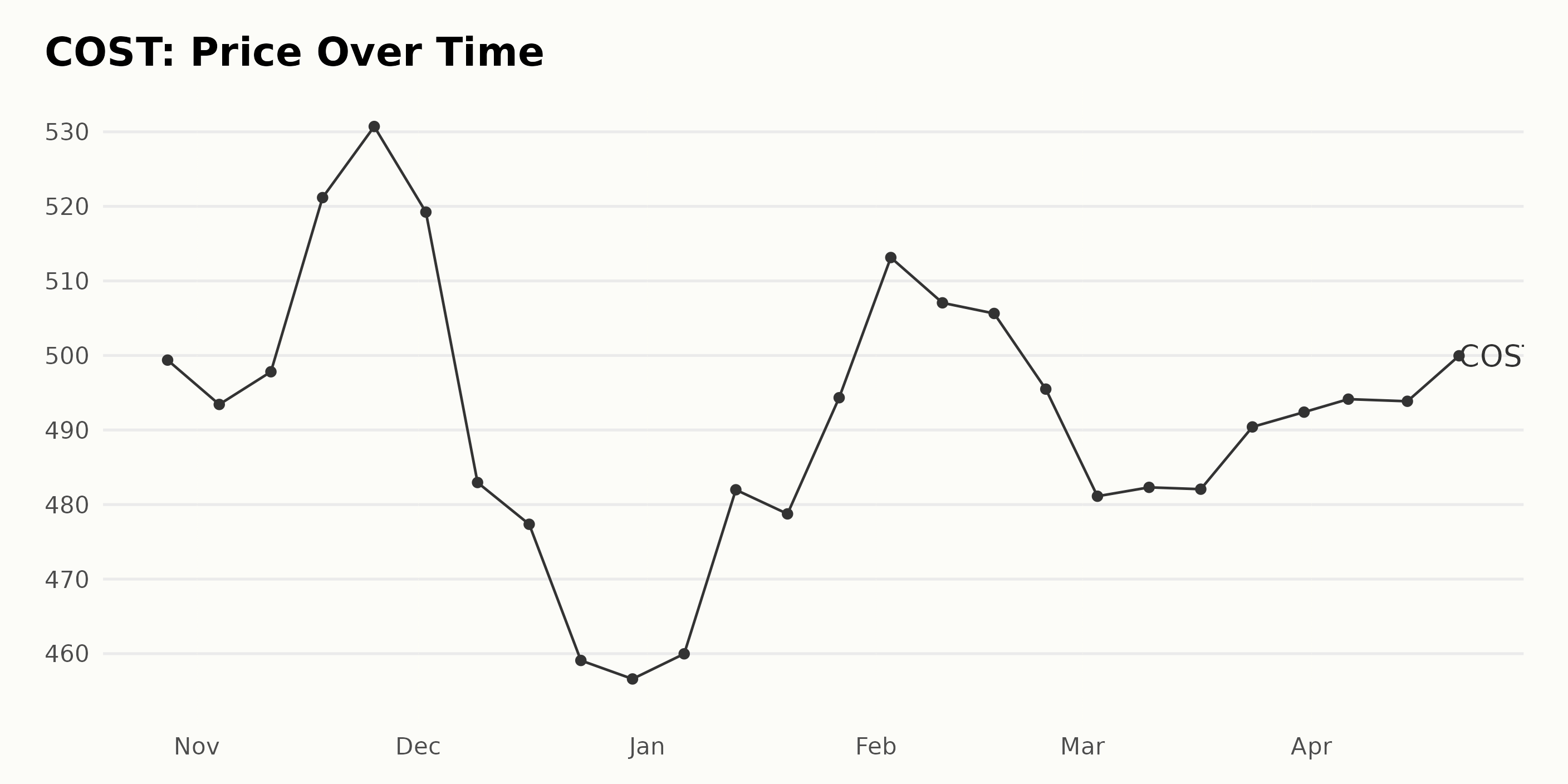 COST's Stability & Quality Ratings are High
COST has an overall rating of B, translating to a Buy in our POWR Ratings system. Compared to the other 37 stocks in the Grocery/Big Box Retailers category, it has a rank of 23 as of April 21, 2023.
The POWR Ratings for COST show that Stability and Quality have the highest ratings, at 81 and 70, respectively. The Sentiment rating also consistently remains high in the range of 64-78, suggesting a positive attitude towards the company.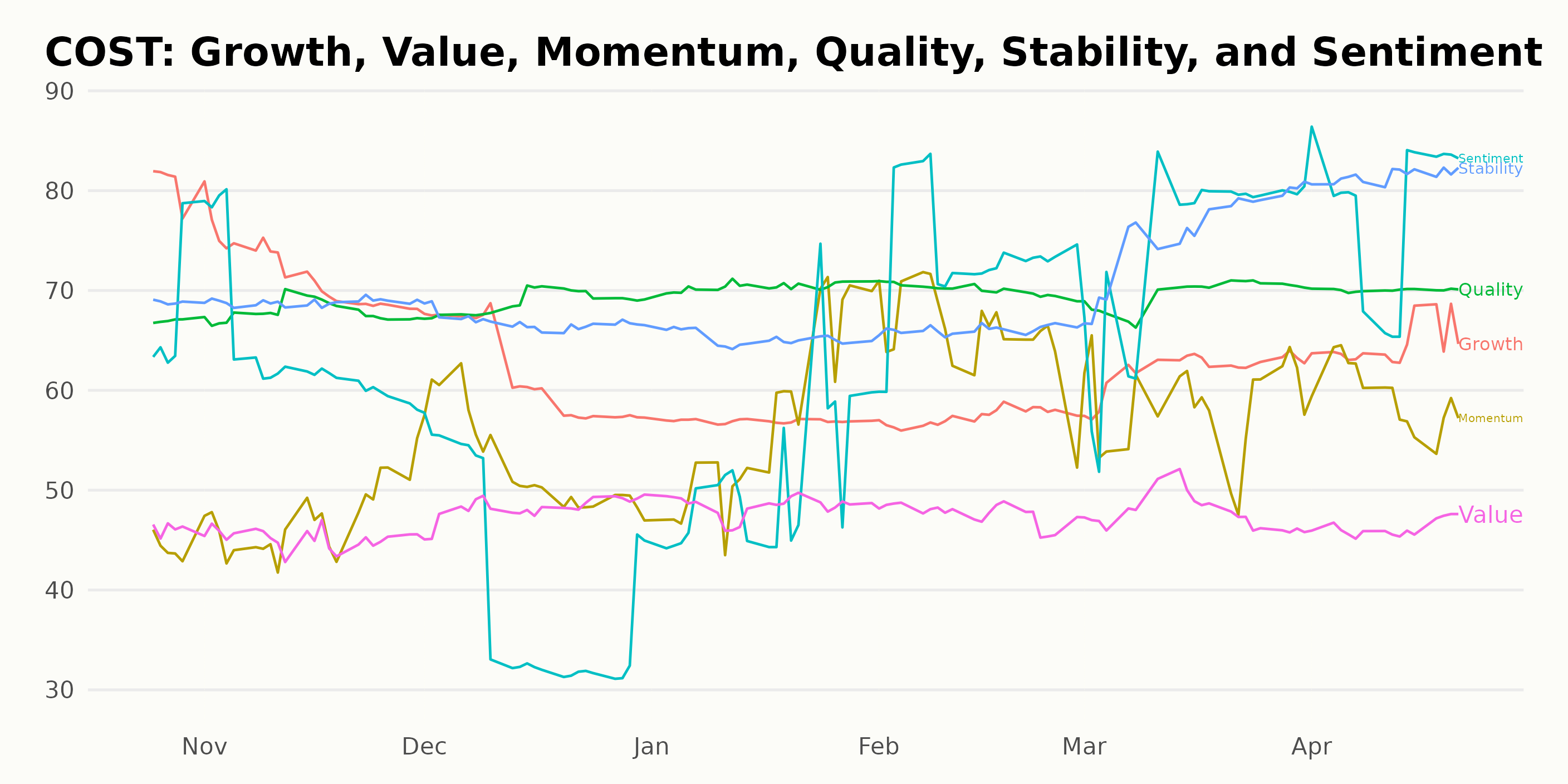 How Does Costco Wholesale Corporation (COST) Stack Up Against Its Peers?
Other stocks in the Grocery/Big Box Retailers sector that may be worth considering are (ADRNY), Ingles Markets Incorporated Class A Common Stock (IMKTA), and Walmart Inc. (WMT) -- they have better POWR Ratings.
What To Do Next?
Get your hands on this special report with 3 low priced companies with tremendous upside potential even in today's volatile markets:
3 Stocks to DOUBLE This Year >
---
COST shares were trading at $506.20 per share on Friday afternoon, up $0.62 (+0.12%). Year-to-date, COST has gained 11.08%, versus a 8.09% rise in the benchmark S&P 500 index during the same period.
---
About the Author: Subhasree Kar
Subhasree's keen interest in financial instruments led her to pursue a career as an investment analyst. After earning a Master's degree in Economics, she gained knowledge of equity research and portfolio management at Finlatics.
This Retail Stock Shows Strong Growth Potential Ahead
appeared first on
StockNews.com