We are changing the MarTech world by protecting you from Big Tech's data abuse, and to celebrate the launch of AesirX BI & Analytics during this week, we are giving away $1 MILLION USD in LICENSES to the AesirX Community - contribute to the Giveaway for chances to win.

NEW YORK - Nov. 22, 2022 - PRLog -- 1280 CHANCES TO WIN!

As you know, AesirX always offers a FREEmium package for each of the 20 solutions released in our 2 year roadmap, so everyone is included and beyond, there are three more cost-effective tiers and a completely customizable Enterprise-level edition.

What if I told you that you could WIN these 4 APPEALING PACKAGES of AesirX BI & Analytics?

YES, AesirX is giving away 1280 exceptional rewards to the 1280 most active contributors.

What's more? The top rewards are 5 Enterprise-level packages with a 12-MONTH LICENSE valued at $12,000 USD each.

1280 chances to win


Name
License per month
License value total 1 year
Amount
Total value
Starter
$49
$588
1000
$588,000
Team
$99
$1,188
250
$297,000
Growth
$249
$2,988
25
$74,700
Enterprise
$1,000
$12,000
5
$60,000


Total Giveaway licenses


1280
$1,019,700
Click HERE to WIN.
Winners will be notified via email. GIVEAWAY starts
from 21st November 12:00 AM PST
to 28th November 12:00 AM PST


How to win

Make sure you UPVOTE on Product Hunt to win!
Step 1:
Log in with your Email/ Facebook/ Instagram/ Twitter account.
Step 2:
Step 3: Do the other activities to gain more points. (Visit AesirX on Facebook, Follow us on LinkedIn, etc.)
ALERT!!!
YOU EARN MORE CHANCES TO WIN by joining our community (follow/subscribe) and giving us a lot of love on these platforms:
Join us and win a bundle high-quality licenses for your next adventure with AesirX solutions!
Media Contact
Thomas Esmann, Tech CMO
thomas@aesirx.io
+4561762486
Photos: (Click photo to enlarge)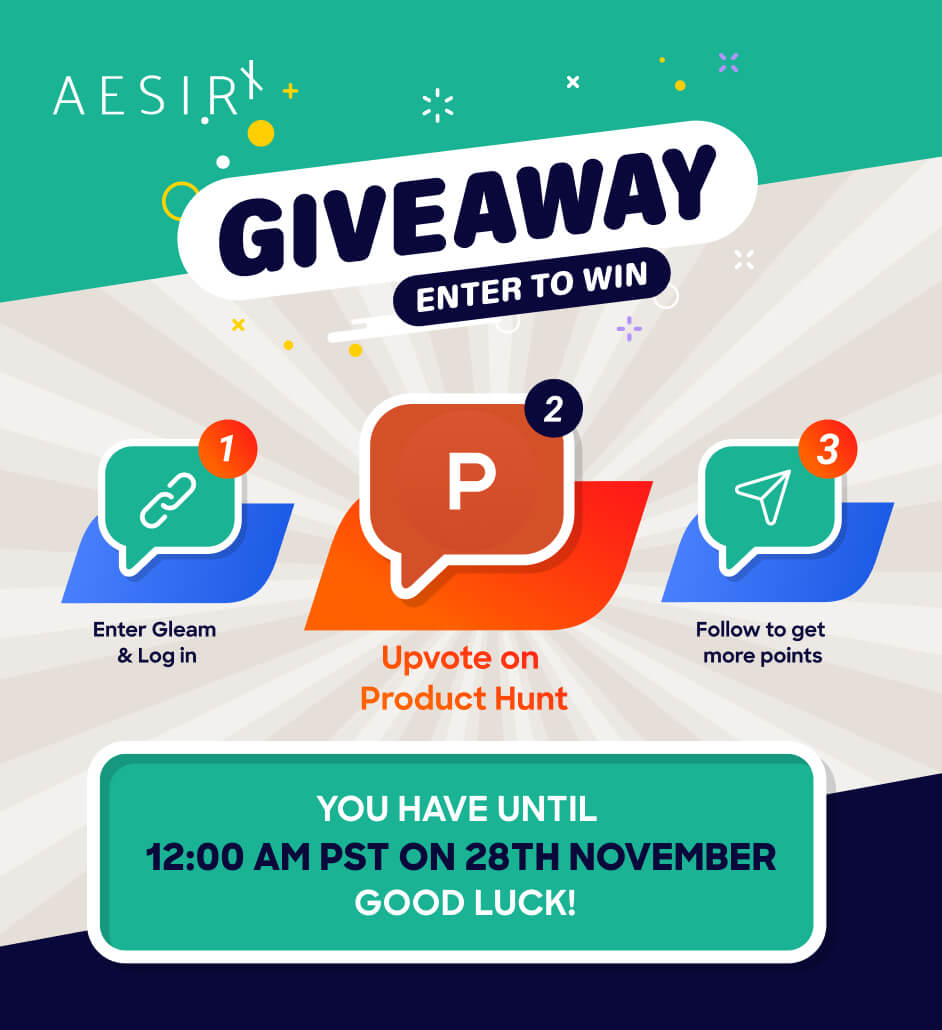 Read Full Story -
Vote on Product Hunt - $1 Million USD AesirX License Giveaway!
|
More news from this source
Press release distribution by PRLog