Are Markets Nearing the Bottom?
July 19, 2022 at 15:50 PM EDT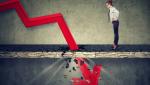 Have equity markets hit bottom? Mark Hackett, chief of investment research for Nationwide's Investment Management Group, wrote in the Nationwide blog that there are certainly signs to suggest that they're at least nearing it. For all the volatility experienced over the last two months, the S&P 500 has changed very little. The S&P 500 is [...] The post Are Markets Nearing the Bottom? appeared first on ETF Trends .