Is It Time To Diversify Your Real Assets Portfolio?
April 26, 2022 at 14:27 PM EDT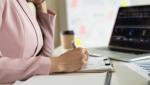 With inflation continuing to rise, savvy investors are hiding in real assets. When investors think of "real assets," physical gold is often the first thing that comes to mind. However, there are alternative ways to gain commodity exposure that bring optimized diversification benefits. Having a...