ETF Edge Live From Exchange: Is China Investable?
April 11, 2022 at 17:00 PM EDT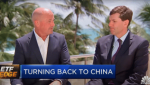 Tom Lydon, CEO of ETF Trends, and Brendan Ahern, CIO of KraneShares, discuss if exposure to China is feasible in current environments for foreign investors on this week's "ETF Edge," hosted live on CNBC by Bob Pisani from ETF Exchange in Miami Beach, Florida. Ahern opens by discussing the interest...