Live on Indiegogo, XNITO introduces a new class of helmet for faster e-Vehicles with integrated rechargeable front and rear LED lights.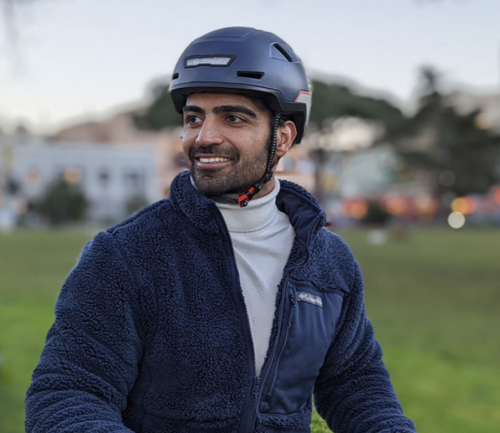 San Francisco, United States - March 7, 2022 /MarketersMEDIA/ —
XNITO, the revolutionary new class of helmet designed specifically for safety at higher speeds achieved by e-Bikes and e-Vehicles, is live on global crowdfunding platform Indiegogo and raising funds to bring the project to life.
The dirty little secret in the biking industry is that CPSC traditional biking helmets only protect riders up to 15mph. This leaves the fast growing e-Bike and e-Vehicle industry with a glaring blind spot— helmets being used by most that aren't meant for higher speeds. The XNITO Old School Helmet is a breakthrough new safety product that offers protection for wearers at speeds up to 28mph.
"About two years ago, I bought my first e-bike. I remember the thrill of going fast down the bike lane when an eSkateboarder passed me to the left. It startled me and I almost crashed. At that moment it made me wonder if my own bike helmet was enough to protect me at these higher speeds. I started researching and was shocked to learn that my CPSC helmet protects only up to 15 mph, and even with MIPs technology I was not safe," says founder and CEO Benjamin Dai on the inspiration behind the project. "My only option was to get a motorcycle helmet, these things weigh a ton, have poor visibility, and are simply way too much helmet. At that moment I realized there is a huge gap in the market between a bicycle helmet and a motorcycle helmet. This set in motion my quest to develop the perfect helmet."
The United States relies on the CPSC standard which was created back in the 1970s to regulate helmets; and only requires protection up to 15mph. It is an outdated system unprepared for today's reality of city streets flooded with e-Bikes and electric scooters. The XNITO Old School Helmet was created to pass the higher levels of certification required by the Dutch-based NTA 8776 safety certification which requires protection up to 28mph— offering an incredible 87% increase in overall protection compared to traditional CPSC certified helmets most commonly seen in the U.S.
Not only does the XNITO helmet offer increased protection, but it also offers a full spectrum of features including:
• LED Front Light
• 3 Rear Light Modes
• Dial Fit Wheel to ensure a snug fit
• Removable and washable inner fabric liner for extra comfort
• Fully Ventilated aerodynamic design to provide maximum airflow
• Removable Visor to help keep the sun out of riders' eyes
"XNITO Old School is the first helmet made just for e-Vehicle riders, offering a superior level of protection for speeds up to 28 mph. It was designed to be safe, innovative, and stylish," adds Dai. "The US consumer is widely ignorant of the fact that CPSC helmets only protect riders up to 15 mph, and there is a lack of general awareness that riders on newer, faster e-vehicles are largely under-protected. Even the educated US consumer is mainly focused on MIPS which provides only a 10% improvement in impact absorption for rotational shear forces, whereas the NTA 8776 standard provides 87% greater protection overall."
XNITO is currently live and available to support on Indiegogo: www.indiegogo.com/projects/xnito-advanced-helmet-for-e-bikes-e-vehicles
About XNITO
XNITO is a San Francisco startup founded in June 2020 during our collective Covid experience. People are going faster on e-scooters, e-Bikes, and other insanely fast e-vehicles while being more distracted than ever before. People are upgrading their bikes, but are not aware that they also need to upgrade their helmet protection. We took on the challenge of not only designing a helmet that can protect people at higher speeds, but also the harder task of educating people about the critical differences between CPSC vs NTA standard - knowledge that can actually save their lives.
For more information on XNITO please visit xnito.com
Company Name: XNITO
Contact Person: Victoria Ferrary
Email: Send Email
Phone: (888) 882-7988 ext. 102
Country: United States
###
Contact Info:
Name: Chris Woods
Email: Send Email
Organization: XNITO
Website: http://xnito.com
Source URL: https://marketersmedia.com/xnito-introduces-a-new-class-of-advanced-biking-helmet-designed-specifically-for-the-higher-speeds-of-e-bikes/89066833
Source: MarketersMEDIA
Release ID: 89066833