Julia Hanke is launching Female brand new book, "Prince Edward's Journey to Islam", available through Amazon targeted at fans of the Young Adult Novel, Medieval Historical Fiction world. More information is available at the website: https://www.juliahankeauthor.com/prince-edward-s-journey-to-islam-book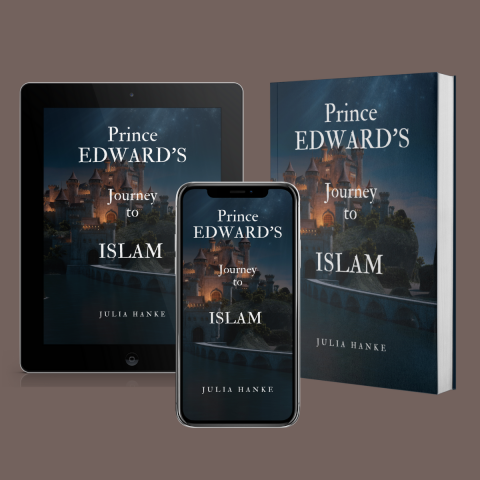 Dubai, United Arab Emirates - February 9, 2022 /NewsNetwork/ —
Julia Hanke was born and raised in Germany. She converted to Islam at 17. Julia studied Education and Islamic Sciences at a famous German University and achieved her Bachelor's degree. She lives in the UAE and is homeschooling her three children. Contact info: Julia Hanke info@juliahankeauthor.com Website and micro page of the book: https://www.juliahankeauthor.com/prince-edward-s-journey-to-islam-book Julia Hanke is launching Female brand new book, "Prince Edward's Journey to Islam". The book is set to go live Feb 9th, available Amazon and is expected to become a big hit with fans of the Young Adult Novel, Medieval Historical Fiction world.
More information on the book can be found here: https://www.juliahankeauthor.com/prince-edward-s-journey-to-islam-book
This is the 5th book Hanke has authored. The book was written with the aim in mind to Islamic context of adventure, history, a real coming of age story, that portrays a story of faith, courage, loyalty and trust in Allah (God). There's also particular excitement about this launch because the novel is inspired by legendary figures like Salahuddin Al Ayyubi, Sultan Qalawun, Nusaybah bint Ka'ab, Richard the Lionheart and Queen Eleanor of Aquitaine, still fascinating people to this day with Islamic twist.
Prince Edward's Journey to Islam sets its main focus on Fourteen-year-old young Prince journey to discovering his true self and the struggles he faces after his father King Henry Brighton passes away who was once famed as Blue Knight of the Fursan Al Azraq, the best fighters in Crown Earth and land of riches and beauty.. Readers will likely find a particular interest in the life of the young price after his father gets seriously ill, Edward the young prince life will forever change. He must now rule the kingdom and defend it against his uncle, who wants to become king for himself.. The book's cover art was created by Julia Hanke and Prince Edward's Journey to Islam is being released by Independent Publisher Julia Hanke.
Julia Hanke has a background in Education and Islamic Sciences (including Arabic) and received her Bachelor's Degree from the popular German University "Universität Hamburg". This helped shaped the creation of the book by offering Islamic alternative to non Islamic young-adult novel.
When asked about why they wrote the book, Hanke said: "I was inspired to write this book for my oldest son, who also helped me to develop the story."
Hanke has hopes that the book will Inspire others to writing fictional novels based on Islamic context. Inspiring young adults to learn more about their religion in a fun way.. This positive outlook from the author is certainly testament to their optimism considering some of the mishaps during its creation. At one point she had to reformat the whole book because the design tool she was using distorted everything..
In a recent interview, the author made a point of thanking her family and her husband for their part in the creation of the book, saying: "I want to thank my dear husband, who was pulling me back on track every time I fell off and wanted to quit. My colleague and beloved sister, Naima Robert, described her deceased husband Suleyman, may Allah have mercy on him, as the "wind beneath [her] wings" and really, I can relate to this feeling as my husband has supported me throughout my journey in incredible ways. I could never have finished this book without him. He supported me not only financially and mentally, but also provided countless opportunities for me to write by taking the kids out or playing with them at home."
Those interested in learning more about the book can visit here: https://www.juliahankeauthor.com/prince-edward-s-journey-to-islam-book
Contact Info:
Name: Mohamed Awais
Email: Send Email
Organization: Findrez
Address: Sheikh Zayed Road - Emirates Tower, Dubai, إمارة دبيّ, United Arab Emirates
Phone: +971-4-319-7659
Website: http://www.findrez.com/marketing
Source: NewsNetwork
Release ID: 89063515