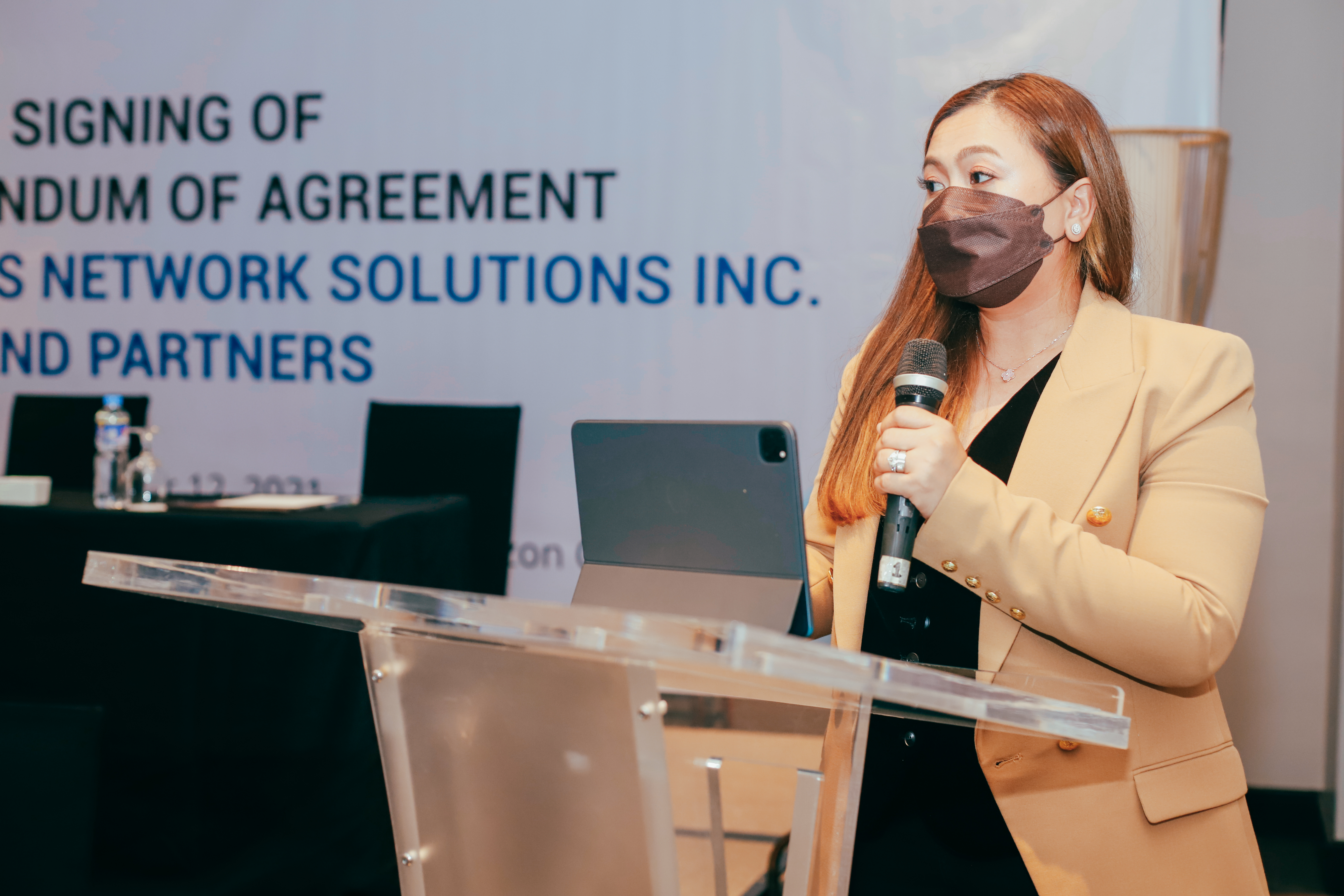 Veronica Yu welcomed Titan's partners.
Philanthropist Veronica Yu, CEO of Titan Business Network Solutions Inc., led the MOA signing with OnePnas Shops' logistics partners last November 12, 2021, at Seda Hotel. Also present were Chairman Johnny Gaw Yu, Chief Administrator Judith Arlyn Vergara, and COO Maurice Librea. Representatives from XDE Logistics, Flying High Express, and JCS Logistics were in attendance.
The MOA called for OnePnas Shop's logistics partners to lower delivery costs of products sold on the marketplace. These lowered costs will be passed onto Filipinos buying goods, resulting in Filipinos paying less for their shopping needs. Yu also asked that improved tracking software be implemented by her logistics partners so that customers may easily track their deliveries.
Titan's OnePnas Shop, a pilot project that will be launching in the first quarter of 2022, is an all-in-one multi-vendor e-commerce marketplace where its vendors may sell goods, services, rentals, and events all under one roof.
After a considerable amount of preparation, Titan's OnePnas Shop will finally be able to launch in the Philippines. Veronica Yu, the CEO who has earned a reputation for her care for youth and humility said that with the opening of a new marketplace soon, more Filipinos will be able to make money, especially young people.
"The OnePnas Shop is a big step towards combating poverty and unemployment. It gives people a means to make money," remarked Yu.
With the expected launch of this project, Titan will not only use their superior technology but also leverage other companies' competitive advantages as well- from finance to logistics, IP services, teaming up with these partners will help strengthen the project.
"We want to give people a chance to try their hand in e-commerce," Yu stated, adding that they will be conducting orientations for interested merchants and vendors who want to know more about the program.
For more details about early vendor onboarding, interested parties may inquire through onepnasshop@gmail.com or visit OnePnas Facebook Page, www.facebook.com/onepnasshop.
Media Contact
Company Name: JGY Communications Group
Contact Person: Mylene Cruz
Email: Send Email
Phone: 0277954081
City: Quezon City
Country: Philippines
Website: www.johnnygawyu.info