Amaryllo's Ibabi Smart Receives CES 2022 Best of Innovation Honoree for Next-Generation Baby Monitor Technology
Irvine, California - November 18, 2021 - Amaryllo announced that it has been named a CES® 2022 Innovation Awards Honoree for it's smart baby monitor, iBabi Smart. The CES Innovation Awards program recognizes consumer products like iBabi Smart for outstanding design, innovation and engineering. This marks the sixth consecutive CES award for Amaryllo since 2015.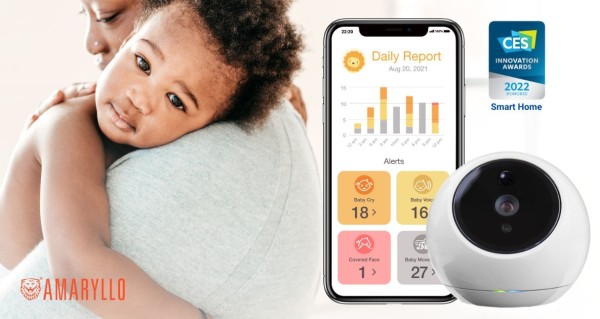 iBabi Smart is the world's first AI-powered baby monitor with embedded high-power CPUs to perform advanced biometric analysis without the need for a local computer. By utilizing complex onboard machine learning algorithms, iBabi Smart provides in-depth insights about a baby's daily development and warns parents when babies are in potentially dangerous situations.
The thoughtfully-designed iBabi Smart offers an extensive list of game-changing features such as 256-bit military-grade encryption, the ability to recognize when the baby cries or speaks, a comprehensive daily generated report of the baby's behavior, and patented 360° auto-tracking technology.
"iBabi Smart isn't just a typical baby monitor. It's every parent's favorite robot nanny they never knew they needed," said Marcus Yang, president of Amaryllo. "We are passionate about making the lives of parents and children safer and easier and iBabi is a very satisfying step in the right direction."
iBabi Smart will be on display at Amaryllo booth #51155 for CES 2022 in Las Vegas from January 5th-8th. Additional information about iBabi Smart can also be found on Amaryllo's website at www.amaryllo.us/ibabi.
Amaryllo combines years of experience with advanced AI and analytics to create innovative surveillance technologies for homeowners across the globe. Since Amaryllo began in 2012, millions of homes have trusted Amaryllo as their #1 home security provider.
Media Contact
Company Name: Amaryllo Inc.
Contact Person: Dustin Craft
Email: Send Email
Phone: (949)316-1222
Country: United States
Website: http://www.amaryllo.us/