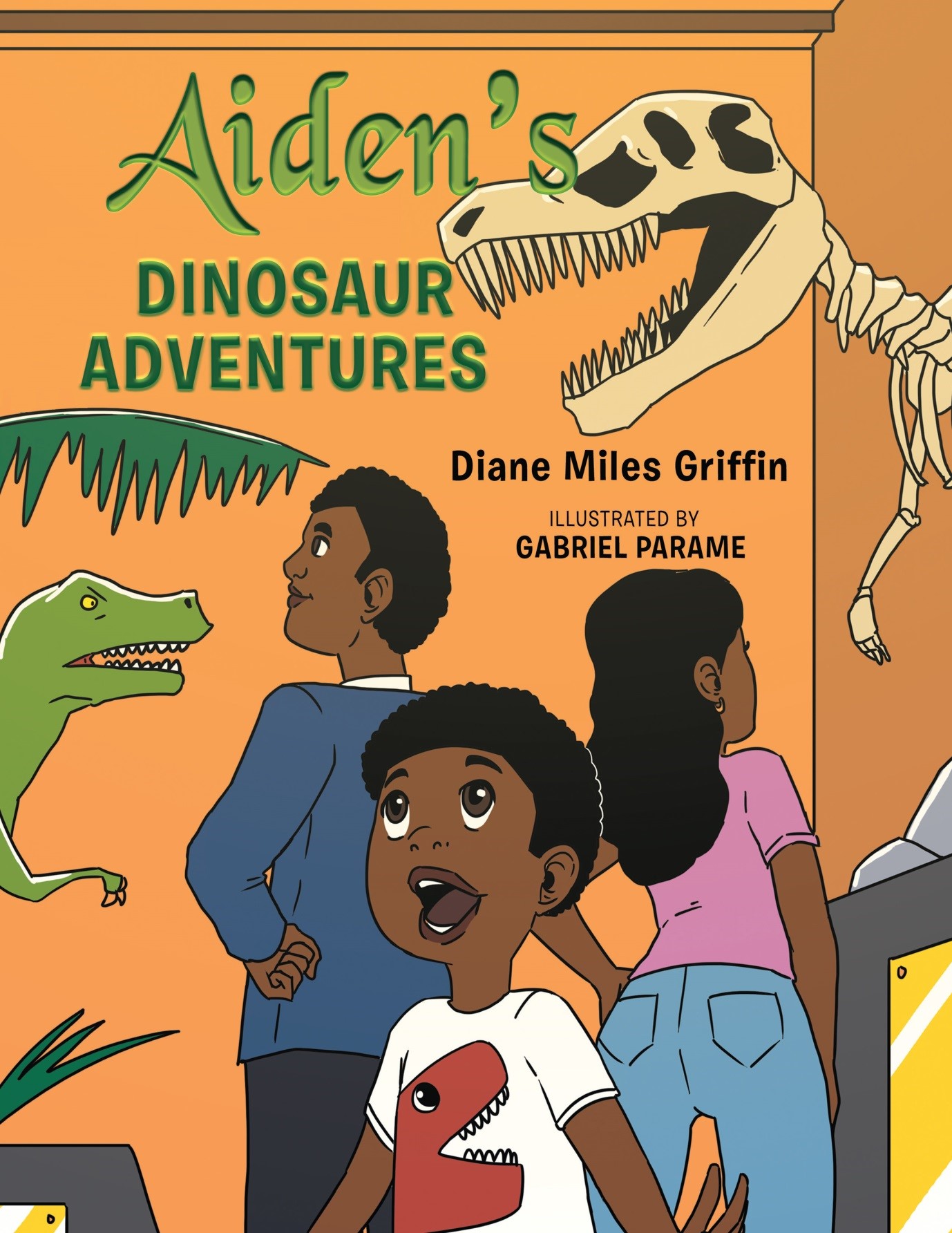 Diane Griffin Explores the Dinosaur World for Kids in New Book.
Phenix City, Alabama - November 16, 2021 - American teacher and author, Diane Miles Griffin, has released a book titled 'Aiden's Dinosaur Adventures' a kid's fantasy storybook that ushers children into the dinosaur world via interesting adventurous stories. Aiden's Dinosaur Adventure is currently available on Amazon and other major bookstores.
While dinosaurs had been extinct for several million years, their traces can still be found across the planet. Scientists continue to study these massive ancient creatures with the hope that their existence and extinction will provide a valuable lesson for humanity on survival.
Aiden's Dinosaur Adventures tells of an active three-year-old who loved dinosaurs. He takes a trip to the local museum where he learns about some of his favorite dinosaurs in their natural habitat. He gets to dig for dinosaur bones along with other fun activities. Outside he bounces in the bounce house, slides down a giant dinosaur slide, and rides on the dinosaur train.
The book is targeted at children aged 6 to 12, 'Aiden's Dinosaur Adventures' provides information about dinosaurs indirectly through its colorful, entertaining stories.
"Aiden's Dinosaur Adventures was written as a result of my nephew's love of dinosaurs," said Griffin. "Aiden, three years old at the time, loved dinosaurs. I would buy dinosaur books for him to look at. Eventually, he was able to name all the dinosaurs in the book just by listening to me read about them and show him the pictures." She added.
Born and raised in Salem, Alabama, Diane Miles (later Diane Miles Griffin) is the oldest of four girls. She also has two older brothers. The author's parents, Annie and Willie Miles raised strong, independent children. They taught them to always do their best in all they endeavored to do. Raised in the church, and learned about the Bible, Jesus, faith in God, and His plan for living, and eternal happiness.
Griffin holds a Bachelor of Science (1980) and a Master's degree (1981) both in Elementary Education from Alabama State University. In 1983 her first teaching job was at Randolph Middle School in Cuthbert, Georgia. In 1984, she taught remedial at Beulah High School for eight years. Afterward, she taught at Smiths Station Elementary School where she continued to teach remedial reading for two more years. Then in 1994, she began teaching second grade. In 1998, she graduated from Troy State University with an Educational Specialist degree in Elementary Education. In 2011, she worked at West Smiths Station Elementary School for two years. She retired in May of 2013. Griffin begins to substitute teaching until May of 2021. She is currently working as a reading tutor at West Smiths Station Elementary School.
After enjoying teaching for over 30 years, Diane Griffin began to write her first book, Aiden's Dinosaur Adventures in 2017, while working as a reading tutor at Loachapoka Elementary School. It was published in January of 2018 by Xlibris and republished in 2020 by Gold Touch Press. A second book, A Princess for Halloween, was published on October 29, 2021.
For more details about the book, visit the author's website or check out her Instagram, Facebook, and Tumblr handles.
About Goldtouch Press, LLC
GOLDTOUCH PRESS, LLC is an established and experienced group of various publishing houses that teamed up to bring their clients accessible and competitive author services.
Media Contact
Company Name: GOLDTOUCH PRESS, LLC
Contact Person: Diane Miles Griffin
Email: Send Email
Phone: 888-404-1388
Address:420 Lexington Avenue, Suite 300
City: New York
State: NY 10170
Country: United States
Website: www.goldtouchpress.com