Getting Exposure to Quality Companies in Developed Markets?
November 13, 2021 at 08:30 AM EST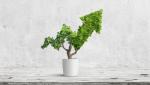 By Alejandro Saltiel, CFA, Associate Director, Research The quality factor has outperformed the broad market this year across the globe, and we expect that to continue through the expansion phase of the economic cycle. The WisdomTree International Quality Dividend Growth Index (WTIDG) selects...