Track Title: Beads of Courage Genre: Pop Launch Date: 30th September 2021 ISRC Code: USMH92190215
(PRUnderground) November 8th, 2021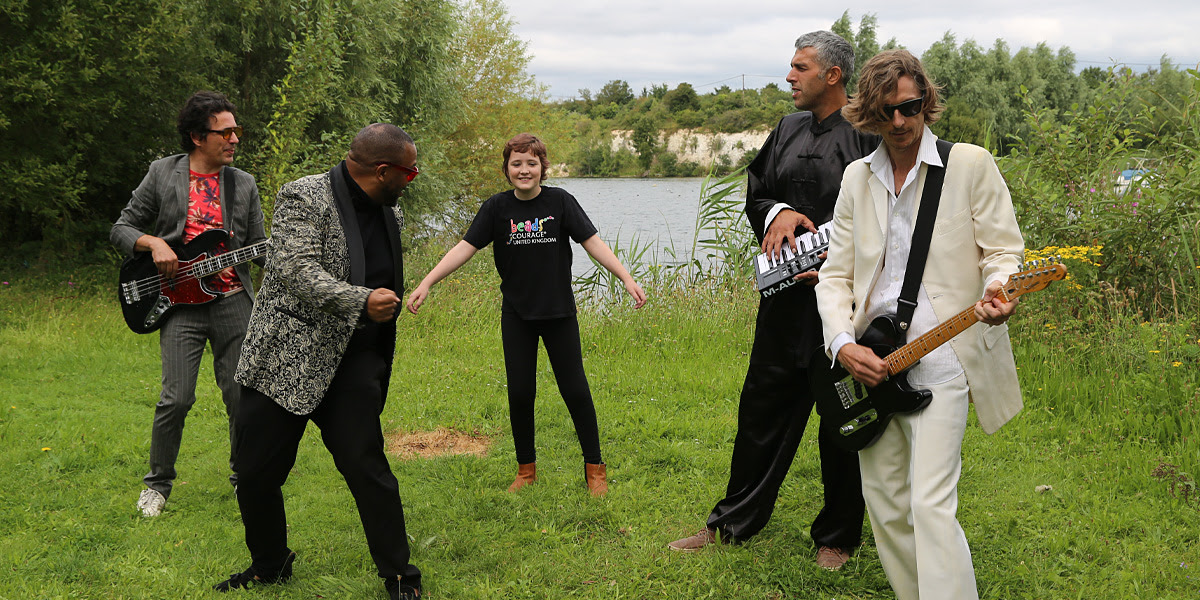 The Beads of Courage UK charity and music project supports children with cancer and other life threatening illnesses.
Charity Location: UK-wide.
Over 160 hospital wards, supporting 16,000 children a year with life limiting and chronic conditions.
In a monumental effort to support a charity struggling through lockdown, a Kent and London based group of musicians, singers and dancers join forces to produce a hit song and music video for Beads of Courage UK, a family based charity supporting children with cancer and other life threatening illnesses.
Every year in the UK, approximately 4500 children will be diagnosed with cancer. They face their disease and treatments with bravery. Beads of Courage UK charity, by giving different beads for each treatment, helps children to own, record and tell the story of their treatment journey.
Brian Travers (saxophone and founding member of UB40) sadly succumbed to cancer treatment shortly after helping make this song. It was his one of his last performances and a cause he felt for deeply.
In July 2020, Chairman of Beads of Courage UK, initiated the project with the help of Mark Kent, Warden at Eternal Lake Nature Reserve, where the music video was filmed.
Mark originated the idea of making a song for the charity, to raise both awareness and funds damaged by the lockdown. "Dealing with such a powerful and emotive subject, the feelings are so powerfully expressed in music", says Mark as we chat over the project over a coffee.
"I immediately drafted in BAFTA Award winning Artist and Friend, Blair Jollands to write and arrange the song." Blair beautifully captured the spiritual and uplifting vibe the newly founded fellowship sought to produce.
Mark continues, "Through Richard Harding, Brian Travers was introduced to the Charity and the music project, who swiftly put the work to the top of a long list of ongoing projects . Brian's son Jamie Travers recorded the contemporary counter melodies played beautifully by Brian.
"This was a significant boost for the fledgling group, who has failed to attract any celebrity involvement after sending dozens of requests.
"Brian was so inspired about this project, his spirit is in the music. He did an amazing job, we loved him, we will miss him. This project has had a spirit energy behind it from the beginning and the true essence came together with the music and the lyrics", Mark continued.
After Brian's recording, the track spent many months of development and after a long search for singers, the group were blessed with the willing involvement of singer Lifford Shillingford, Golden Buzzer Winner Britain Got Talent and Artful Dodger). Lifford was recorded by Sun walker (Andy Richardson), who played the bass guitar part and skilfully directed the music video.
Lifford's uplifting and gospel tones pushed the song in the soulful and spiritual direction and it was through contact with local churches, the team enlisted the help of Rebecca Jane Marshall who drafted in a large number of local Kent and Medway based singers, the "Rochester Singers", who sang beautifully together and have been amazing in supporting the project.
The bluesy lead guitar parts were recorded by Adam Chetwood, an accomplished Kent based professional guitarist.
The music video includes Kent based Wish Upon a Pony, Xtreme Dance Academy, Ellie Hunter and Hannah Knowlton (Gongs and Crystal Bowls) and the Traditional Chinese Martial Arts Institute who all participated in the creation of the  story of the music video, a dream sequence of a Beads of Courage Child Yasmin Howes, aged 10.
Yasmin was diagnosed with Osteo Sarcoma in February 2020. Her dream takes her on a fantastic adventure which beautifully captivates the imagination of a child and is centred around the giving of a bead, the beauty and magic of nature and the power of the human spirit.
"Beads of courage was such a fundamental part of Yasmin's treatment. To help the charity continue its fantastic work and support other children was such an honour and privilege for the whole family", says Louise Howes, Yasmin's Mum.
The single can be purchased on the Beads Of Courage website https://beadsofcourageuk.org/product/beads-of-courage-by-beads-of-courage-uk/
About Radiopluggers Global Ltd
We deliver music to over 30,000 verified radio station and press contacts worldwide. We guarantee a professional service, ensuring we maintain our relationships with radio stations and press contacts worldwide. We help musicians get heard and playlisted by an incredible amount of radio stations and reviewed by press contacts worldwide. We pride ourselves on being able to deliver an unparalleled level of promotion on a global scale. We built the world's biggest verified database of radio station and press contacts and around that, we built a service that helps our artists get their music heard by as many industry contacts as possible.
The post The Beads of Courage UK charity launch new charity record. first appeared on PRUnderground.
Press Contact
Name: John Drummond

Phone: +44 (0) 7534 949 254

Email: Contact Us
Original Press Release.