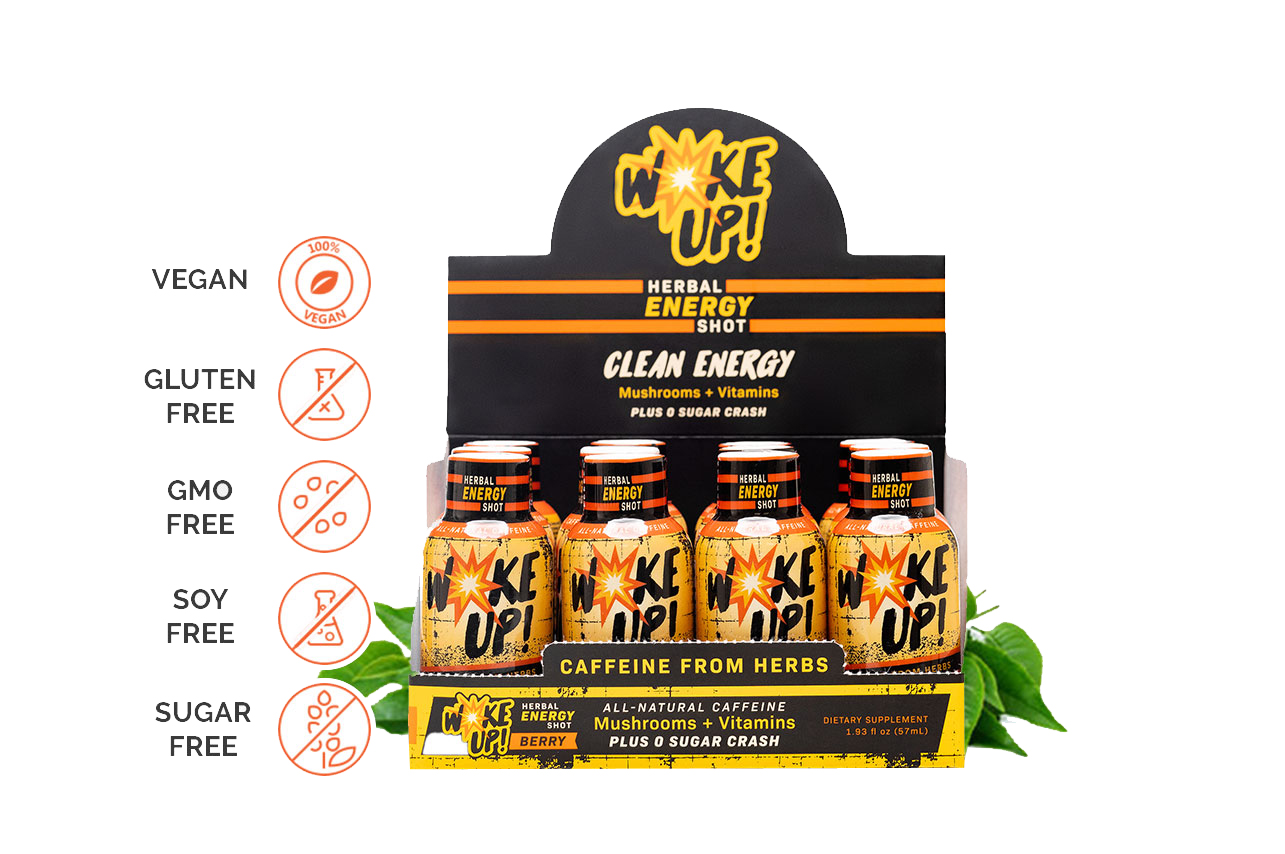 Woke Up! Energy Shot is a plant-based, herbal energy shot full of healthy herbs, mushrooms, and antioxidants. Vegan, keto-friendly, gluten-free, sugar free, non GMO.
Woke Up! Energy Shot is a plant-based, herbal energy shot with caffeine sourced from herbs, yerba mate and guarana. With a proprietary formula full of adaptogenic herbs, mushrooms, antioxidants, and amino acids, the majority of consumers have reported all-day energy with no jitters.
"Woke Up! Energy Shot Partners With Mr. Checkout To Access 61,000 Stores"Woke Up! Energy Shot, a new plant-based energy shot, has officially partnered with food and beverage veteran, Mr. Checkout, gaining access to their established network of 61,000 stores for further nationwide distribution. Woke Up! Energy Shot, based in Tampa, FL, launched retail, vending, and online distribution earlier in 2021 with their all natural, plant-based caffeine shot which boasts zero sugar and a proprietary formula packed with herbs, healthy mushrooms, vitamins, and amino acids.
The shot comes in an organic berry flavor, available ready-to-go (refrigeration not required) in a 1.93 fluid ounce bottle equal in caffeine to one and a half cups of coffee. The Mr. Checkout distribution deal will enable Woke Up! Energy Shot to rapidly secure shelf space across the distributor's 61,000-store network across America. Mr. Checkout has been in business since 1989 (with a recent shoutout on ABC's Shark Tank), and specializes in servicing grab-and-go food and beverage locations perfect for Woke Up! Energy Shot. Created by CEO Dilan Jay, the goal with Woke Up! is not to slot another jittery energy product onto stores shelves, but instead provide a healthier version of the most widely consumed beverage type in the nation: caffeine. With over 90% of Americans drinking caffeine on a daily basis, market appeal is self-evident [1]. Instead of sourcing the shot's caffeine from harsh, synthetic sources or the usual coffee bean, Dilan extracted the shot's caffeine from two Amazonian plants — yerba mate and guarana — to help avoid jitters or the notorious crash, but still provide the all-day energyboost consumers expect from an energy product. "We are very excited to partner with Mr. Checkout given their deep-rooted history in servicing the exact type of businesses where people are already buying energy products," commented Dilan Jay. "Consumers aren't giving up their caffeine, but with our plant-based energy shot, they can get their energy fix without sacrificing health or affordability." 
With consumer desire for plant-based alternatives on the rise, particularly because of the COVID-19 pandemic, now more than ever consumers are reaching for healthier products. A study from Kerry Research shows that 82% of people will pay more for a cleaner label product [2]. Furthermore, consumer interest in adaptogens grew 55% in 2020 alone, according to data from Spoonshot, with consumer interest in the mushroom cordyceps spiking up 86% — a main ingredient in Woke Up! [3]. More information about Woke Up! Energy Shot and its proprietary ingredient list can be found by visiting wokeupenergyshot.com.
SOURCES:
Heckman, Melanie A., Jorge Weil, and Elvira Gonzalez De Mejia. "Caffeine (1, 3, 7-trimethylxanthine) in Foods: A Comprehensive Review on Consumption, Functionality, Safety, and Regulatory Matters." Journal of Food Science. April 5, 2010. Cassity, Jessica. "State of Clean Label Around the World: Global Similarities, Geographic and Generational Differences." March 19, 2018. Kerry.com Website. https://www.kerry.com/insights/kerrydigest/2018/state-of-clean-label-around-the-world Danley, Sam. "Adaptogens Taking Center Stage In Stress Reduction." March 18, 2021. Food Business News Website: https://www.foodbusinessnews.net/articles/18195-adaptogens-taking-center-stage-in-stress-reduction
Media Contact
Company Name: Woke Up! Energy Shot
Contact Person: Jenn Ryan
Email: Send Email
Phone: 727-480-3270
Country: United States
Website: https://mrcheckout.net/woke-up-energy-shot/