The author believes the purpose for one's success is something bigger than themselves
(PRUnderground) October 19th, 2021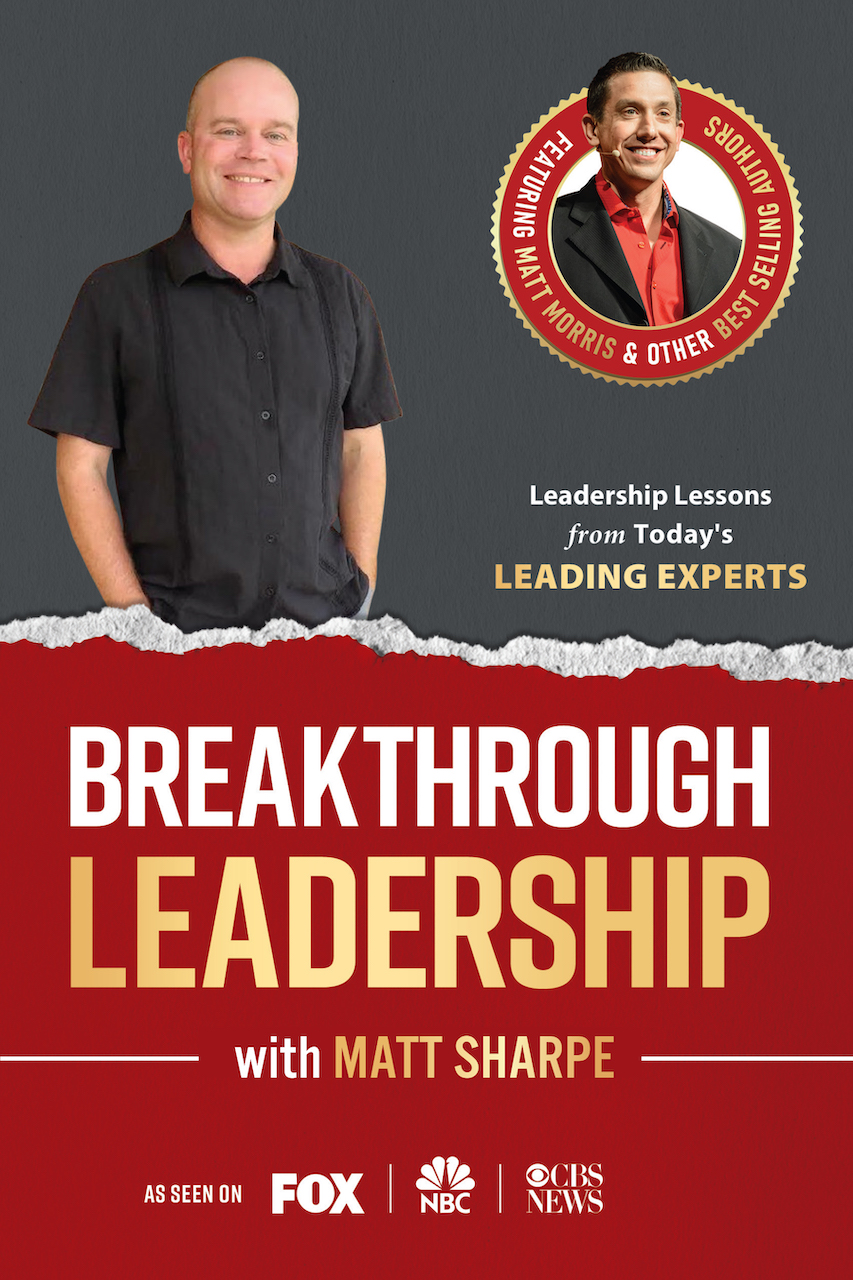 There is nothing on this planet that is without a purpose. The pages of Breakthrough Leadership with Matt Sharpe (now available on Amazon) drive this point home by teaching its readers that finding their "why" is essential to their journey to success. By sharing his story and some practical tips on how to do so, the author shows his readers how to find their "why."
Matt Sharpe has two decades of experience in B2B sales, B2C sales, and direct marketing. He is a graduate of North Carolina State University with a degree in business management. Sharpe currently runs a successful direct marketing business and works with a multi-state equipment dealership as a territory manager. From Matt's humble beginnings in rural North Carolina, he has achieved his goals of success while remembering the wholesome values instilled in him by his parents. He believes everyone is put on this earth with the ability for greatness. His mission is to mentor as many people as possible to achieve success through positive leadership. Sharpe believes that everyone is destined for something great, but they need to work for it: "I truly believe that we are all given the ability for greatness. However, ability does not always create greatness. Find your 'why,' plan how you will achieve it, and execute."
Sharpe had his aha moment when he realized that his motivation was centered around himself trying to prove something to others. He realized that his motivation had to be something beyond himself, which gave him a clear purpose to propel forward with reason and determination.
"My 'why' is providing my family with the best life possible and teaching my daughters how to be successful when they have families of their own," says Sharpe.
Breakthrough Leadership with Matt Sharpe is a book that will equip its readers with the right steps to find their reason for doing what they are doing. What makes you move forward? Are you willing to find your "why?"
Entrepreneurs John and Becky Juehrs explain Sharpe's competency and knowledge of starting a business: "Determination and persistence will play a vital role when starting your own business. It is very important to surround yourself with people with these characteristics. Matt Sharpe has these traits. He has never had any excuses and always finds a resolution! It is very easy with outside influences and your own insecurities to just walk away. Matt has shown us that with commitment and consistency, we have the ability to grow our business. We are thankful to have him in our circle."
Presidential Founder at Green Compass Global Jenny Burnett pours out the following words describing Sharpe's positivity: "Matt is one of the most dedicated people I've ever met. He is a dedicated husband, father, friend, and leader in his community and business. I have had the pleasure of working alongside him for the past couple of years as we launched a new company together. The first word that comes to mind when I think of Matt is INSPIRE. He shows up every day with a positive attitude and pours that energy into whoever is willing to listen. He pours motivation, inspiration, transparency, and is the true testament of a leader, as he always leads from the front, never asking his team something he is not willing to do. I've seen him grow so much in such a short time, and he's had such an impact on so many already. I cannot wait to see where life takes him and what God has planned for him next!"
Breakthrough Leadership with Matt Sharpe is now for sale on Amazon.
About Success Publishing, LLC
Since 2013, Success Publishing transforms new authors into expert authorities in 60 days, severely reducing the time, effort, and expense of traditional publishing. There simply is no other tool that expresses your message better than your own book.
The post Matt Sharpe's New Book Will Show You the Power of Finding Your Purpose first appeared on PRUnderground.
Press Contact
Name: Steve Moreland

Phone: 903-312-9166

Email: Contact Us

Website: https://successpublishing.com/
Original Press Release.