Afterworld is the story of Leon who, after death, suddenly finds himself in the middle of chaos as creatures oppress the masses while a few brave people take a stand to fight the darkness and bring order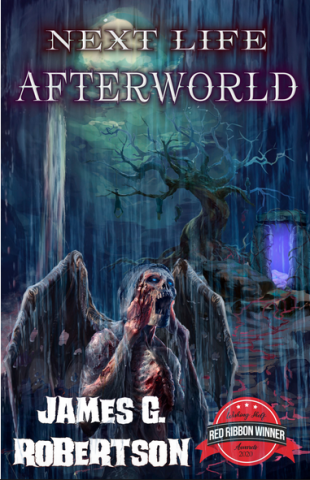 James G. Robertson is proud to announce his new book titled "Afterworld (Next Life)," available in paperback, kindle, and other platforms. The book is for fans of fantasy and adventure, but it offers a unique experience by venturing into the world of the afterlife like no other book has ever done.
The book centers on the character of Leon, a guy in his early twenties. Like most people, he has no idea what will happen at the end of his life. Leon, after death, finds himself living and realizing the universal truth of the afterlife as he is caught in a battle of supremacy. Ensuing violence is triggered by dark and deep otherworldly creatures that control the masses. After death, many people are caught unaware, and Leon will not back down and watch himself become broken like many before him.
Afterlife is a story that quickly captivates the reader's imagination right from the first page. As the reader turns from one page to the next, they are drawn into this world of fantasy, as they experience both the dark side and the hope that the light of the world will bring. But, of course, there is savagery, advances in science, and magic, as the forces of right and wrong struggle to control the universe.
Leon and other heroes and the brave ones have no other option but to overcome their innocence and form a formidable force to protect the cosmos against the ravaging monsters and creatures. They are the only hope to put an end to the chaos and bring about an everlasting order.
An amazon reviewer, Amanda Burton, said, "If you're looking for a fantasy novel that will bend the confines of reality while taking you on a fast-paced journey through literal space and time, then look no further. James. G Robertson spins an intricate web of deceit, hope, and redemption as the protagonist, Leon, learns to harness his newfound- undead- powers to battle an ancient evil that threatens the existence of humanity." Amanda further said, "The story weaves historical figures into it beautifully and gives one of them a rather... electrifying personality. With the ever-growing threat from the dark gods and the dwindling activity of the gods who were said to protect humanity, Leon and his crew will be able to quell the all-consuming darkness that lusts after total control."
To purchase Afterworld (Next Life), please visit https://books2read.com/Afterworld.
For more information on the author and his projects, please check https://nextlifeuniverse.com/. 
Media Contact
Company Name: Next Life Publishing LLC
Contact Person: James G. Robertson
Email: Send Email
Country: United States
Website: www.nextlifeuniverse.com