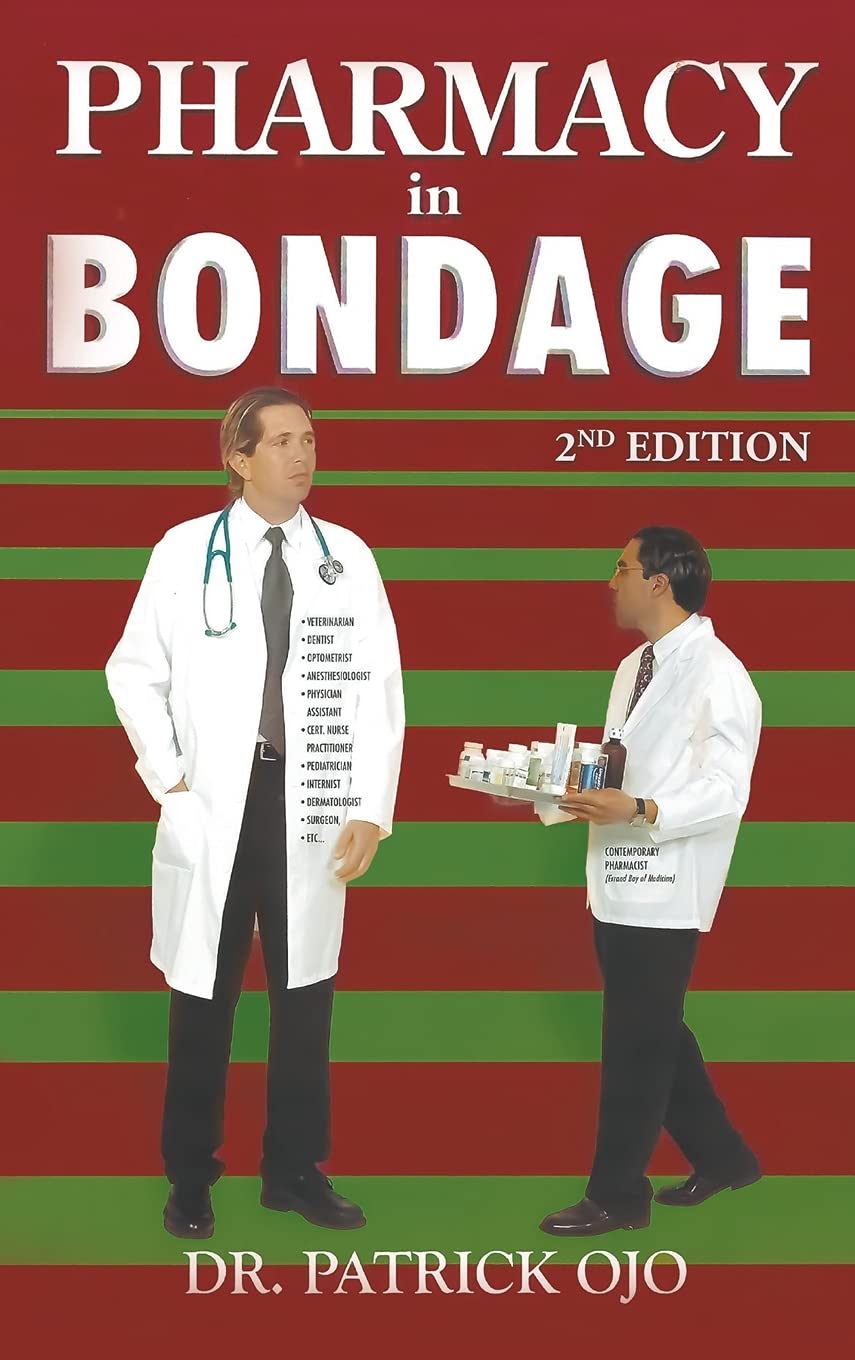 Author Dr Patrick Ojo's Pharmacy in Bondage: 2nd Edition extends a wider explanation of the  pharmacist's role in the medical field expanding beyond the traditional product-oriented functions of dispensing and distributing medicines and health supplies.  The narrative explores the pharmacist's services of today include more patient-oriented, administrative and public health functions.
Pharmacy in Bondage: 2nd Edition creates a detailed account of the many functions of public health that can benefit from pharmacists' unique expertise that may include pharmacotherapy, access to care, and prevention services. He writes: "The book depicts an accurate historical account of pharmacy, its bondage, subservience, topsy-turvy fame, service to humanity and awesome contribution to the healthcare system of US/World It also elaborates the history and shortcomings of other branches of medicine."
He rallied how pharmacists don't get the formal role recognition classified as a profession within public health, unlike nurses and physicians. "Something must be inherently wrong in a system that relegates or subjugates the best at the altar of tradition and societal indoctrination, "he added.
Pharmacy in Bondage: 2nd Edition contains different issues that Dr. Ojo witnessed in his tours around the world particularly, China, India, Nigeria in Africa, Australia, UK and France, Brazil and US. Detailing the pharmacy occupational outlook, he added that Pharmacy and or a pharmacist is a branch of medicine and not an errand boy of medicine. One should realize that pharmacists also hold the most important parts of the health workforce, where training is comparable with a doctor, yet they earn very little.
The book received substantial reviews from the medical field among them is how Dr. Ojo fearlessly elevates the plight of the pharmacy world and the pharmacists. "Pharmacy in Bondage: 2nd Edition" addresses the challenges that pharmacists face in their attempt to be fully utilized across different health care settings.
Available in all major online retail book stores!
Kindle: https://amzn.to/3AObrAy    
Paperback: https://amzn.to/3xULqh8     
Hard cover: https://amzn.to/3m4GRPa
Follow him on Facebook: https://www.facebook.com/Dr-Patrick-Ojo-101033042302036
Media Contact
Company Name: URLink Marketing | URLink Print and Media
Contact Person: Media Relations
Email: Send Email
Phone: 1-888-980-6523
Address:1603 Capitol Ave., Suite 310
City: Cheyenne
State: Wyoming 82001
Country: United States
Website: www.urlinkpublishing.com/