The care provider gives disabled elderly clients hope and independence so they can more comfortably age at home
(PRUnderground) October 4th, 2021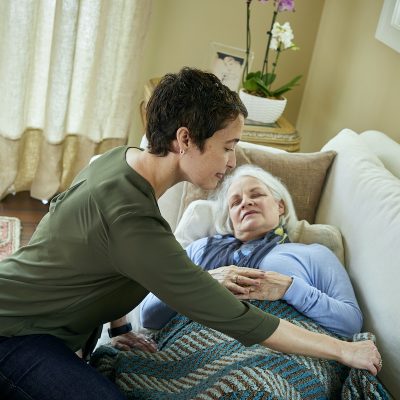 Elderly adults living with disabilities face a variety of challenges navigating daily life. And those wishing to stay at home as they age may need additional support than they get from their families. Similarly, some family members may not feel they are equipped to assist their disabled loved ones as they age, sparking anxieties and uncertainty.
Skilled and compassionate elderly in-home care can provide better opportunities for these individuals and help them live happier and more independent lives. Elderly disabled adults especially can be overwhelmed with caring for themselves while juggling medical needs, but having access to socialization opportunities, meal preparation, hygiene assistance, housekeeping services or medication reminders can lead to better outcomes.
This is why Touching Hearts at Home is dedicated to providing in-home caregiver services for seniors in the Brooklyn area. The care organization makes a difference in the lives of many senior citizens with disabilities by helping them access the resources and services they need to enjoy living independently with purpose. The provider offers a variety of non-medical care services designed to meet the individualized needs of Brooklyn seniors, making their home environments safer, more enjoyable, and less stressful.
"Our skilled, compassionate caregivers are trained to help disabled senior clients stay in their homes as they age," said Craig Sendach, owner of Touching Hearts at Home NYC. "Whether seniors and their families are looking for companionship services or help with tending to personal hygiene, our caregivers can assist disabled seniors with daily tasks that will make their lives easier and more fulfilling."
Elderly disabled adults who live in Brooklyn NY can trust that their needs will be tended to on an individualized level when they secure the services of a Touching Hearts at Home NYC award-winning caregiver. With years of experience helping seniors with disabilities age in place at home, Touching Hearts at Home offers home visits or 24-hour-a-day in-home caregiver services in Brooklyn and the surrounding areas to ensure that the needs of every client are met.
Senior adults with disabilities who need help maintaining their independence or their family members can contact Touching Hearts at Home NYC for the support necessary to thrive at home. The organization has a wide range of resources available to its clients that deliver peace of mind for clients and their families alike, including:
·      Companionship services,
·      Meal preparation and nutrition education,
·      Alzheimer's & Dementia care,
·      Light housekeeping services,
·      Medication reminders, and more.
Brooklyn area elderly disabled adults and their families looking for reliable in-home or elder companionship can contact Touching Hearts at Home NYC today by visiting http://touchingheartsathome.com
About Touching Hearts at Home NYC Area
About Touching Hearts at Home NYC Area – Touching Hearts NYC offers in-home care to aging adults, seniors, and individuals living with medical conditions and disabilities at rates considerably more affordable than care outside the home. The agency is known for Non-Medical Home Care, Companionship and Homemaker services in New York City's Manhattan, Brooklyn, Westchester, Queens, and Rockland areas. Its focus is on providing person-centered care to help those in need remain in their home, maintain the lifestyle they choose, and feel confident they will be treated with the respect and kindness they deserve.
The post Touching Hearts at Home Offers Compassionate In-Home Care to Disabled Seniors in Brooklyn, NY first appeared on PRUnderground.
Press Contact
Name: Craig Sendach

Phone: +1-212-201-6139

Email: Contact Us

Website: https://www.touchinghearts.com/nyc/
Original Press Release.