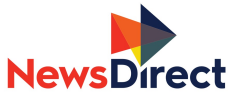 SimpliFi is a self-directed workflow that utilizes customdesigned software and automation to deliver optimal efficiency and control for IR Pros
Norwalk, CT – TheNewswire - September 22, 2021 - News Direct, the state-of-the-art news and content distribution service designed to meet the demands of modern media outreach, today introduced SimpliFi, an innovative feature that streamlines the process of creating and distributing financial content, including earnings releases, mitigating security risks and maximizing cost savings in the process. This first-of-its-kind software will allow issuers to save countless hours of wasted productivity, and potentially thousands of dollars in distribution costs.
 SimpliFi enables IR professionals to copy and paste their earnings content – including tabular data – directly into the News Direct Content Studio. From there, secure sharing capabilities allow key stakeholders to comment on drafts in a protected environment where changes can be made and tracked within the Content Studio with automated version history - minimizing any risk of issuing an incorrect version.
"Earnings periods are often a stressful time for IROs," observed Gregg Castano, CEO and founder of News Direct. "SimpliFi puts an end to the tedious workflow that has long defined the process. The endless back-and-forth with newswire editors, often including multiple revisions, resubmissions, and waiting anxiously as deadlines approach, are now a thing of the past. We are finally bringing the disclosure process into the 21st century, with proprietary technology to ease the major pain points that have plagued investor relations professionals for decades."
IR professionals have no room for error when it comes to disclosing financial information, for this reason, format retention is a key feature of SimpliFi – from bullets to footnotes, the original document format is preserved when migrated into the New Direct Content
Studio. SimpliFi also allows for effortless editing of financial tables; its inclusive editing tools enable issuers to easily adjust cell content or table structure so all numerical values and data are optimized for distribution.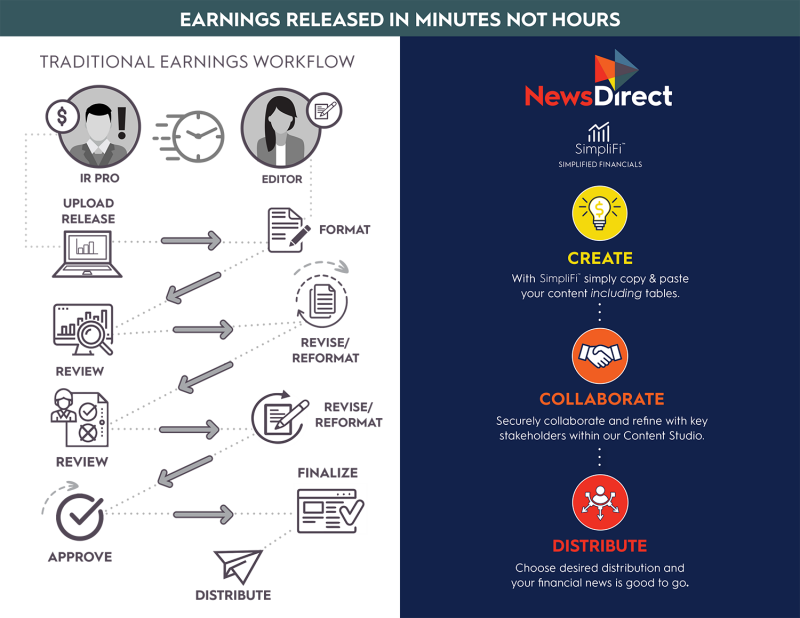 Click Image To View Full Size
The workflow advantages of SimpliFi are coupled with industry-leading security safeguards that protect information integrity on multiple levels. News Direct's platform eliminates the role – and potential risk – of human newswire editors, many working from home, from having access to highly sensitive information prior to market disclosure. With News Direct, issuers retain total control of their most sensitive information, exercising discretion as to the timing of their release to the investment community, without the involvement of intermediaries.
Additionally, the innovative News Direct platform is built with cloud isolation technology and advanced encryption protocols, providing the industry's highest level of protection.
And lastly, News Direct solves another major issue for publicly traded companies – the often exorbitant cost of earnings releases, which can total thousands of dollars. News Direct's flat-rate pricing model, regardless of word count, is both cost-efficient and completely transparent.
To learn more about News Direct, please visit https://newsdirect.com.
About News Direct
News Direct provides news and content distribution for PR, IR, Corporate Communications and Marketing professionals. Our automated platform delivers a completely-reimagined, intuitive workflow, industry-leading security, transparent, flat-rate pricing and actionable analytics. Further, News Direct has deployed an array of innovation including advanced automation, isolation cloud technology and custom software for the most dynamic, efficient and flexible platform available today. To learn more visit newsdirect.com or follow us on LinkedIn, Twitter, Facebook, Instagram or YouTube.
Kevin Pryor
+1 212-334-9753
Copyright (c) 2021 TheNewswire - All rights reserved.