Like a hurricane Dr. Blackmon rushes in and takes no prisoners as she bring the Secure Your Own Bag conference right into your living rooms.
(PRUnderground) September 13th, 2021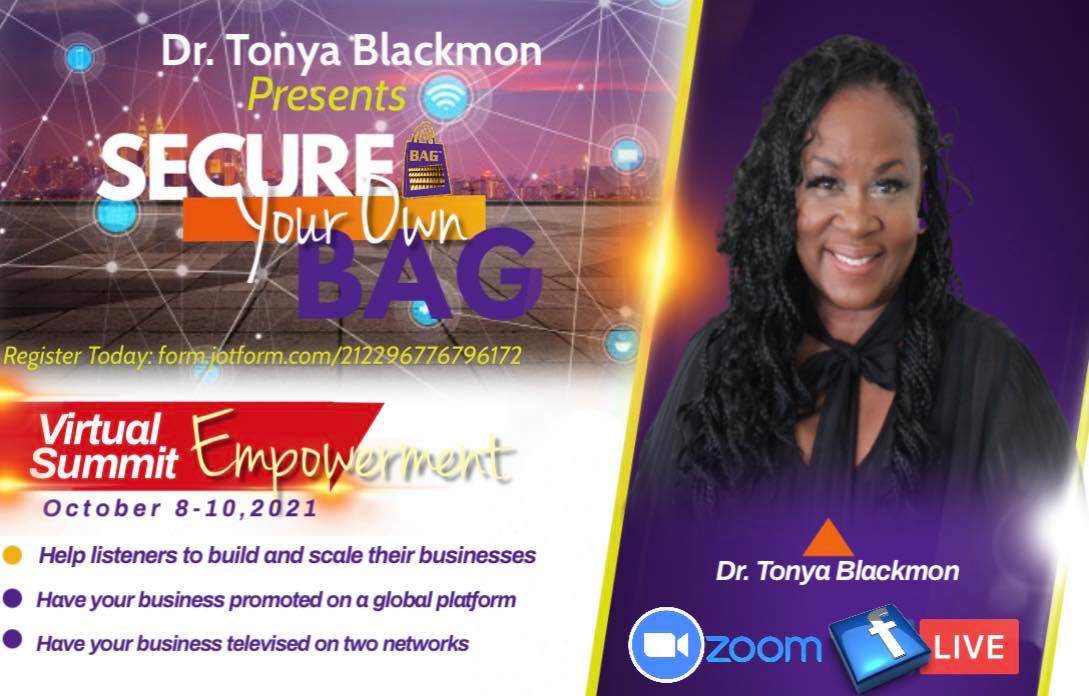 Since our first summit in 2020, the Secure Your OWN Bag summit has grown from 2600+ listeners to over 10,000 listeners. This year we would like that to include you…
Dr. Tonya Blackmon believes each person has the ability and tools to manifest their business dreams from within, but most need external tools, resources, and networks from experts to plan, launch and grow them.
The Secure Your OWN Bag summit will be providing a team of experts to offer a stellar "One-stop-Shop Small Business Development" experience to global listeners October 8-10, 2021  starting at Noon EST, this year's theme is "Finish Strong"
Click here to register  www.drtonyab.com
We have Some of Industries Most Transformational Speakers.
Gracing the stage we have Dr. Carolyn Stephens SYOB Mental Health Advisor giving advice on how to balance business and mental health,  Jeniece Drake of NuWave Travel (www.nuwavetravel.com) speaking on how to avoid the pitfalls of being in a MLM, Coach Tina Ramsay of CTR Enterprises (Tinyurl.com/coachtina1), Coach Canilia Gist Host of  Your Story Matters, Jacqueline Lulu Brown, Dr. Tekeisha Wade, Alethia Tucker, Angela Fox, Sidney Savage, Precious Swain-Peaks, Tiffany Denise Bell,  and Coach Jeanine Bunzigiye.
With Life Changing Topics like how to get grants and contracts with the US government, how to avoid the pitfalls affiliated with MLM's, how to start and maintain a successful business, and much more.
We will have entertainment breaks with performances by Poet Nova Speaks, Vocalist Reece Mills, and Patti Douglas.
It will be a virtual event that you do not want to miss.
Who Is Dr. Tonya Blackmon?
Dr. Tonya Blackmon, aka "Queen of Grants," is a Highly Sought-After Global Speaker/Trainer, Small Business Funding Expert, Mucho Dinero TV Show Producer & Super Proud "Boss Nana."
She is a 3X Best-Seller Author (Pray, Slay and Collect, & International Women of Color who Boss Up & Boss Moms). Her Most Recent books are #1 New Release 7 Days Dive into Spiritual Success, Boss Nana-How to Actually Become One, Boss Nana- 6 Figure Mentorships, is helping business people GET PAID globally.
 Founder of Conglomerate Empowerment (CGE), TEK UP Virtual Academy, Host of Secure Your OWN Bag Summit (Network), and Co-founder/Board Member of the Sassy Carmen Foundation & Boost Builders Foundation & VP of Corporate Sponsorship 2Savage Magazine.
Follow Dr. Tonya Blackmon on social media:
IG: @OnlyDrTonya
Facebook: Tonya Blackmon
Linkedin: Tonya Blackmon
You can book her at https://bookme.name/TonyaB
Make sure to visit her website at https://www.congempowerment.biz/
About Swain Girl Media
Swain Girl Media is a Publishing Company/Digital Broadcasting Network. Providing top notch quality to not only the client but the audience that they serve. SGM brings video content creators to the big screen on both Roku and Amazon Firestick, through web based platforms https://swaingirlmedia.com, youtube, vimeo and dailymotion. In audio format via Podcast available on Apple, Spotify, and Amazon Music. Also, assisting authors in publishing their books and making them available everywhere books are sold.
The post Dr. Tonya Blackmon TakesThe Business World By Storm With The "Secure Your Own Bag" Conference first appeared on PRUnderground.
Press Contact
Name: Precious Swain-Peaks

Phone: (786)361-8235

Email: Contact Us

Website: https://swaingirlmedia.com
Original Press Release.