PUREPUSS has a product offering for all women based on our phase of life Wild Flower : A daily ritual formula for balanced moisture for all women Classic Lavender : For the Eternally Classic ladies post Menopause Black Dahlia : formulated to increase sensitivity while safe for gentle skin Jasmine Rose : Also a daily ritual & the only product line with a gentle scent Sweet Orchid : Specifically formulated for pre & post postpartum
(PRUnderground) September 3rd, 2021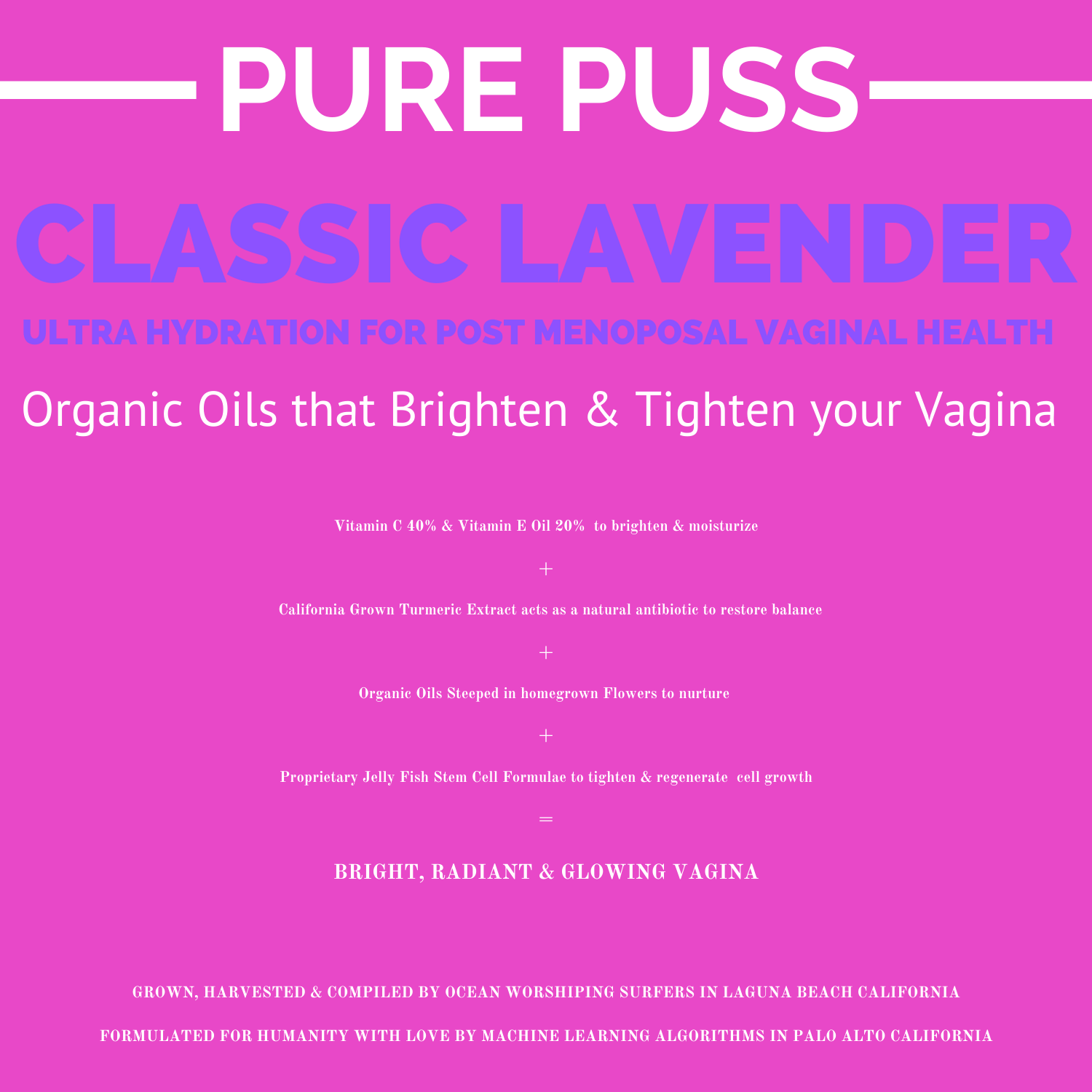 With the launch of PurePuss's new PINK ORCHID – 5 DAY Ritual the race among brands to create alternative products that rival industry namesakes continues, one direct-to-consumer, 8 year mother-daughter feminine care startup is poised to come out on top as this week, the duo announced the launch of this innovative new product at PUREPUSS, which is arguably the most versatile and game changing new skincare brightening and tightening product to hit the niche market this century
Pure Puss products contain bio-renewal jellyfish DNA derived stem cell technology, brand-specific methods that include skin-identical proteins that mimic the skin's renewal process. Speeding up this turnover process allows the skin to heal from common skin issues like dullness and fine lines, and wrinkles. It took a Machine Learning Algorithm 2 years to perfect the formulae. The Jellyfish stem cells are then lab synthesized from this Algorithm.
With over 100,000 five star global brand reviews this year from women as well as men, the PINK ORCHID – 5 DAY Ritual is one staple you don't want to miss. Not only does it tighten and brightens skin, but it also smoothes and replenishes moisture. Vitamin C & organic cold pressed oils add a refreshing and invigorating energy boost to the skin while it adds a dose of brightness from plant-based, natural ingredients for retinol luminescence. PurePuss uses food grade, cold pressed organic seed oils which support natural lubrication and eliminates sensitive skin gdryness while improving elasticity without compromising on sensation as they are formulated safe for sensitive skin regions
Made by the Pacific Ocean currents in Laguna Beach California, USA, this mother-daughter duo set out to create a Cruelty-free female health brand with clean ingredients and No unnecessary harsh chemicals, perfumes or parabens
PUREPUSS has a product offering for all women based on our phase of life
Wild Flower : A daily ritual formula for balanced moisture for all women
Classic Lavender : For the Eternally Classic ladies post Menopause
Black Dahlia : formulated to increase sensitivity while safe for gentle skin
Jasmine Rose : Also a daily ritual & the only product line with a gentle scent
Sweet Orchid : Specifically formulated for pre & post partum
We have a daily care routine for almost every part of our body. But sometimes we overlook one of the most important areas. Our formula helps you proactively care and maintain your V. Keep the skin firm, hydrated and fresh no matter where you are!
–Hydrate and Moisturize the vulva, relieving you of any dryness.
–Soothe & Comfort from any irritation and itching caused by shaving, waxing, or even rubbing against clothing
–Smooths skin feeling soft, while protecting it by giving the vulva a second layer of defense
–Plumps and tightens to help with the loss of elasticity that women may begin to experience over time!
It's everything you need in one product and is easily added into your current daily skincare routine. Before you know it, you'll see the impact that such care can have on your well being
The post With the launch of PurePuss's new PINK ORCHID - 5 DAY Ritual, This 0 Vaginal Vitamin-C Formula, previously exclusive to high-end boutiques is now on sale for for the next 15 days first appeared on PRUnderground.
Press Contact
Name: Lori Bravo

Phone: 3103841356

Email: Contact Us

Website: https://www.purepuss.shop/
Original Press Release.