Doll Aesthetics, a leading aesthetic medicine practice, has launched hyaluronic acid dermal filler treatments for Codsall, UK residents seeking safe sculpting procedures for their cheeks and chin. Their services are also available in Claregate, Tettenhall, Codsall, Willenhall, Perton, and other parts of Wolverhampton.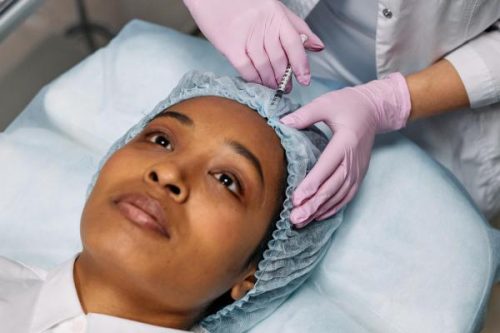 Wolverhampton, United Kingdom - August 26, 2021 /NewsNetwork/ —
Doll Aesthetics, a nurse-led aesthetics clinic with centres in Wolverhampton, Birmingham, and London, has announced nearly painless dermal filler treatments in response to the growing demand for safe cosmetic and aesthetic treatments to correct sagging jowls and improve facial definition.
Full details of treatment options can be found at the following link: https://www.dollaesthetics.co.uk
The clinic's updated range of dermal fillers is available as part of a facial rejuvenation treatment that adds contour and definition to the face. All treatments are carried out by medical aesthetics professionals. Hyaluronic acid dermal fillers enhance the volume of a client's cheeks and add definition to the area around cheekbones. Dermal fillers are relatively painless because the filler contains an analgesic component.
Doll Aesthetics offers multimodal dermal filler treatments for the chin and jaw, using a combination of methods to create a clearly defined jawline. The treatment is also used in profile balancing. Profiloplasty using dermal fillers helps clients achieve an aesthetically pleasing profile.
Doll Aesthetics uses medical-grade products and equipment for dermal filler treatments to ensure safety, consistency, and client satisfaction. Katie Hubball, a professional nurse and the clinic's lead aesthetician, is fully certified and is reputed for her client-focused approach.
The Codsall dermal filler practice uses dermal fillers and other cosmetic techniques to rejuvenate a client's nose, cheeks, chin, jaw, tear troughs, nasolabial folds, and marionette lines. For client satisfaction and to alleviate safety concerns, all treatment options include a dedicated aftercare service.
According to a company spokesperson, "We are fully insured by Hamilton Fraser and have undergone medical aesthetic training at one of the best training academies in the country for medical professionals. We have a medical background and a wide understanding of the anatomy and physiology of the face."
Those interested in dermal fillers and other cosmetic services provided by Doll Aesthetics can find more information at https://www.instagram.com/doll_aesthetics/?hl=en
Contact Info:
Name: Katie Hubball
Email: Send Email
Organization: Doll Aesthetics
Address: 321 Tettenhall Road, Wolverhampton, West Midlands WV6 0JZ, United Kingdom
Phone: +44-7946-200737
Website: http://www.dollaesthetics.co.uk/
Source: NewsNetwork
Release ID: 89043373