Groove Digital is offering full access to its recently launched, trimmed, and highlighted Groove-A-Thon training for new online business owners.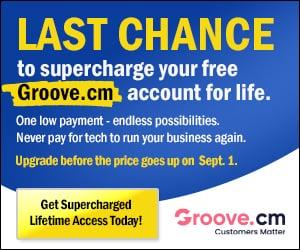 London, United Kingdom - August 26, 2021 /PressCable/ —
The recently launched Groove-A-Thon video series contains over 300 hours of e-commerce training from digital marketing experts and successful online business owners. The content has been selected from a series of live events with presentations by industry experts.
To access the complete video training series, please visit https://groovepages.groovesell.com/a/CFe9ZeeTJNMw
The new series contains a carefully trimmed selection of clips chosen to provide the maximum amount of training in the minimum amount of time. Viewers will also receive access to edited transcripts that have the most important details highlighted for easy reading and review.
Training presentations come from several sources, including 28 industry experts who are currently running successful online businesses, and a number of in-house specialists from the Groove Digital team. There are also presentations from copywriters, designers, and behind-the-scenes technicians who work in digital marketing.
Additionally, Groove Digital is offering a complimentary masterclass on digital lead generation and optimization. The course covers strategies to increase conversions, as well as when and how to position lead generation pages for the best effect. It also contains a section about the use of webinars and small marketing changes that can lead to large sales increases.
All the provided training is designed to be used on the Groove Digital platform, which is currently the world's fastest-growing online marketing CRM. Membership is complimentary for all users and allows access to the company's full range of tools, including applications for video marketing, customer surveys, and online shopping carts.
New users will also be given access to the Groove Digital website builder, which allows them to create an unlimited number of sales websites at no charge. The website builder provides complimentary hosting and customized domain names, as well as e-mail marketing automation applications.
A satisfied client said, "I've been able to do automated lead generation websites in minutes. A process I could not manage anywhere else for days, or without hiring a developer/designer to write specific CSS code for each block and device format. Kudos Groove Digital. You guys are building something really special."
For more information about the Groove-A-Thon training series, please visit https://groovepages.groovesell.com/a/CFe9ZeeTJNMw
Contact Info:
Name: Alan Walker
Email: Send Email
Organization: AMW Global Ltd
Address: 20-22 Wenlock Road, London, England N1 7GU, United Kingdom
Website: https://bit.ly/3cvVCoO
Source: PressCable
Release ID: 89043018