The State-of-the-Art Climbing, Yoga, and Fitness Facility Is Inviting Chicago Press For A Sneak Peek On August 31.
(PRUnderground) August 24th, 2021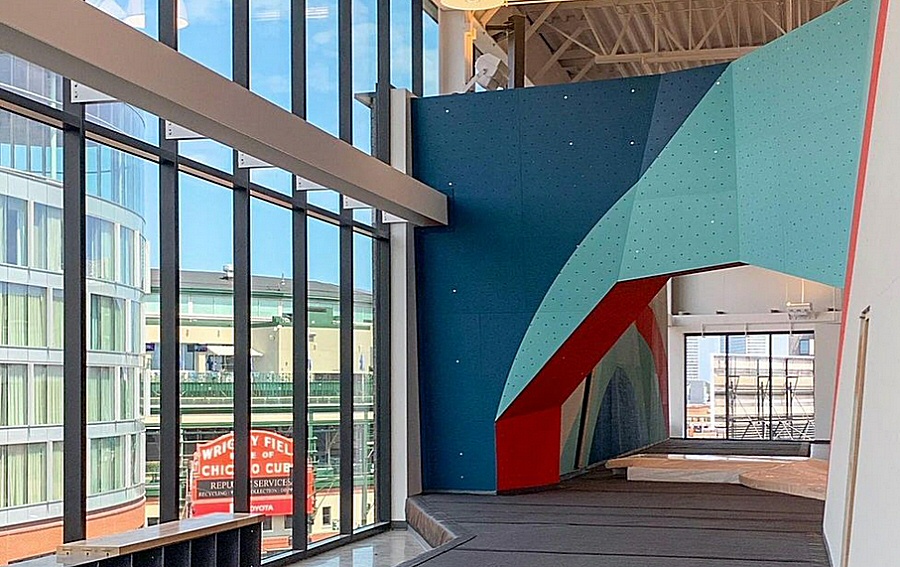 El Cap, the nation's largest community of indoor climbing gyms, today announced they will open Movement Wrigleyville to the public on Wednesday, September 1 at 12 pm.
Movement Wrigleyville is located at 1115 W. Addison Street, just around the block from Chicago's iconic Wrigley Field. When the doors open on September 1, Chicagoans will discover a state-of-the-art bouldering facility that covers a massive 43,000 square feet and features over 12,000 square feet of climbing walls designed for all levels, beginner to pro.  It is the first of two Movement gyms planned in the Chicago area.  The second, Movement Lincoln Park, will open in November 2021 and feature bouldering and roped climbing on walls up to 55' tall.
Movement plans to offer members a full lineup of adult and youth climbing classes – each led by the friendly and knowledgeable coaching staff.  Just as importantly, the gym will offer several lounge areas where members can socialize, share their stories, and organize their next adventures.
Members of the press are invited to join Movement for a photo opportunity on Tuesday, August 31 from 8 am – noon.
"There's an incredible community here in Chicago and our goal is to make Movement Wrigleyville a welcoming communal space to come together, practice skills, get fit, and make life-long friends," said Jen Torrent, District Director at Movement.
In preparation for the grand opening, Movement Wrigleyville is running a special pre-opening membership promotion.  Pre-opening members take advantage of exclusive pricing and will be the first to climb the walls at a sneak peek event on the evening of August 31.
To view a conceptual, animated, walk-through of Movement Wrigleyville on YouTube visit:
To learn more about the gym and sign up for pre-opening membership deals:
https://el-cap.com/movement-wrigleyville/membership-sale/
On social media:
Facebook: https://www.facebook.com/movementgymschicago
Instagram: https://www.instagram.com/movementgymschicago
If you're interested in attending a pre-opening walkthrough on August 31, please contact Jenny at Jennifer.Beaulieu@movementgyms.com.
About El Cap – Movement
Movement is part of the El Cap Family, the largest nationwide community of indoor climbing gyms. Every Movement, Earth Treks, and Planet Granite facility is committed to growing the climbing community through a shared vision to empower personal transformation and inspire social and environmental impact.
Movement gyms feature bouldering, top-roping, and lead climbing, as well as amenities like yoga studios, functional fitness, cardio zones, and climbing gear shops. Each facility caters to participants of all abilities – from competitive athletes to weekend adventurers and families. Learn more at El-Cap.com.
The post El Cap Announces September 1 Grand Opening of Movement Wrigleyville, Chicago's Newest Climbing Gym first appeared on PRUnderground.
Press Contact
Name: Charlotte Bosley

Phone: 443.465.3279

Email: Contact Us

Website: https://el-cap.com/
Original Press Release.