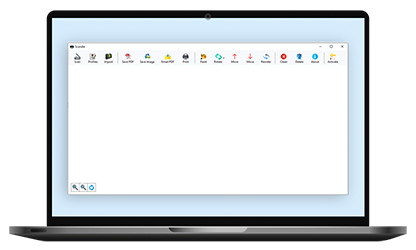 Digital transformation is driving massive changes across mobile and communication devices creating new demand patterns for softwares and applications to meet changing business needs. Waredot after thorough research and development has come up with new software that caters to the challenges faced by all-time-busy users who have zero room for non value added activities in their regime.
Repetitive tasks are killing productivity of efficient users. Research says lots of time is spent by users to set up their applications, aligning them with their daily job targets and then getting them to work, and still with lots of manual intervention. Especially when it comes to switching among various applications and users need to move from one application to another for printing, downloading and sharing purpose.
Scandie is printer software for windows PC that integrates all random jobs that usually a pc user undergoes during dailybusiness operations. Scandie developers haveclosely observed busy users'life and spotted pains they have suffered from due to multiple scattered tasks. Developers came up with comprehensive solution that not only capable to combat busy users daily challenges but also to take cares of future needs such that busy users don't need to repeat tasks or consume valuable time in consolidating or managing the files.
It helps in focusing, sharing of documents by email, editing and merging different downloads, scanning the files and converting them to pdfs, storing and removing various documents and printing through any of the printers that the user wants.
Scandie printer software is having user friendly interface enabling users to switch among required tasks and perform them instantaneously.   File management feature allows users to manage all downloaded files in highly convenient way, users simply required to set up the functionalities as per daily job nature. This how userscan easily eliminates redundant jobs by defining routine workflow and following easy to go steps.
Scanning with Scandie printer software is not only speedy but also enables to edit, merge, convert to pdf, print, save and share selective part of the document. Built-in-tools allow users  to make necessary changes to the document as per need.
Printing jobs lead time has been reduced substantially due to the fact, users are spending lots of their valuable time in setting up printer, connecting pc and then linking up with required printer. User shall not need to undergo all such hassles rather it is super easy to print with Scandie. Those users who work with multiple printers shall need not to switch and set up printers rather Scandie built remembers all those printers and simply links up with required printer on the go.
Convert and merge functions are developed such that users simply carries full prerogative to control the workflow according to the daily business requirements. Download and consolidation of individual files has been simplified to enable users to save them as per need. It has been made possible to consolidate all individual files into master file for later use. Customized segmentation of the downloaded files could also be performed  for sake of user's convenience.
Extremely important feature of scandie is to keep record of printing history. Those organizations where printing work is highly sensitive, and full scale safety and security is needed to know who is printing what and when. This is where Scandies comes in and play its job to let you know full history of printing jobs. Multiple options are available to set up functions as per business requirements. 
Editing and previewing enables to review the results before printing enabling users to make final changes which could include editing with tools, rotate, paint and zoom the document or images .Printing software offers complete printing solution enabling users to complete all required tasks from the same application, therefore It eliminates the need to switch among various applications.
Scandie in fact is developed based on various  business challenges faced by users and kind of solutions they are in need to help run their day to day matters smoothly. Therefore  Scandie does take care of busy users needs and provides them extended support in expediting the business operations as well as  organizing and managing them in efficient way.
Work speed, process lead time, ability to set up functionalities for user convenience, are key features  of the scandie which makes it unique and distinguished from other softwares. Well proven and tested research has enabled Waredot to develop such a software which fulfills daily needs of busy users with great ease. Simple and interactive interfaces enable fast processing of functionalities with maximum output in shortest possible time.
"Import" feature lets you pull loads of files into scandie directory and then manage it as per convenience such that user can easily convert these files into pdf or consolidate, save or share. Extra unwanted list of files could be cleaned simply through "Clean" button.
Organizations are adopting new technologies to achieve business automation goals wherein removal of duplication of work is top priority to achieve higher efficiency and productivity. Scandie plays an important role in accelerating routine tasks and automating  repetitive tasks, giving big relief in terms of task management and alignment with organization vision. Implementing this software at various departments not only save precious time of busy users but also saves lots of cost.
Scandie is the most trusted software application that stands to justify the statement "Time is priceless". work is super quick with effective scanning, converting the paper documents into the digital one or merging single downloads to one pdf. Hence making weightless storages for all essential documents throughout organization. Get access to daily needs with cost effectiveness, easy editing, printing using any of the printers and smooth sharing. Yearly plan could be purchased at the price of $39.95 for 1 Pc.
Waredot aims to revolutionize in business automation and intelligence solutions by continuing research and development in various fields to enhance product value over the period. Simplified and highly effective and efficient solutions help keep pace with growing  challenges and in the mean time finding appropriate solutions to keep industry ahead of competition.
Media Contact
Company Name: Waredot
Contact Person: Media Relations
Email: Send Email
Phone: (855) 910 7409
Country: Bulgaria
Website: https://waredot.com/scandie