Booster shots are coming in the fall — but what about people who got the J&J Covid vaccine?
August 18, 2021 at 12:32 PM EDT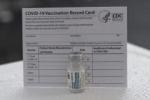 New guidance says Americans can get Covid-19 booster shots eight months after their second dose of an mRNA vaccine. What does that mean for people who got J&J?