Edmonton, Alberta – TheNewswire - August 13, 2021 - Yorkton Equity Group Inc. ("YEG" or the "Company") (TSXV:YEG), is pleased to announce it has entered into a Client Services Agreement with Stockhouse Publishing Ltd. ("Stockhouse"), which will take effect in August 2021, to assist with general market outreach and investor awareness as the Company continues to achieve important milestones and grow its investor base.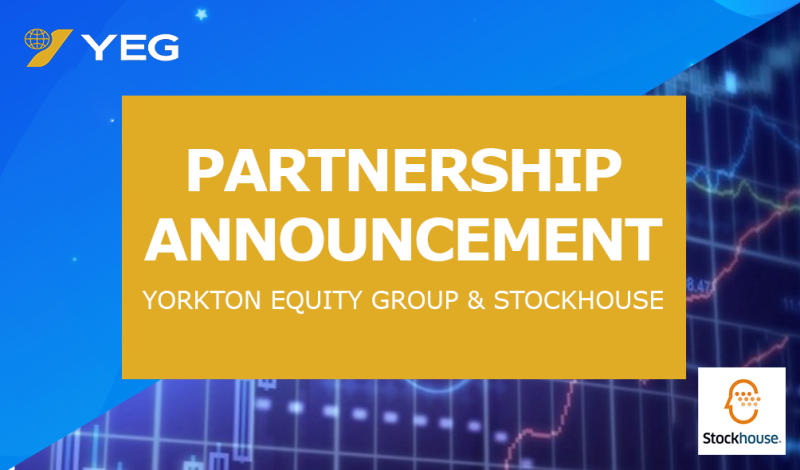 Click Image To View Full Size
Since retaining Stockhouse's services, YEG has launched an Enhanced Quote Page to serve as a one-page microsite highlighting the Company's success while providing investors an aggregated view of YEG's news releases, editorial coverage, and interviews with company executives.
Through our partnership with Stockhouse, YEG has access to over 30 different marketing tools focused on editorial, brand awareness and amplifying news. Using these tools and the Stockhouse full-service program, a larger investor audience is exposed to the YEG investment opportunity.
"We are excited about this new partnership with Stockhouse and the opportunity it brings to the investment community," said Ben Lui, YEG's Chief Executive Officer.
Twila Jensen, Vice-President Sales & Marketing at Stockhouse, stated, with option to renew "we are excited to partner with YEG and introduce them to our community as they continue to grow."
The agreement with Stockhouse is for a 12-month term with an option to renew. All content produced will be published on the Stockhouse websites and further featured through the Stockhouse distribution platform, as well as content for the YEG website.
About STOCKHOUSE Ltd.
Stockhouse Publishing Ltd. (www.stockhouse.com) is a leading financial media company that serves public companies, financial institutions, media publishers, and brand advertisers. Stockhouse members have access to a wide range of world class products and tools including portfolio managers, subscription-based expert newsletters, Stockhouse Bullboards, blogs and social networking tools to help navigate their investment options. With over nine million unique visitors annually, Stockhouse is Canada's #1 financial portal and one of North America's largest small-cap investor communities.
About YEG Inc.
YEG Inc. (TSX.V: YEG) (www.yorktonequitygroup.com) is focused on the accretive acquisition of multifamily rental properties in strategic markets across Canada, with a current focus in British Columbia. YEG deploys an aggressive acquisition strategy under a risk averse business model with strong financial management. YEG is built on the solid foundations of the Yorkton Group of companies with a management team that has over 30 years of experience in real estate.
Our business objectives are to achieve stable Net Operating Income (NOI) and growing Net Asset Value (NAV) in our multi-family rental property portfolio by deploying a risk averse business model to create the ultimate value proposition for our shareholders.
Further information about Yorkton is available on the Company's website at www.yorktonequitygroup.com and the SEDAR website at www.sedar.com.
Neither the TSX Venture Exchange nor its Regulation Services Provider (as that term is defined in the policies of the TSX Venture Exchange) accepts responsibility for the adequacy or accuracy of this release.
For further information on YEG, please contact:
Ben Lui, CEO – Corporate Office: (780) 409-8228

Yorkton Equity Group Inc. – Investor Relations: (780) 907-5263
Email: investors@yorktonequitygroup.com

Forward-looking information
This press release may include forward-looking information within the meaning of Canadian securities legislation concerning the business of Yorkton. Forward-looking information is based on certain key expectations and assumptions made by the management of Yorkton. Although Yorkton believes that the expectations and assumptions on which such forward-looking information is based are reasonable, undue reliance should not be placed on the forward-looking information because Yorkton can give no assurance that they will prove to be correct. Forward-looking statements contained in this press release are made as of the date of this press release. Yorkton disclaims any intent or obligation to update publicly any forward-looking information, whether as a result of new information, future events or results or otherwise, other than as required by applicable securities laws.
This news release does not constitute an offer to sell or a solicitation of an offer to buy any of the securities described herein in the United States. The securities described herein have not been and will not be registered under the United States Securities Act of 1933, as amended, or any applicable securities laws or any state of the United States and may not be offered or sold in the United States or to the account or benefit of a person in the United States absent an exemption from the registration requirement.
The Private Securities Litigation Reform Act of 1995 provides a "safe harbor" for forward-looking statements. Certain information included in this press release (as well as information included in oral statements or other written statements made or to be made by the company) contains statements that are forward-looking, such as statements relating to anticipated future success of the company. Such forward-looking information involves important risks and uncertainties that could significantly affect anticipated results in the future and, accordingly, such results may differ materially from those expressed in any forward-looking statements made by or on behalf of the company.
Copyright (c) 2021 TheNewswire - All rights reserved.