Empowering artists' knowledge of emerging technologies drives art conference.

VIRTUAL, N.Y. - Aug. 12, 2021 - PRLog -- The Clark Hulings Fund for Visual Artists (CHF) is pleased to announce its Fifth Annual Art-Business Conference. Artists and art industry professionals across the country and internationally will experience powerful virtual learning and networking during the ten weeks of the CHF fall conference season, September 13th–November 19th, 2021. Special in-person events in Santa Fe, New Mexico, October 18th-20th round out this new, hybrid model of conference delivery and will feature collaboration with Dent The Future.

This year our focus is on the technological innovations transforming the art industry. Just as key players in creative industries meet at events ranging from South by Southwest (SXSW), Coachella, Sundance, and The Edinburgh Festival—visual artists and art industry professionals deserve this unique opportunity to come together.

"Our objective is to empower creative professionals with an understanding of the latest technologies revolutionizing the art industry and expanding artists' lexicon. Through lively discussions and expert speakers we'll explore emerging tech trends—including augmented and virtual reality, digital placemaking, 3D printing, Non-Fungible Tokens (NFTs), etc.," said Executive Director, Elizabeth Hulings.

"I've come to understand that building the business side of my art practice is as much a creative process as making the art." —Artist James Moore

The ten-week conference will include intensive art-business core training for artists, as well as panels, expert hotseats, third-party presentations and demonstrations, discussions, and power groups for art industry professionals—including art dealers, collectors, curators, arts organization leaders, and other stakeholders. CHF Sales and Events Director, Carolyn Edlund, describes the event as "a vision of a future filled with opportunities for all parties to collaborate," and adds, "This is a seminal moment in our industry. There has been a great shift in the Creative Economy, led by rapid technological change."

2021 conference topics include:
How blockchain technology is changing the way we do business: increasing the speed and efficiency of transactions, creating verifiable records of ownership, providing secondary sales documentation, and spurring global commerce;
The rapid buildout of technology platforms and apps that display artwork virtually, enhancing viewer experience and increasing sales;
Physical sales in a virtual marketplace: packing; shipping; tracking art securely, effectively, and safely;
How these developments impact provenance, authentication, inventory and collection management, secondary sales, and licensing—and more.
To learn more or register for the conference visit:
clarkhulingsfund.org/conference
.
###
The Clark Hulings Fund Annual Art-Business Conference
​​
supports
artists through ongoing art-business training that strengthens them as entrepreneurs and art industry partners. It
connects
with visionaries and leaders to discuss the path forward and how all parts of the ecosystem can grow together. The conference
engages
collectors about their experience and expectations as the art world enters a new era filled with possibilities. It
explores
how dealers, curators, placemakers, and others are reinvented as collaborators in a new, lean system where everyone is a contributor to the creative economy. CHF
examines
developments that bring transparency, accountability, and trust to an often opaque industry, and analyzes the benefits and outcomes.
Learn More
Contact
Ana Maria Touza Medina
***@clarkhulingsfund.org
Photos: (Click photo to enlarge)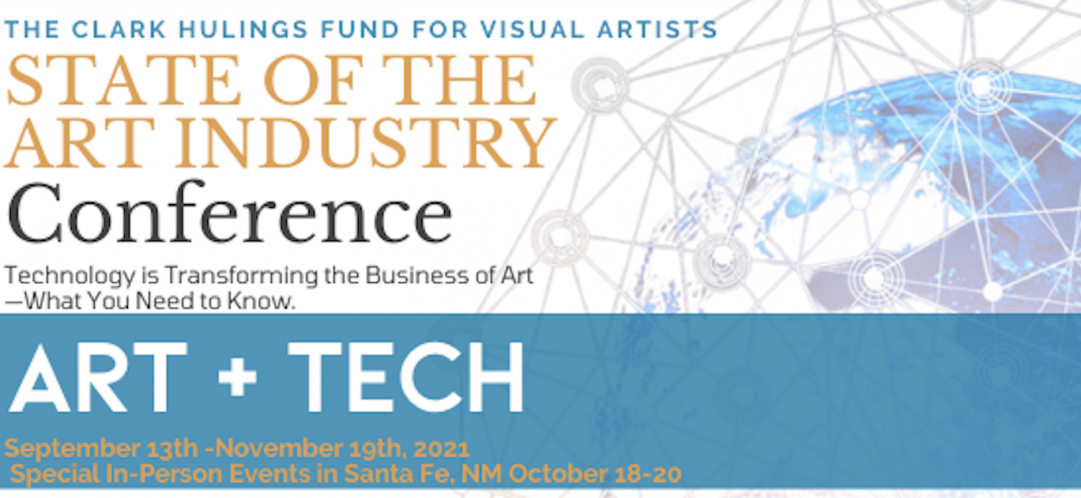 Read Full Story -
CHF Announces The State of the Art Industry Conference: Technology is Transforming the Business of Art—What You Need to Know
|
More news from this source
Press release distribution by PRLog