For families worried about their senior family member getting the rest they need, elderly in-home care offers a caring, skilled solution to help them thrive
(PRUnderground) August 2nd, 2021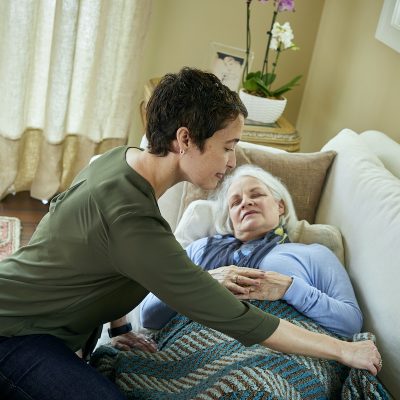 For some seniors, getting quality sleep can be a challenge. And when an elderly loved one struggles with sleep and gets up regularly during the night, worrying about their safety and well-being is a given. And when a senior opts to live at home to maintain their independence as they age, the stress on family members can be even greater if family and friends can't be with their loved ones all hours of the night. Fortunately, for families in Tribeca who are concerned about their loved one's safety during the night, Touching Hearts at Home NYC offers 24-hour in-home care that offers peace of mind.
Touching Hearts at Home NYC is New York City's premier senior home services provider. Its award-winning caregivers offer non-medical elderly in-home care services to clients throughout NYC, including Tribeca. For the elderly wanting to maintain their independence by living at home, Touching Hearts at Home NYC offers drop-in or live-in services to assist clients with various household tasks, meal preparation, transportation, and more.
Touching Hearts at Home NYC offers 24-hour elderly in-home care or overnight care in Tribeca as part of its offerings. For seniors who may experience sleep issues or may need the extra assurance of an onsite professional to assist with needs during the overnight hours, Touching Hearts at Home NYC's elderly care services at home offer comfort and peace of mind.
Whether a client needs assistance with getting ready for bed, taking evening medications, or using restroom facilities during the night, or simply may need a caring companion to talk with when they cannot sleep, overnight companion care ensures the client's needs are taken care of so they can rest comfortably.
"For families with an elderly loved one living alone, the overnight hours can be filled with anxiety, wondering if they are okay. This is especially true if the loved one has dementia, Alzheimer's, or other medical concerns," said Craig Sendach, owner of Touching Hearts at Home NYC. "Our in-home care offers families and our senior clients' peace of mind that a caring professional is on-site at all times to ensure their well-being and help them find a comfortable sleep schedule and routine that supports their lifestyle."
To learn more about Touching Hearts at Home NYC and its Tribeca 24-hour in-home care services, visit https://www.touchinghearts.com/nyc/.
About Touching Hearts at Home NYC Area
About Touching Hearts at Home NYC Area – Touching Hearts NYC offers in-home care to aging adults, seniors, and individuals living with medical conditions and disabilities at rates considerably more affordable than care outside the home. The agency is known for Non-Medical Home Care, Companionship and Homemaker services in New York City's Manhattan, Brooklyn, Westchester, Queens, and Rockland areas. Its focus is on providing person-centered care to help those in need remain in their home, maintain the lifestyle they choose, and feel confident they will be treated with the respect and kindness they deserve.
The post Touching Hearts at Home NYC helps Tribeca elderly overcome sleep challenges with in-home care first appeared on PRUnderground.
Press Contact
Name: Craig Sendach

Phone: +1-212-201-6139

Email: Contact Us

Website: https://www.touchinghearts.com/nyc/
Original Press Release.