The author believes success is making sacrifices in order to find your life's purpose
(PRUnderground) July 23rd, 2021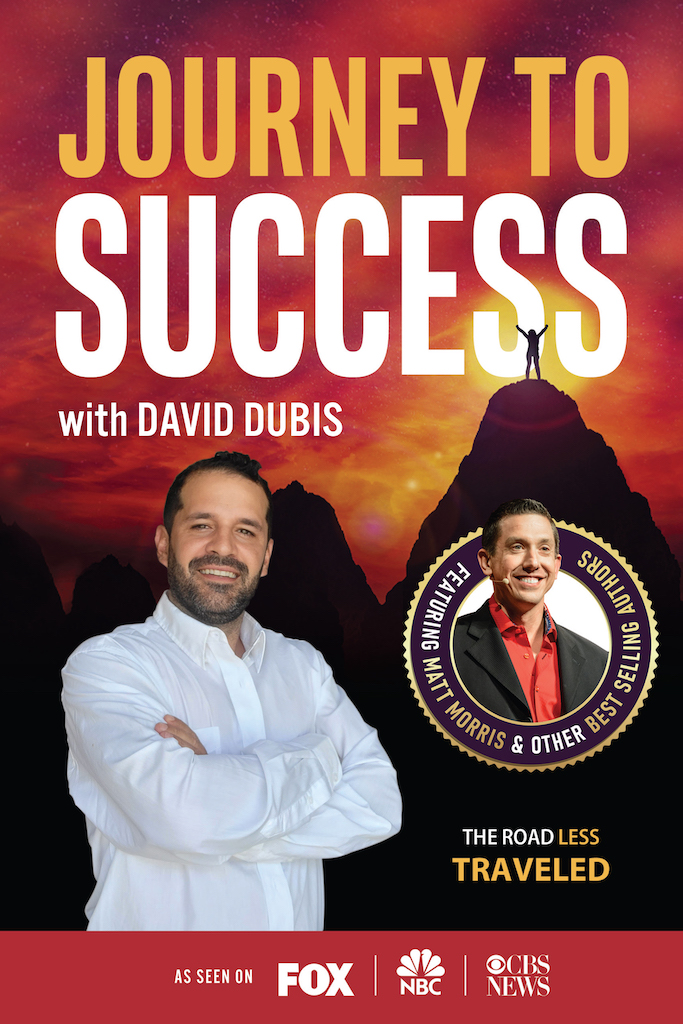 It is not uncommon to hear stories of success from those who had humble beginnings. Journey to Success with David Dubis, available for sale on Amazon, is a book that paints a beautiful story of hard work and sacrifice leading to purpose and success. It also re-echoes an important message: "Never forget where you came from."
David Dubis is a US Navy veteran with four deployments to the Middle East under his belt. As an instructor and mentor, David has personally trained and motivated over 30,000 people from many backgrounds and ages, earning his placement in the top ten percent of the Navy. Now, as an entrepreneur, David continues to serve his country by helping families and business owners protect themselves by getting access to legal representation across the US and Canada. For David, the most important part of success is not the result but the journey that gets you there. Talking about his own journey, he says: "I am stronger because of all the sacrifices I made, and I will never forget how I got to this point."
Opening up with his humble beginnings, David shares how he struggled during his initial days in the US after emigrating from his home country, Venezuela. Hard work, sacrifice, frustrations, and disappointments were part and parcel of everything he had to go through. During his lowest points, he questioned himself to find his purpose. Every time he needed motivation, one phrase always reassured him: "Never forget where you came from." These words encouraged him to pick himself up and push harder against the odds.
"[T]hose words were so deep that it wasn't until recently that I understood what my father meant. My life has now taken an amazing turn as I'm becoming a more successful entrepreneur every day," says David.
Journey to Success with David Dubis will motivate its readers to find purpose amid their struggles, highlighting that sacrifice and pain are part of the journey but will ultimately lead to success.
US Navy Veteran, Matthew Taylor, has this to say about David's sense of pride in his work: "David was always a professional when dealing with others, and pride of ownership shines through in his work. This speaks volumes about his character, stepping up to meet new challenges that arose and overcoming them. David would never back down from positions that are often only given to sailors with more seniority. I knew that he could get the job done; never once did he fail in doing his job."
Regarding his sense of motivating others, Daniel F. Oliver, ENC (SW) of the US Navy, says, "David Dubis was one of the most influential people I ever met. His resilience and motivation really helped me become who I am today in the United States Navy. David would always tell me, 'You came this far. Why give up now?' That always brought me home and made me think of where I came from and how far I wanted to go. David's success story and ethics are a great example for me."
Become inspired by a story of sacrifice and find your purpose and motivation with Journey to Success with David Dubis, now for sale on Amazon.
About Success Publishing, LLC
Since 2013, Success Publishing transforms new authors into expert authorities in 60 days, severely reducing the time, effort, and expense of traditional publishing. There simply is no other tool that expresses your message better than your own book.
The post David Dubis Echoes the Message 'Never Forget Where You Came From' in His New Book first appeared on PRUnderground.
Press Contact
Name: Steve Moreland

Phone: 903-312-9166

Email: Contact Us

Website: https://successpublishing.com/
Original Press Release.