The author believes success is accounting for the unknown
(PRUnderground) July 23rd, 2021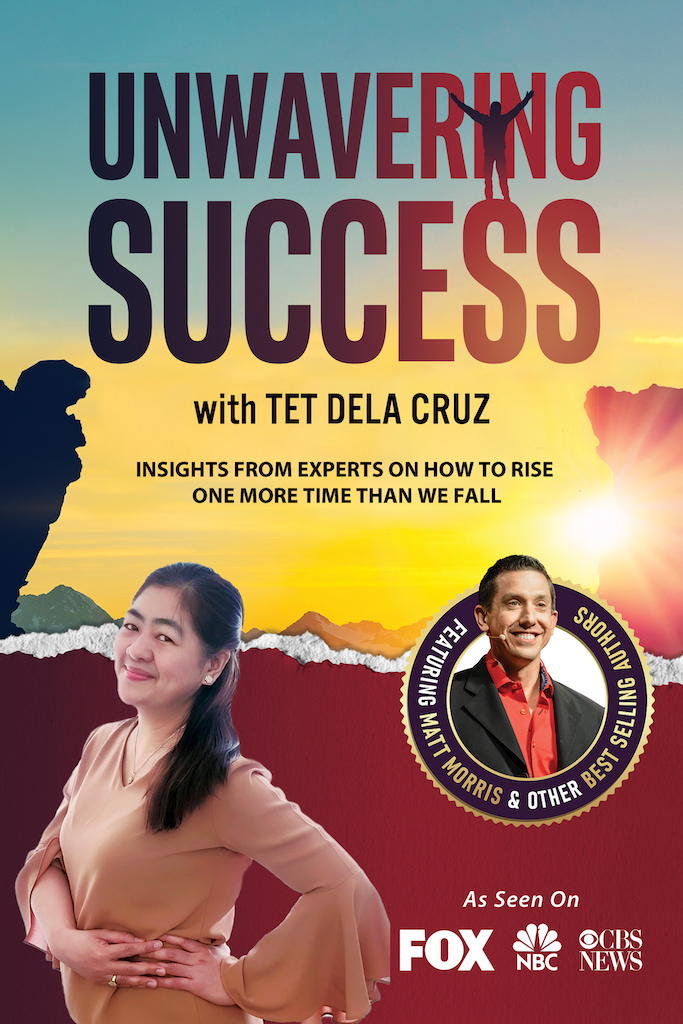 Moving to a new country is sometimes necessary to open the doors to success. To ensure that we have a stress-free move, Unwavering Success with Tet Dela Cruz, now available on Amazon, lists some important questions that readers can ask themselves to assess whether they're ready to live abroad.
Tet Dela Cruz is a Filipino Certified Public Accountant based in Canada. With a background in corporate leadership, her career expands over information technology, finance, and audit industries. Fuelled by the desire to live a happy and successful life, she worked her way up the ranks to senior management roles and boldly relocated to a new country.
Passionate about helping people leverage their focus on what matters most at work and in their personal lives, Dela Cruz gives us a glimpse into her mind: "When you find yourself overwhelmed by too many thoughts swirling around in your head, take a step back. Reflect on where your deep 'Why' is moving. Make sure you are not evading a temporary situation or challenge."
True to her accounting background, in Unwavering Success, Dela Cruz talks about the practical things we must consider if we plan on moving abroad. High on her list of priorities are our musts, i.e., the non-negotiable things we're unwilling to compromise on. For Dela Cruz, these are:
1.   Spiritual: Will we be free to practice what we believe?
2.   Family: Will we be able to spend quality time with our loved ones?
3.   Health: Will we be able to care about ourselves physically and mentally?
"I know that not everything can be quantified and measured. It is helpful to ask those who have been in the same situation. Sometimes, you should also trust your intuition," says Dela Cruz.
Moving abroad takes an endless amount of research: from school, transportation, weather, and most importantly, the cost and value of life. Lastly, Dela Cruz reminds readers that moving abroad is a long-term, life-changing event, and it should be done for the right reasons.
Unwavering Success will give readers a global mindset and help them realize whether they're ready to take a step into the unknown and start afresh in a new county.
"I have known Tet for several years, and I've seen her struggles. But despite those challenges, it did not stop her from achieving her desires. I consider her a person who is full of positivity and perseverance. I am confident that no number of obstacles will take her down." — Testimonial by Don Barboza, Software Developer.
"Tet is a wife, mother, sister, daughter, boss, and friend to a select few. And I'm one of the lucky ones. Knowing the real her takes years, but you would be amazed at how persistent and loving she can be once you get to know her. She had perseverance in the face of challenges and faced the problems head-on with straight-to-the-point solutions. She is tough with a good heart." — Testimonial by Almina Marie Velasco Manoy, Corporate Development Manager, Entrepreneur.
Delve into a complete moving-abroad checklist with Unwavering Success with Tet Dela Cruz, now for sale on Amazon.
About Success Publishing, LLC
Since 2013, Success Publishing transforms new authors into expert authorities in 60 days, severely reducing the time, effort, and expense of traditional publishing. There simply is no other tool that expresses your message better than your own book.
The post Tet Dela Cruz Shares Her Essential Moving-Abroad Checklist first appeared on PRUnderground.
Press Contact
Name: Steve Moreland

Phone: 903-312-9166

Email: Contact Us

Website: https://successpublishing.com/
Original Press Release.