The New York City in-home caregiver helps seniors maintain their dignity and on-the-go lifestyle with companionship and emotional support
(PRUnderground) July 12th, 2021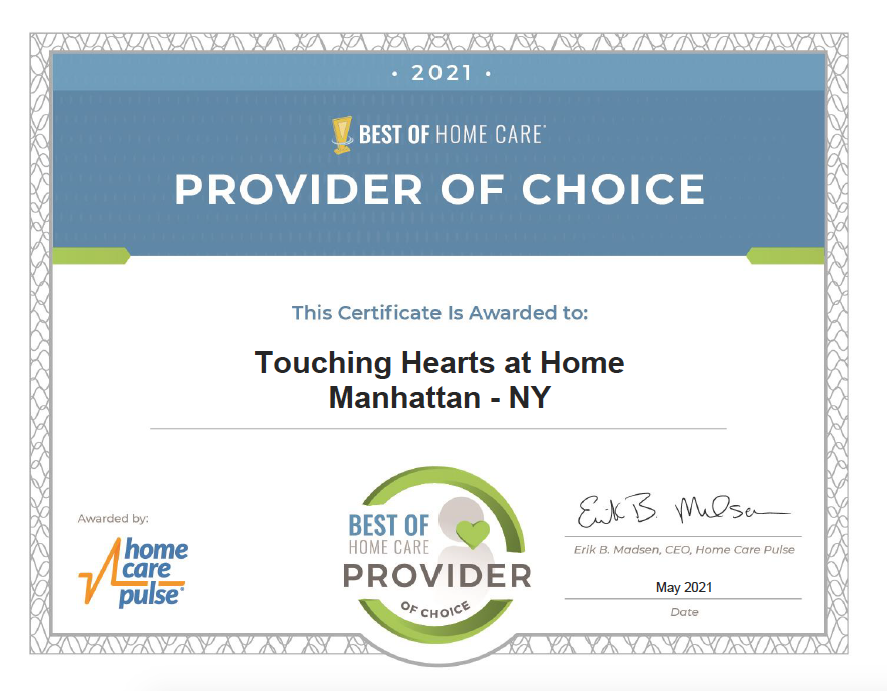 Touching Hearts at Home NYC, a New York City-based senior home care provider, has recently been awarded the Home Care Pulse Best of Home Care Provider of Choice award for 2021 with good reason. The care provider supports senior health, vitality, and dignity with its compassionate non-medical, live-in care services, earning the organization positive reviews from clients across New York City.
Touching Hearts at Home NYC is committed to ensuring that seniors and those living with injury or disability can maintain dignity and independence by staying in their homes. Its caregiver team offers clients professional care services to make staying at home easier for those who need short- or long-term support with its live-in care services.
Remaining active and interacting with others outside the home is a vital part of senior health and wellbeing. Touching Hearts at Home recognizes the importance of social connections. Its caregiver team will escort clients around the NYC area to ensure seniors' needs are met. Whether it is a trip to doctor appointments, running errands, or shopping. For clients who wish to connect with friends or family socially, go out to dinner, attend a grandchild's event, visit a local park for exercise, and more, its professional caregiver team help clients to maintain an on-the-go lifestyle around the New York City area.
In addition to accompanying clients safely to social activities and events, Touching Hearts at Home's caregivers can provide valuable companionship during doctor's office visits. Trips to the medical supplies store and picking up prescriptions are also some of the ways the care providers' clients rely upon its award-winning services.
"Losing our independence as we age is one of the greatest challenges we all will have to overcome. For those who are accustomed to driving themselves to visit friends or go to medical appointments, losing the ability to travel freely can be devastating," said Craig Sendach, owner of Touching Hearts at Home NYC. "Our live-in caregivers accompany our clients to ensure they safely maintain some of that independence they previously enjoyed while keeping them engaged with friends and family across the New York City area. Maintaining this independence can be crucial in supporting our clients' wellbeing, and we're proud to be able to help keep NYC's seniors active and on the move."
To learn more about Touching Hearts at Home NYC and its award-winning home care services, including meal planning and preparation, visit https://www.touchinghearts.com/nyc/.
About Touching Hearts at Home NYC Area
About Touching Hearts at Home NYC Area – Touching Hearts NYC offers in-home care to aging adults, seniors, and individuals living with medical conditions and disabilities at rates considerably more affordable than care outside the home. The agency is known for Non-Medical Home Care, Companionship and Homemaker services in New York City's Manhattan, Brooklyn, Westchester, Queens, and Rockland areas. Its focus is on providing person-centered care to help those in need remain in their home, maintain the lifestyle they choose, and feel confident they will be treated with the respect and kindness they deserve.
The post New York City seniors stay on the move with Touching Hearts at Home NYC's senior companion care first appeared on PRUnderground.
Press Contact
Name: Craig Sendach

Phone: +1-212-201-6139

Email: Contact Us

Website: https://www.touchinghearts.com/nyc/
Original Press Release.