New website design highlights the talents of local photographers, the amenities of Grover Cleveland Park, and the volunteer work of the Grover Cleveland Park Conservancy
(PRUnderground) July 12th, 2021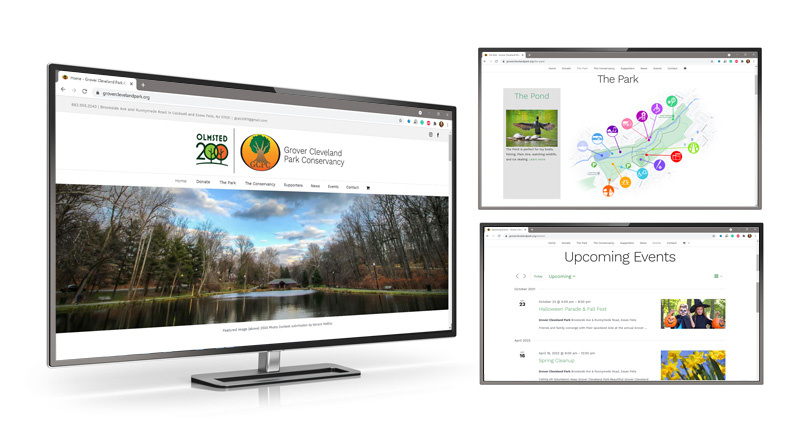 Non-profit Grover Cleveland Park Conservancy selected Brand4Market president Wendy Flanagan to design a new website to better highlight the amenities of Grover Cleveland Park in Caldwell and Essex Fells, part of the Essex County Park System in New Jersey.
The new website at https://groverclevelandpark.org, features a clean, mobile-enabled design. The website includes a colorful, custom, interactive map of the park so that visitors can quickly see where attractions are located. It allows users to quickly identify donation opportunities, areas of the park to visit, the activities and events of the Conservancy, and the opportunities for individual, corporate, and association participation.
Says Flanagan, "The most beautiful aspects of the new website – and of Grover Cleveland Park – are the contributions by volunteers. Their love of the park is evident."
2020 Grover Cleveland Park Photo Contest winners contributed the use of original photographs on the new website, including Matt Brodie, JT Durning, Serge Goldobin, and Gerard Mellilo. The new Grover Cleveland Park Conservancy website incorporates cheerful, custom icons created by California artist, Aimée Murray. Contributions were made from Conservancy past and present Board members including current president Kevin Byrne and past-president Diane Mensinger.
Says Byrne, "The new website provides a clear structure in which our volunteers can easily add upcoming events, as well as additional photographs and videos. It allows us to raise community awareness of Grover Cleveland Park Conservancy's concerns for: maintaining the integrity of the original Olmsted park design for Grover Cleveland Park, replacing and repairing damaged trees and structures, and battling invasive species."
About The Grover Cleveland Park Conservancy
The Grover Cleveland Park Conservancy is a group of community volunteers dedicated to the upkeep of Grover Cleveland Park (established 1913) and serves as an important partner to the Essex County Department of Parks, Recreation and Cultural Affairs. Grover Cleveland Park is a living landscape of 41+ acres with structures, trees and plants in continuous need of upkeep and historic preservation. Learn more https://groverclevelandpark.org.
About Brand4Market
Founded in 2010 by Wendy Flanagan, Brand4Market provides digital and traditional creative services to marketing leaders and business owners for B2B and B2C marketing. Client industries include accounting, construction, electronics, finance, insurance, legal, market research, non-profits, retail, and security. Clients enjoy professional, responsive service and deliverables such as: branding, CRM consulting, CMS consulting, collateral design, direct mail, ecommerce, email marketing, marketing automation consulting and implementation, marketing planning, print and online advertising, SEO, social media marketing, trade show design, website design and development, and website maintenance.
The post Brand4Market Designs New Website for Grover Cleveland Park Conservancy first appeared on PRUnderground.
Press Contact
Name: Wendy Flanagan

Phone: 9086197204

Email: Contact Us

Website: https://brand4market.com
Original Press Release.