Can't Decide Between Gold or Bitcoin? Why Not Both?
June 19, 2021 at 08:30 AM EDT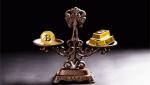 Paul Tudor Jones is super bullish on Bitcoin right now and may give the crypto the same 5% weighting as gold, commodities and cash. Two years ago this month, the billionaire hedge fund manager said that gold was his favorite trade in the next 12 to 24 months due to geopolitical disruptions, among...