Will Reopened Beaches in Greece Lure Tourists, Investors?
May 10, 2021 at 14:38 PM EDT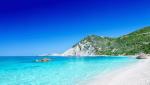 A return to the beach in Greece could boost tourism and the economy at-large through the Global X MSCI Greece ETF (GREK). This past weekend, Greece eased its Covid-19 restrictions with the anticipation of more tourists heading to the country's shores. It's a positive sign for a country...