The Game that Intersects History, Family Fun and Financial Acumen

ARLINGTON, Texas - Feb. 7, 2021 - PRLog -- EBONY-OPOLY LLC today announced EBONY-OPOLY "The Reconstruction Era" a new interactive, and historically based fun game for the whole family. EBONLY-OPOLY The Reconstruction Era is an educational game and offers a new way for all people to understand Black people's life during the Reconstruction Era after the Emancipation of Slaves.  Surveys have shown that Black Americans have cited the need for Education to Influence mindsets as a key to improving the state of the Black Family.

"My partners and I have committed ourselves to use our skills and talents to ensure that the accuracy of our history and legacy is shared with generations to come. We all must take responsibility in teaching generations about our history and progression in order for them to understand the faithfulness of God and their role in restoring a broken people. This is a creative and innovative way to introduce our history in a more palatable way".  Dr. Ruth Plummer, Partner EBONY-OPOLY, CEO/ Founder of Covenant Daughters International Ministries and Covenant Daughters TV Network.

"It is projected that median Black Wealth will fall to Zero by 2053. With the development and release of Ebony-Opoly we intend to make that a false statement. Dewayne Washington, Partner EBONY-OPOLY, CEO and Found of Facetime Studies, Pastor of The Love Church, Accomplished Musician and 2021 Candidate for Mayor of Arlington, TX.

"EBONY-OPOLY The Reconstruction Era is the first of a series of games that will sheds insight to the resilience and strength of Black Americans".  We are excited to begin development of EBONY-OPOLY The Civil Rights Era, EBONY-OPOLY Making History NOW! along with electronic app versions of each game."  Alicia Hemphill, Partner EBONY-OPOLY, CEO of Beyond-theLimitations, COO of Covenant Daughters Ministries International and VP of Regulatory Affairs, Oriel STAT A MATRIX a medical device consulting company.

Features and benefits of EBONY-OPOLY Reconstruction Era include.
Learn of the Properties Owned by Black Americans During the Reconstruction Era
Learn firsthand the Impact Laws that Hindered Black Ownership and Property Wealth Legacy
Scan Property QR Code for added Learnings of Key Landmarks & much more
EBONY-OPOLY Reconstruction will be available starting March 15
th
, 2021, at $58.88. Pre-Order the game today for an early purchase price of $39.99.  For more information on the game, visit
Website and Orders:  
https://blackopolythegame.com/
Facebook:  
www.facebook.com/ebonyopoly
Twitter:  
https://twitter.com/ebonyopoly
YouTube:  
https://www.youtube.com/channel/UC5tmQSTtdjSzYGjV7iWdtaQ
About EBONY-OPOLY LLC
: The company was founded in 2020 during the middle of the national crisis of racial tensions after the death of George Floyd.  Desiring to create an appreciation of Black History beyond the sparse facts taught in schools Dr. Ruth Pauline Plummer, CEO and Founder of Covenant Daughters Ministries International; DeWayne Washington, CEO and Founder of Facetime Studies and a myriad of other business ventures; Alicia L. Hemphill, M.S., CEO and Found of Beyond-theLimitations came together to launch EBONY-OPOLY.
Contact
EBONY-OPOLY, LLC
Dr. Ruth Pauline Plummer
***@ebonyoply.com
Photos: (Click photo to enlarge)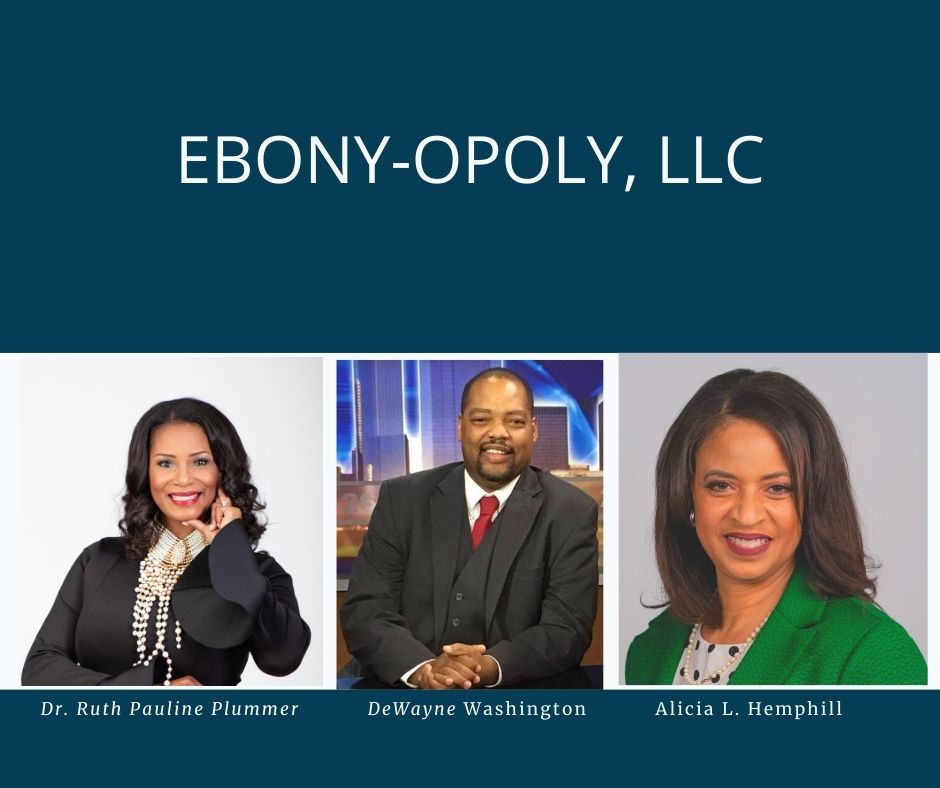 Read Full Story -
Announcing The Release Of Ebony-opoly "the Reconstruction Era"
|
More news from this source
Press release distribution by PRLog