Multi Award Winner Ciro Dapagio & Ciro Dapagio Productions sweeps Vegas Movie Awards!
(PRUnderground) October 15th, 2020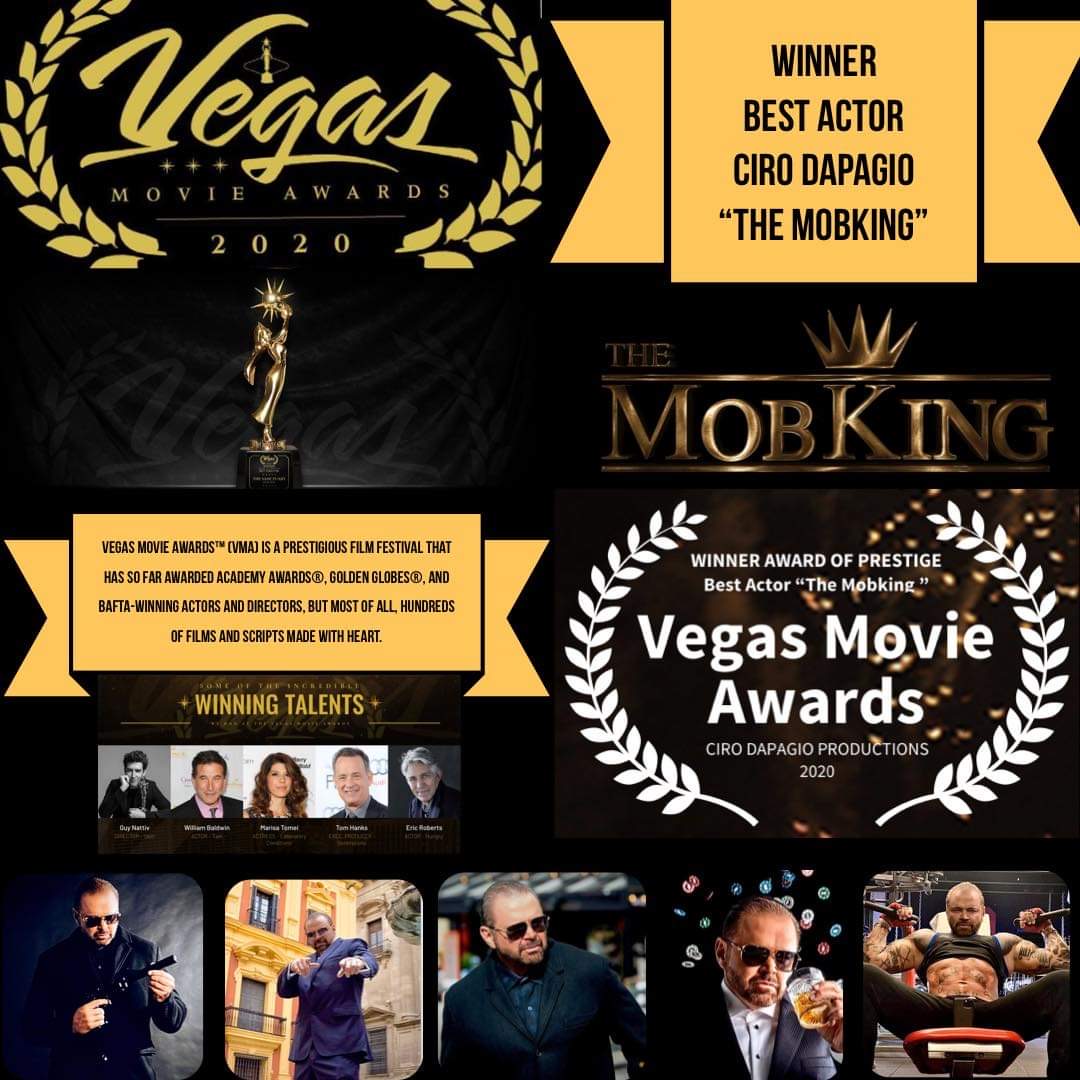 Multi Award Winner Ciro Dapagio & Ciro Dapagio Productions sweeps Vegas Movie Awards Film Festival. Dapagio competed against himself for Best Actor and Best Drama on two Mob shows he created and or co-created: "The Mobking" and "Silent Partners". The Vegas Movie Awards is a prestigious film festival that has so far awarded Academy Awards, Golden Globes, and BAFTA winning actors and directors, but most of all hundreds of films and scripts made with heart.
According to the Vegas Movie Awards website, past winners include Tom Hanks, William Baldwin and Eric Roberts. Dapagio was awarded "Best Drama" (Silent Partners), Best TV Pilot (ThevMobking), Best Trailer (Silent Partners), Best Actor (The Mobking), and Best Poster (Silent Partners). According to Dapagio social media announcements, he is very proud of his team and everyone involved in his success. He is deeply humbled by these winnings , but also fired up about his upcoming projects.
Dapagio, is scheduled to start filming The MobKing in 2020. "The MobKing," is based on the life experiences of Dapagio and has been picked up by Wanda Halcyon Television, New Street Pictures to be filmed at Pinewood Studios. Dapagio is also the Executive Producer and Lead actor in films such as Silent Partners, Brass Knuckles, and Bound. Beginning his acting career in early 2018, Dapagio is already known as a leading man on TV and in movies as a tough guy who will stop at nothing to get what he wants. Dapagio works diligently with his production team to create entertaining content. His persistence has generated millions of social media followers who have contributed to the success of each project that he has released.
https://www.imdb.com/name/nm8746712/
https://www.facebook.com/MobKingCiroDapagio
About Arykas and Ybots PR Firm
Aryka's & Ybot's PR (A&Y PR) is a strategic Public Relations Firm based in North Hollywood, California.
We've dedicated our time to understand what works and what doesn't when it comes to brand acceleration and innovation.
The post Sweeping a film festival it's not as easy as you think unless you are Ciro Dapagio first appeared on PRUnderground.
Press Contact
Name: Ms. Diana R Carter

Phone: 323-237-7582

Email: Contact Us

Website: https://arykasandybots.com
Original Press Release.