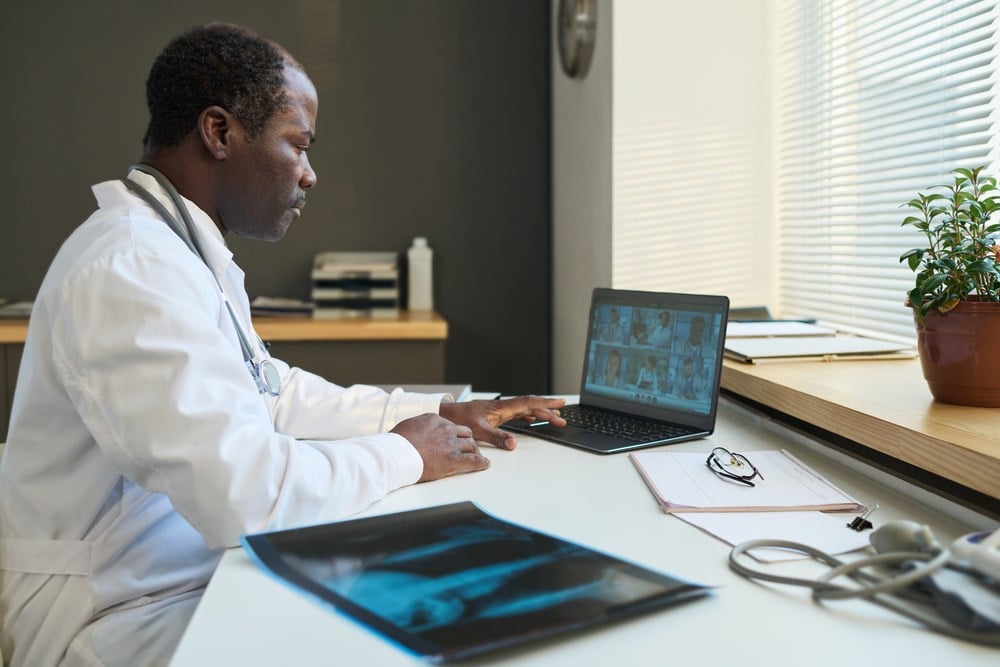 The world's largest virtual healthcare services provider Teladoc Health Inc. (NYSE: TDOC) stock is finally breaking out of its year-long bearish weekly descending triangle pattern. The 20% jump in share prices within a week was triggered by its Q2 2023 earning report. While still operating in the red, the company is starting to experience positive normalization.
As people get more frustrated with the time it takes to make an in-person appointment with their primary care doctors, many are returning to the convenience and 24/7 access to the Teladoc Health platform.
The company has deployed over 60 proprietary artificial intelligence (AI) models to set appointments, match patients with providers, create personalized content and insights for its members and help the platform grow more efficiently. It has partnered with Microsoft Co. (NASDAQ: MSFT) to bring more Open.ai services to the platform.
BetterHealth Wildly Successful
Its embarkment into the mental health services segment was a game-changer that continues to pay dividends. It acquired the on-demand mental and behavioral health therapy and counseling platform Better Health in 2015 for just $4.5 million and now reaping over $1 billion in annual revenues. It recently grew its top line by 18% YoY with an annual run rate (ARR) to exceed $1.2 billion in 2023.
Why Teladoc?
At first glance, Teladoc seems like a farfetched idea for users to rely solely on telemedicine for their healthcare needs. Person-to-person doctor visits may be more reliable and trusted. However, in reality, an in-person appointment with a primary care doctor may take days to weeks to schedule via the traditional route.
Taking time out of your day and sitting through traffic and the waiting room adds to the total time to have an in-person appointment.
Access and Convenience 24/7
Teladoc streamlines this experience making access, personalization and convenience a top priority. Is it more comprehensive than an in-person visit? No. Is it convenient if you don't have the time to wait for a non-urgent doctor appointment? Yes.
For routine checkups, minor illnesses like the cold or flu, chronic conditions, mental health and specialist care, Teladoc fits the needs. With over 7,000 board-certified doctors available 24/7, it provides a good supplemental option to your healthcare needs.
Acceptance
During the pandemic, telemedicine was embraced by the world. This surged Teladoc stock up to $290 per share. The re-opening and the end of the pandemic have caused reality to set in, causing shares to plunge more than 90%. In-person doctor visits resumed back to normal. However, the normal can mean waiting days to weeks to schedule an opening with your primary care doctor, taking time off from work, waiting through traffic and waiting (sometimes even longer) in the waiting room to meet your doctor finally.
Stickiness
The convenience and access factor has caused Teladoc to remain "sticky" for pandemic users and new users. Teladoc has grown its network, and its insurance carriers have accepted the Teladoc network of providers as a supplemental network for its members. The negative normalization may finally be over as the positive normalization cycle commences, as evidenced by its recent earnings results. 
Growth Continues
On Jul 25, 2023, Teladoc released its fiscal second-quarter results for the quarter ending June 2023. The company reported an adjusted earnings-per-share (EPS) loss of 40 cents, excluding non-recurring items, versus consensus analyst estimates for a loss of 41 cents, beating estimates by 1 cent.
Net loss was $65.2 million compared to $3.1 billion in the year-ago period. This included most of a non-cash goodwill impairment chart of $3.03 billion. Stock-based compensation was $55.7 million, and restricting costs were $7.5 million. Adjusted EBITDA was $72.2 million. Revenues rose 10.1% year-over-year (YOY) to $652.41 million, beating analyst estimates for $649.2 million.
Segment Metrics
Its monthly membership access fees comprised the bulk of revenues, rising 11% to $575.7 million. Other revenues rose 4% to $76.7 million. Teladoc integrated health revenues rose 5% to $360.1 million.
The bulk of revenues were generated in the U.S., up 8% to $561.8 million. International revenues grew an impressive 28% to $90.6 million. BetterHelp had 18% YoY revenue growth to $292.3 million. Teladoc is seeing a spike in chronic care programs like its digital diabetes prevention program.
CEO Insights
Teladoc CEO Jason Gorevic commented, "First, the role of virtual care continues to grow. A recent market survey commissioned by Teladoc Health shows that three out of every four employers expect to spend more on virtual care over the next three years. This represents significant opportunities for our business." He mentioned that the GLP-1 weight management program is set to launch later in the year, which will compete with WW International Inc. (NASDAQ: WW), but Teladoc will be using licensed physicians versus WW's clinicians.
The company has also embraced AI, leveraging over 60 proprietary AI models like its proprietary virtual care queuing system connecting over 10,000 patients to the right physicians daily. It uses AI models to match patients to therapists with better health.
Mixed Guidance
Teladoc expects Q3 2023 EPS for a loss of 40 to 50 cents versus a loss of 33 cents, consensus analyst estimates. Revenues for Q3 are expected between $650 million to $675 million versus $663.11 million consensus estimates. Full-year 2023 EPS losses are expected between $1.25 to $1.60 versus $1.31 analyst estimates. Revenue guidance was raised to $2.6 billion to $2.675 billion versus $2.62 billion consensus analyst estimates. This was a raise from previous revenue guidance of $2.575 billion to $2.675 billion.
Teladoc Health analyst ratings and price targets are at MarketBeat.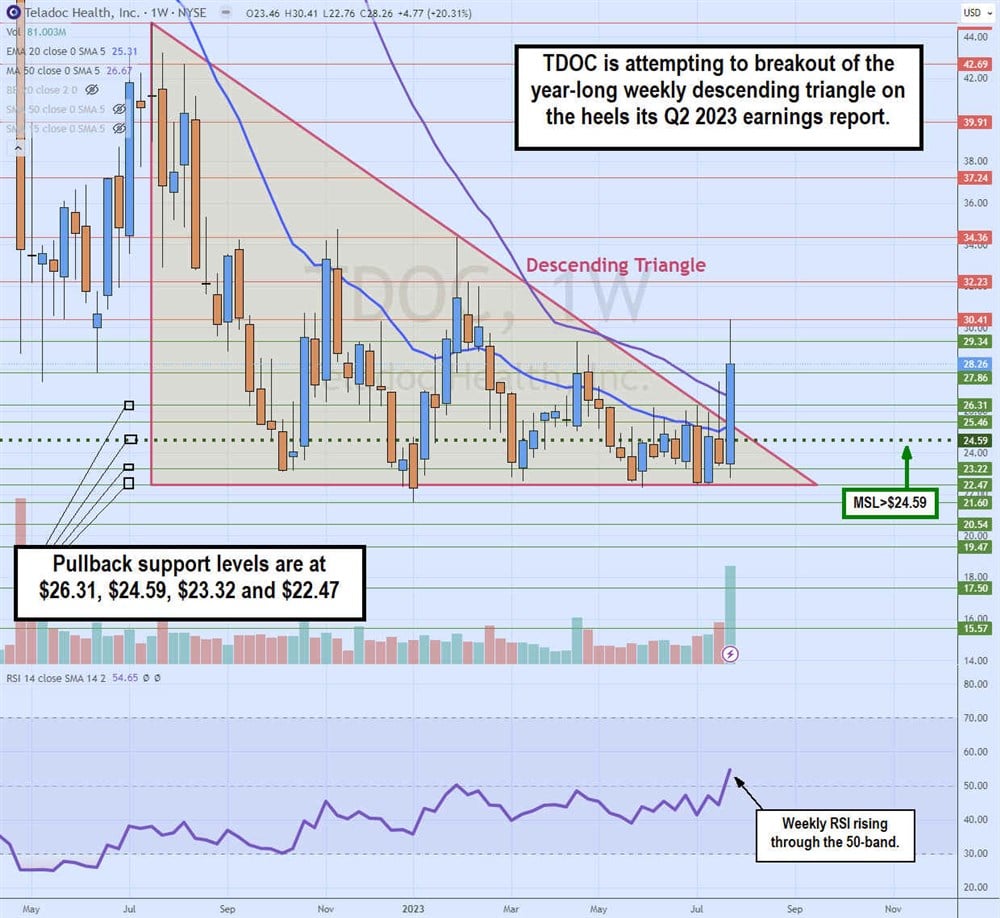 Weekly Descending Triangle Breakout
TDOC has been in a year-long weekly descending triangle since peaking at $44.66 in July 2022. Shares took a tumultuous drop to $21.60 by January 2023. Each rally attempt was met by lower highs, forming the descending trendline, against a flat-bottom at $22.47. As TDOC gets closer to the apex, shares exploded though the $24.59 market structure low (MSL) trigger blowing past the 20-period exponential moving average (EMA) and the 50-period simple moving average (SMA) and at $26.67 and $25.31, respectfully. The weekly relative strength index (RSI) momentum oscillator finally bounced through the 50-band after rejecting three times since November 2022. Pullback support levels are $26.31, $24.59, $23.32 and $22.47.