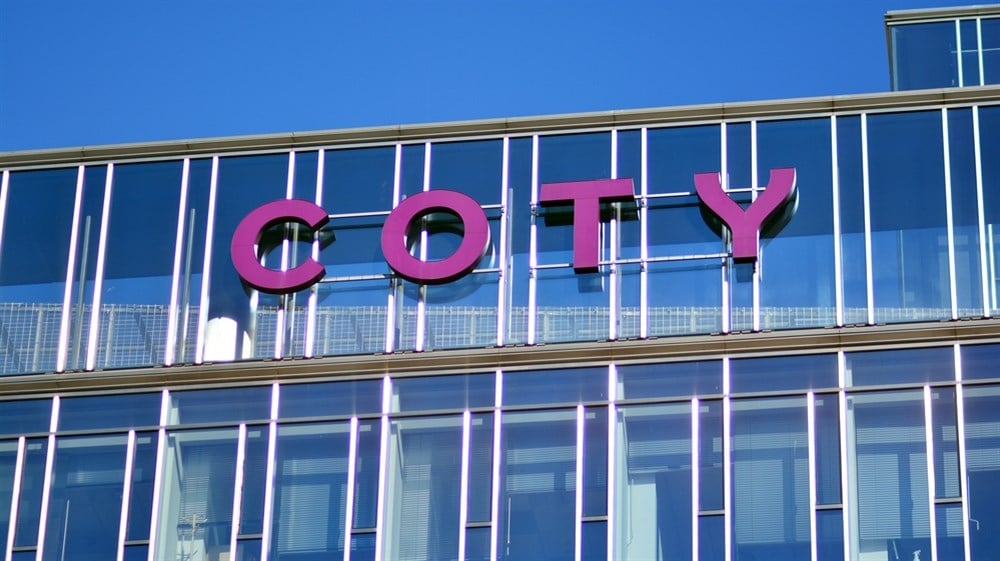 Beauty, fragrance, cosmetics and skincare have been resilient industries throughout the pandemic but turned red hot after the re-opening. As people reengaged with each other, consumers switched from athleisure and casual wear back to formal and business attire. This caught many retailers off guard, including Kohl's Co. (NYSE: KSS), which mistakenly decided to double down on casual wear, and Under Armour Inc. (NYSE: UAA), which took a (650 bps) margin hit.
However, the beauty products business only strengthened, as evidenced by the performance of Ulta Beauty Inc. (NASDAQ: ULTA) and e.l.f. Beauty Co.(NYSE: ELF) hitting all-time highs in 2023. A strong US dollar had a (7%) headwind on sales, but inflationary pressures couldn't dent the robust demand that led to continued margin expansion. Investors seeking a laggard play in the space can look at global beauty products company Coty, Inc. (NYSE: COTY).
Margin Expansion
Apparel retailers experienced margin compression from overstocked inventory and extensive discounting and promotions. Coty continues to experience gross margin expansion on robust demand, sell-out growth, and industry-wide component shortages. Coty's pricing execution and improvements in trade spend were strong drivers enabling the company to expand margins by 70 bps YoY.
Licensed premiere brands sell at a premium, including Hugo Boss, Tiffany & Co., Calvin Klein, Marc Jacobs, Gucci, Escada, and Burberry Coty's fragrances. They also sell Covergirl, Max Factor, Risque and Sally Hansen brands throughout mid-tier department stores, food and drug stores and through third-party distributors reaching over 120 countries worldwide.  
Beat and Raise
On Feb. 8, 2023, Coty released its fiscal second-quarter 2023 results for the quarter ending December 2022. The company reported an adjusted earnings-per-share (EPS) of $0.22, excluding non-recurring items beating consensus analyst estimates for a profit of $0.15 by $0.07. Revenues fell (3%) YOY to $1.52 billion, beating analyst estimates for $1.50 billion.
Sales were up 4% on a like-for-like (LFL) basis despite the 300 bps negative impact of its exit from Russia. Despite inflationary pressures, Coty still generated solid gross margins expanding 70 bps to 63.9% YoY.
Strength Around the World
Revenues grew across all geographies on a constant currency basis. The Europe, Middle East, and Africa (EMEA) region had significant FX headwinds and a (5%) negative impact from the Russia exit resulting in a (10%) decline but a 2% LFL growth in fiscal Q2 and 6% LFL in the first half of fiscal 2023. Growth was driven by "significant" travel retail momentum. America's sales rose 6%, as reported, and 8% LFL stemming from robust demand in Brazil and Latin America.
Supply constraints impacted US demand. Asia Pacific sales fell (5%) as reported due to FX headwinds but grew 2% LFL in fiscal Q2 and 6% LFL in the fiscal first half of 2023. Travel retail was the driver in Asia, minus China, which was still experiencing the effects of lockdowns. China should see an uptick as its COVID restrictions get lifted.
Raised Guidance
Coty raised its fiscal full-year 2023 EPS between $0.35 to $0.36 versus $0.32 analyst estimates. It expects its core business revenues to grow 6% to 8% LFL. It expects adjusted EPS growth of 20% in the fiscal full-year 2024 and beyond. This is mainly due to its deleveraging efforts resulting in lower interest expenses.
CEO Insights
Coty CEO Sue Nabi commented, "Coty is firing on all cylinders financially, supported by solid LFL sales growth, ongoing gross margin and profit expansion, strong EPS growth, and our ability to reach the critical milestone of 4x leverage at the end of CY22. Demand for beauty products remains as strong as ever, fueled by consumers' desire for self-expression, confidence building, and well-being."
She expressed that fragrances are mood-boosting and affordable luxuries consumers turn to during uncertain times. They are still in the early growth phases with skincare, prestige makeup, travel retail and China. This will help Coty through any global economic growth slowdown.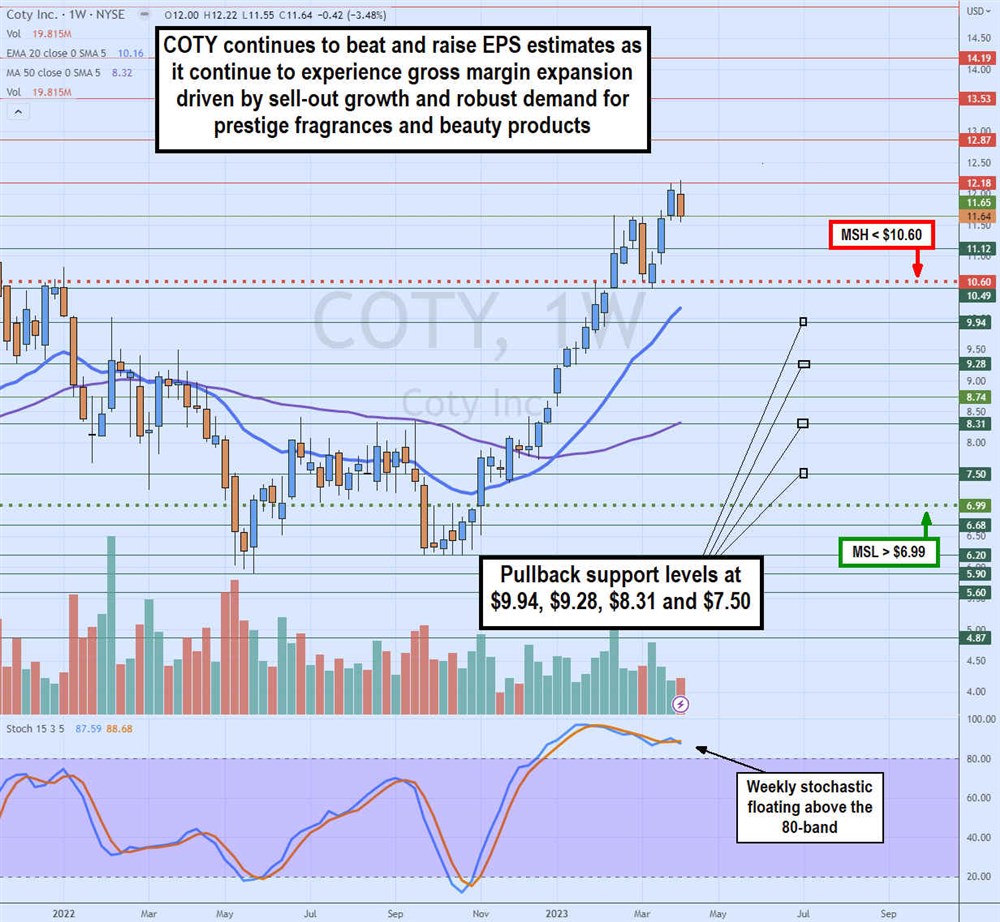 Rounded Bottom Breakout
The weekly candlestick chart on COTY illustrates the rounded bottom recovery that commenced after peaking in January 2022. Shares bounced back to breakout through the $11.12 peak in February 2023. Shares formed a weekly market structure high (MSH) trigger at $10.60 before bouncing back up to retest the $12.18 resistance level.
The weekly stochastic is overbought as its been floating above the 80-band since December 2022. The weekly 20-period exponential moving average (EMA) support is rising at $10.16, followed by its 50-period MA at $8.32. Pullback support levels are at $9.94, $9.28, $8.31, and $7.50.