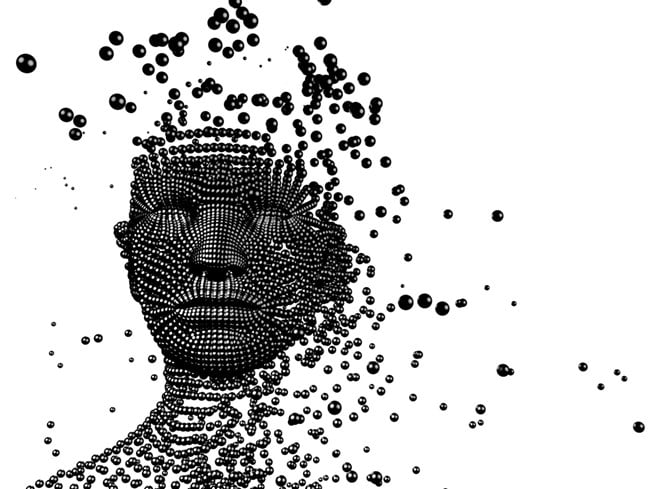 Every day has ushered in more and more headlines covering the AI platform ChatGPT as it becomes more and more mainstream. Artificial intelligence (AI) platforms have been around for over a decade, like International Business Machines Corp. (NYSE: IBM) AI platform Watson which launched in 2011.
However, it's finally becoming useful in everyday applications for everyday people, and the general public is eating it up. The key has been the parent company OpenAI's GPT-3 series language model, which has evolved for over a decade. It will improve with more usage, and it's getting plenty of that.
From writing term papers to computer programs and cooking recipes, ChatGPT has captured the attention and imaginations of over 100 million users worldwide in January 2023, only launching two months prior. Its investors include Tesla Inc. (NASDAQ: TSLA) CEO Elon Musk and  Microsoft Inc. (NASDAQ: MSFT), who initially invested $1 billion in OpenAI and will be investing up to $10 billion as it incorporates ChatGPT into its applications.
ChatGPT has kicked off the AI trend in stocks for 2023. One of the most notable and easy-to-remember stocks leading the rally has the appropriate stock symbol AI. Enterprise AI platform provider C3.ai Inc. (NASDAQ: AI) stock has shot up 35% since our MarketBeat Originals article covering the stock less than two weeks ago.
Enterprise AI
ChatGPT is tailored for mainstream applications and has announced a $20 per month ChatGPT Plus subscription option. C3.ai has been providing enterprise AI for over a decade. C3.ai provides companies with a scalable AI platform as a turnkey solution to predictive modeling. It is a crucial benefactor of the growth of AI. Its platform can accommodate non-coding to deep coding for developers. It was named a 2022 Forrester Wave Leader in the AI and Machine Learning Platforms.
C3.ai Generative Suite Launch in March 2023
The C3 Generative AI Product Suite assimilates the latest AI capabilities from Open AI, academia, and Alphabet Inc. (NASDAQ: GOOGL). ChatGPT and GPT-3 are incorporated into C3 AI's enterprise products.
On Jan. 31, 2023, C3.ai announced the launch of its first product in its C3 Generative AI Product Suite called C3 Generative AI for Enterprise Search. It allows enterprise users to use its natural language interface to quickly locate, acquire and present all relevant data across a company's information systems.
The C3 Generative AI Product Suite entrenches advanced transformer models with its pre-built AI applications. It speeds up the client's ability to leverage the models. C3 Generative AI will speed up business and industry transformations in the supply chain, aerospace, utilities, oil & gas, sustainability, financial services, healthcare, defense, and intelligence.
C3.ai president Thomas Siebel commented, "C3 Generative AI fundamentally changes the human-computer interaction model of enterprise application software. Combining the full potential of natural language, generative pre-trained transformers, enterprise AI, and predictive analytics will change everything about enterprise computing."
A Gamechanger
The former commanding general of the U.S. Army Cyber Command, retired Lt. General Ed Cardon, commented, "This is game-changing for U.S. DoD, game-changing for the U.S. intelligence community, and game-changing for ubiquitous information access and insight. This technology breakthrough can help dissolve the biggest barrier to effective action, which is access to timely, accurate information and insight at all levels of the organization."
Consumption-Based Pricing Model
C3 earnings suffered in the short term as it switched over to a consumption-based model. It caused C3.ai to guide down its fiscal Q3 2023 guidance as new clients will only be paying small upfront costs. The consumption model enables more flexibility for companies during economic contractions, which helps lower churn for C3.ai and keep those clients that may otherwise have to cancel their contracts amid normalization and layoffs. It also makes onboarding new clients more economical.
It should pay off in the long run, just like when companies switched to cloud-based software-as-a-service (SaaS) subscription models.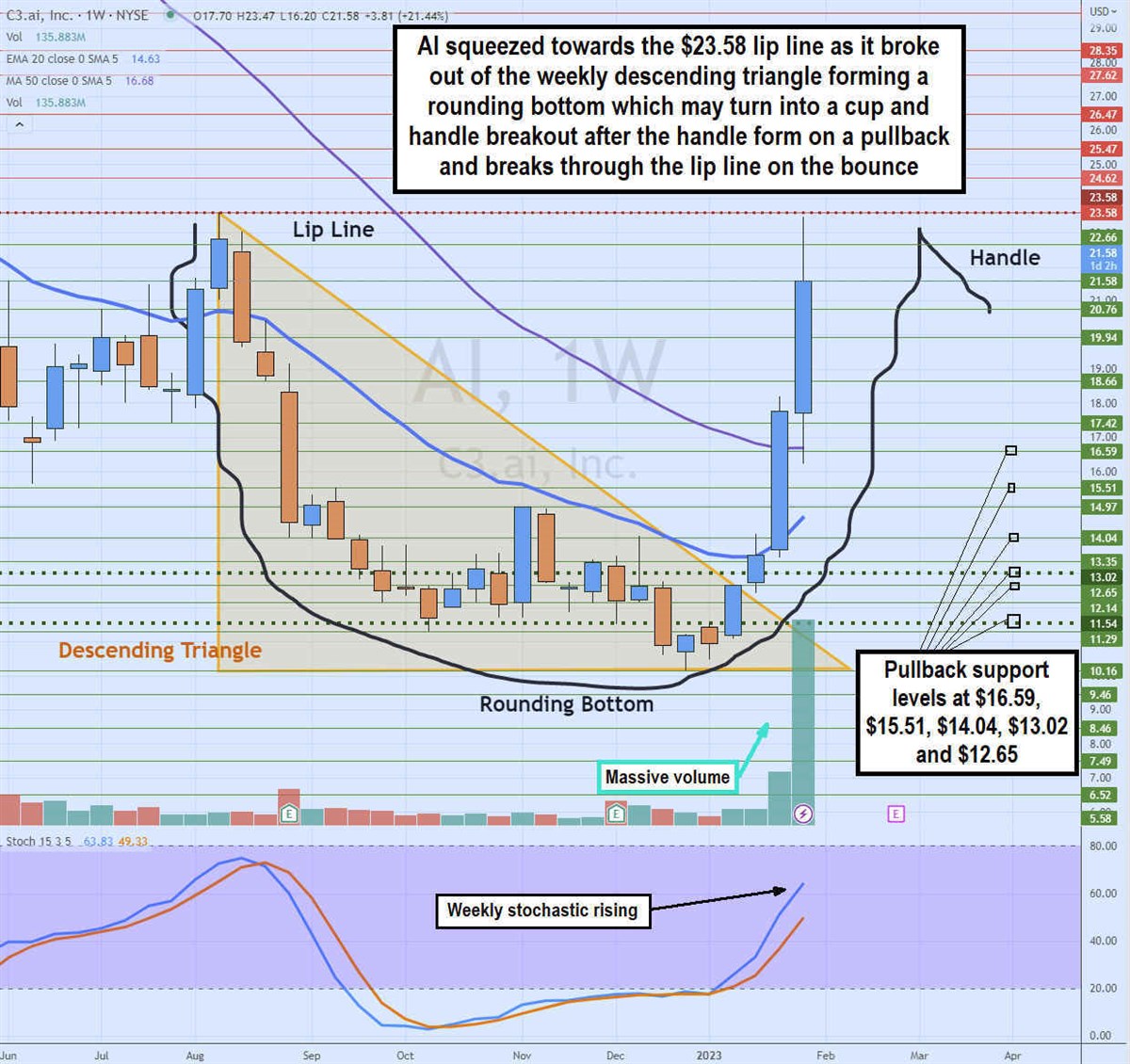 Descending Triangle to Rounding Bottom to Cup and Handle
Our previous article detailed the breakout of the weekly descending triangle formation on the rise through $12.65, further accelerating the weekly market structure low (MSL) trigger through $13.02. The continued extension forms a rounding bottom on the weekly chart as it approaches the cup lip at $23.58, where the descending triangle also commenced in August 2022.
The weekly 20-period exponential moving average (EMA) sits at $14.63, and 50-period MA sits at $16.68, both support levels now. The weekly stochastic continues to rise towards the 80-band. A pullback from the lip line will form the handle, either continuing to sell off or bounce and breakout through the lip line to trigger the cup and handle breakout.
Pullback supports sit at $16.59, $15.51, $14.04, $13.02, and $12.65.