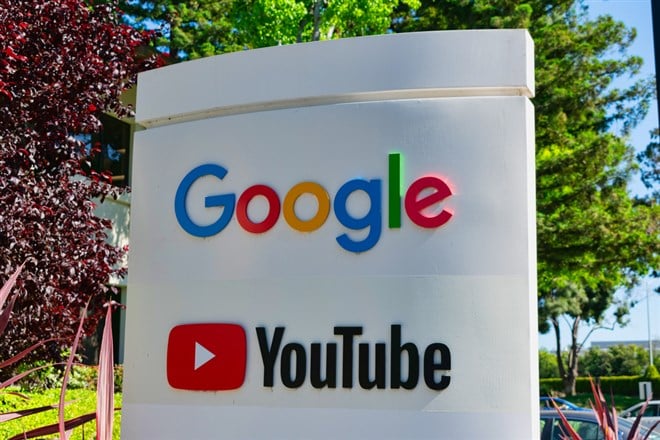 Alphabet (NASDAQ: GOOG) has evolved into becoming one of the world's most used tech companies and the most recognizable. Looking at some of the numbers: 99,000 searches are made on Google per second, and around 3.7 million videos are uploaded to YouTube every day.
Founded by Stanford Ph.D. students Larry Page and Sergey Brin in 1998, Alphabet has grown to become one of the most capitalized stocks in the S&P 500 at $1.195 trillion in value at the time of writing. Alphabet's acquisition of YouTube is a large part of its success, as it's currently the second-most visited site on the internet and second only to Google.com.
If you invested $2,000 on the day the YouTube acquisition was announced on October 9, 2006, you'd now have $15,580, with Alphabet's stock surging 776.50% from then to today.
With that said, Alphabet's share has recently fallen on some hard times, as it has lost 32.26% of its value over the past year. 
So let's cover why Alphabet's discounted share price is good for investors to get on board with.
High-quality earnings
One fact that Alphabet bulls will love is that its peak earnings per share (EPS) was $1.01 in 2014, while its price-to-earnings (P/E) ratio floated around the 26.50 mark. Today, Alphabet boasts a superior EPS of five times that at $5.04, and its P/E is 31.32% lower at 18.2.
Alphabet was hit by a sector rotation from tech and growth stocks to value stocks near the end of 2021, which could be seen as unjustified through a certain lens.
Alphabet has operations in more than a dozen countries, with its core business (Google) being the largest source of revenue. This gives Alphabet a competitive edge over its rivals, as it can leverage its immense scale to drive down costs and increase efficiency. Moreover, Alphabet's broad portfolio of businesses gives it a cushion in case one of its divisions isn't performing.
In addition to its size and diversification, Alphabet's stock is also attractive due to its high earnings quality. Despite its massive size, Alphabet has managed to maintain a low debt-to-equity ratio and a healthy balance sheet. This means that Alphabet can make investments in its businesses without taking on too much debt, which can reduce its risk profile.
Strong economic moat
Alphabet's most important economic moat is its Google search engine. Google is the world's most widely used search engine, allowing Alphabet to generate tremendous amounts of revenue from advertising. In September last year, its group revenue stood at $69.09 billion, growing 6.1% year over year.
Another important element of Alphabet's economic moat is its vast portfolio of patents. Alphabet holds many patents related to its products and services (79965), which help it protect its intellectual property. Moreover, Alphabet constantly innovates and introduces new products and services, reinforcing its competitive edge.
Alphabet's economic moat is also strengthened by its ability to leverage its financial resources. With a strong cash and cash equivalents position ($139.64 billion) and a large market capitalization, Alphabet is well-positioned to make strategic investments and acquisitions that can help to expand its competitive advantage. Additionally, Alphabet has a large and loyal customer base, which gives it a significant edge over its competitors.
Positive outlook
Over the long term, Alphabet is well-positioned to benefit from the continued growth of the digital economy. As more people turn to digital services for their daily lives, Alphabet will likely continue to benefit from the increased demand for its products and services. Additionally, Alphabet has made significant investments in artificial intelligence and machine learning, which are likely to positively impact its long-term business outlook.
In the short term, things are also looking up for the company. The MarketBeat consensus price target gives it a 43.3% upside at the time of writing, while Wall Street also projects that it will grow its EPS from $4.68 to $5.04 per share. 
Furthermore, 32 out of 37 analysts currently rate the stock as a buy, and short-term traders also think it will continue to rise higher as its short-interest ratio rests at a healthy 0.33%.