Herzeliya, Israel, June 26, 2023 (GLOBE NEWSWIRE) -- Beamr Imaging Ltd (NASDAQ: BMR), a leading provider of video optimization solutions, today announced the first beta version of its highly anticipated video optimization service. Beamr's new file-to-file optimization service aims to bring cutting-edge technology.
As part of the beta launch, Beamr is offering a free trial for users to test the service. During this phase, users will have the opportunity to process video content for free until reaching savings of 100GB. This will enable them to experience the remarkable benefits of the Beamr optimization service first hand. To access the beta version, users can register for the cloud-based application programming interface (API) and find the accompanying documentation on the Beamr service. These APIs will make our service easy and safe to use and also enable our customers with automation at large scale.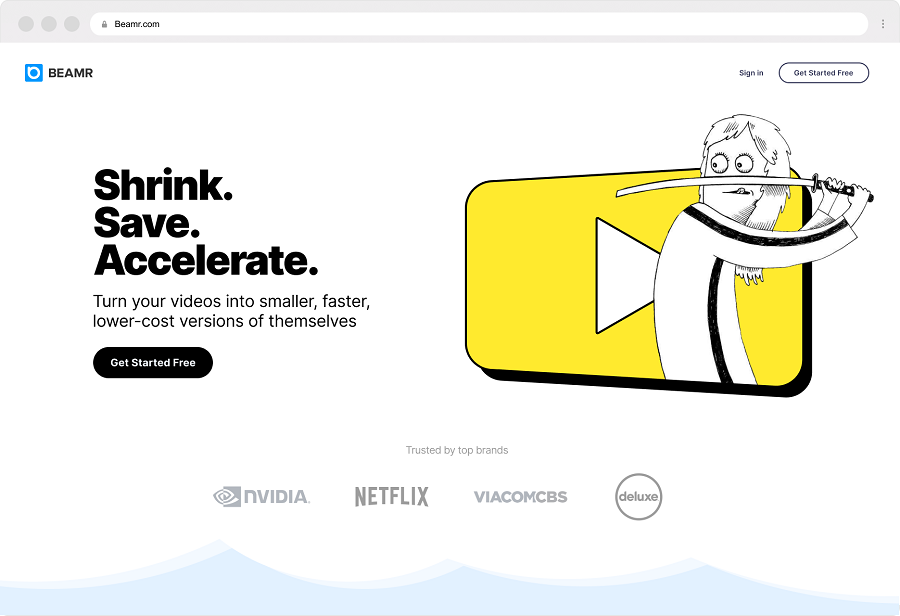 Figure 1: The new beamr.com homepage
"The timing couldn't be better," said Beamr CEO, Sharon Carmel. "We are thrilled to introduce the first beta version of our upcoming service, just four months after Beamr's IPO on NASDAQ. Our accelerated progress has enabled us to bring forward our original Q3 2023 timeline, demonstrating our commitment to delivering a full-service launch in Q1 2024."
The next step, in Q3 2023, will be enhancing our previously announced service with Nvidia's NVENC Hardware accelerated video encoding integrated with Beamr our Content-Adaptive Bitrate (CABR) optimization capabilities. The integration with Nvidia is designed to significantly improve processing speed, reduction in costs and increased speed by up to 10 times.
One of the key advancements that sets Beamr's service apart from others is the integration of the Emmy award-winning CABR technology which guarantees video quality while reducing the video file size significantly (see savings column in the figure below).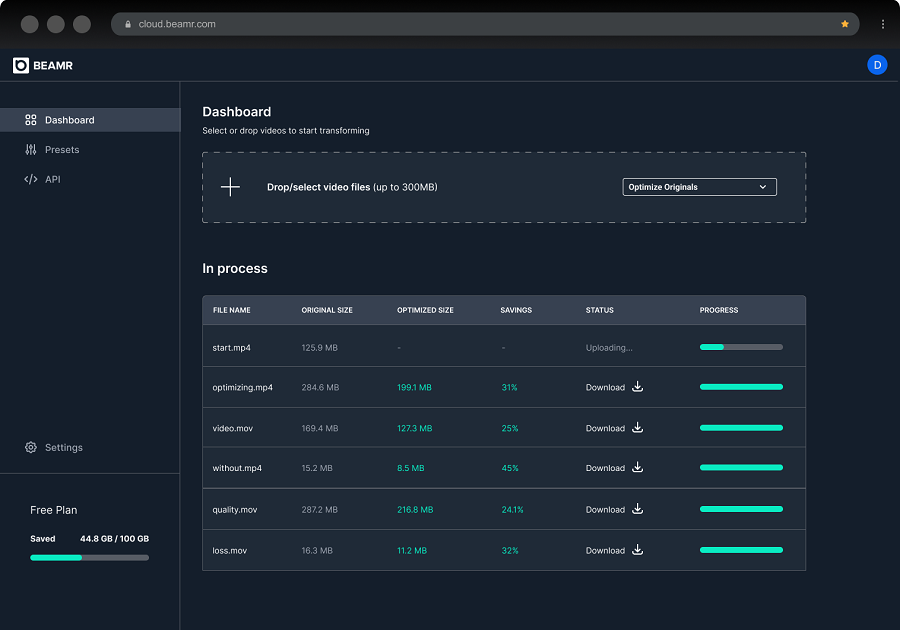 Figure 2: Beamr service dashboard
Beamr's Chief Product Officer, Dani Megrelishvili, highlighted the significance of the beta phase and Beamr' objectives, stating, "Our primary goal with the beta release is to introduce the service to a wide audience, gather valuable feedback on its usability and value proposition, and actively engage with our partners and users to ensure the service is fully operational and fine-tuned before its official launch."
Megrelishvili further emphasized the capabilities of the service, stating, "Today at the launch of our service, we are proud to support an essential use case. We provide video optimization, maintaining the current video standards of AVC to AVC (advanced video coding) and HEVC to HEVC (high efficiency video coding). In the near future we also plan to allow codec modernization, facilitating the transition from AVC to HEVC video. The new modernization approach is expected to allow us to double down on optimization and provide superior video encoding simultaneously. We believe this will serve as an accelerator towards adopting more advanced standards."
The global cloud video storage market is projected to grow to $13.5 billion in 2025, with anticipated average savings to be approximately 30%, or $4.05 billion. This results in each 1% of savings creating $40.5 million of value. For example, for a partner with 2 PetaBytes (2PB) of hot storage, an annual storage cost of $500,000 is expected, with savings of $150,000 a year and $50K in revenue for Beamr, which is based on our current plans to charge customers a third of the value created on average (for more information please see the Beamr company presentation bit.ly/46ute0y). The above projections are subject to a number of assumptions, including, but not limited to: (1) we may choose to change our plans to attract customers; (2) we have no data as to what our market penetration will be, which can be below 1% or a multiple percentage; (3) the potential revenue is calculated using standard pricing from Amazon Web Services, or AWS; (4) our SaaS operation is expected to be based on spreads in which we first pay AWS for computing platforms and then sell storage and bandwidth savings; and (5) our SaaS profit will be dependent on a number of factors, including, but not limited to, the overall service efficiency.
To join the beta and experience the future of video optimization, visit cloud.beamr.com and register for early access. Stay tuned for further updates and exciting developments as Beamr continues to revolutionize the way of optimizing video content and lowering storage and networking costs.
About Beamr
Beamr (Nasdaq: BMR) is a world leader in content adaptive video solutions. Backed by 53 granted patents, and winner of the 2021 Technology and Engineering Emmy® award and the 2021 Seagate Lyve Innovator of the Year award, Beamr's perceptual optimization technology enables up to a 50% reduction in bitrate with guaranteed quality. www.beamr.com
Forward-Looking Statements
This press release contains "forward-looking statements" that are subject to substantial risks and uncertainties. Forward-looking statements in this communication may include, among other things, statements about Beamr's strategic and business plans, technology, relationships, objectives and expectations for its business, the impact of trends on and interest in its business, intellectual property or product and its future results, operations and financial performance and condition. All statements, other than statements of historical fact, contained in this press release are forward-looking statements. Forward-looking statements contained in this press release may be identified by the use of words such as "anticipate," "believe," "contemplate," "could," "estimate," "expect," "intend," "seek," "may," "might," "plan," "potential," "predict," "project," "target," "aim," "should," "will" "would," or the negative of these words or other similar expressions, although not all forward-looking statements contain these words. Forward-looking statements are based on the Company's current expectations and are subject to inherent uncertainties, risks and assumptions that are difficult to predict. Further, certain forward-looking statements are based on assumptions as to future events that may not prove to be accurate. For a more detailed description of the risks and uncertainties affecting the Company, reference is made to the Company's reports filed from time to time with the Securities and Exchange Commission ("SEC"), including, but not limited to, the risks detailed in the Company's annual report filed with the U.S. Securities and Exchange Commission (the "SEC") on April 24, 2023 and in subsequent filings with the SEC. Forward-looking statements contained in this announcement are made as of the date hereof and the Company undertakes no duty to update such information except as required under applicable law.
Investor Contact: