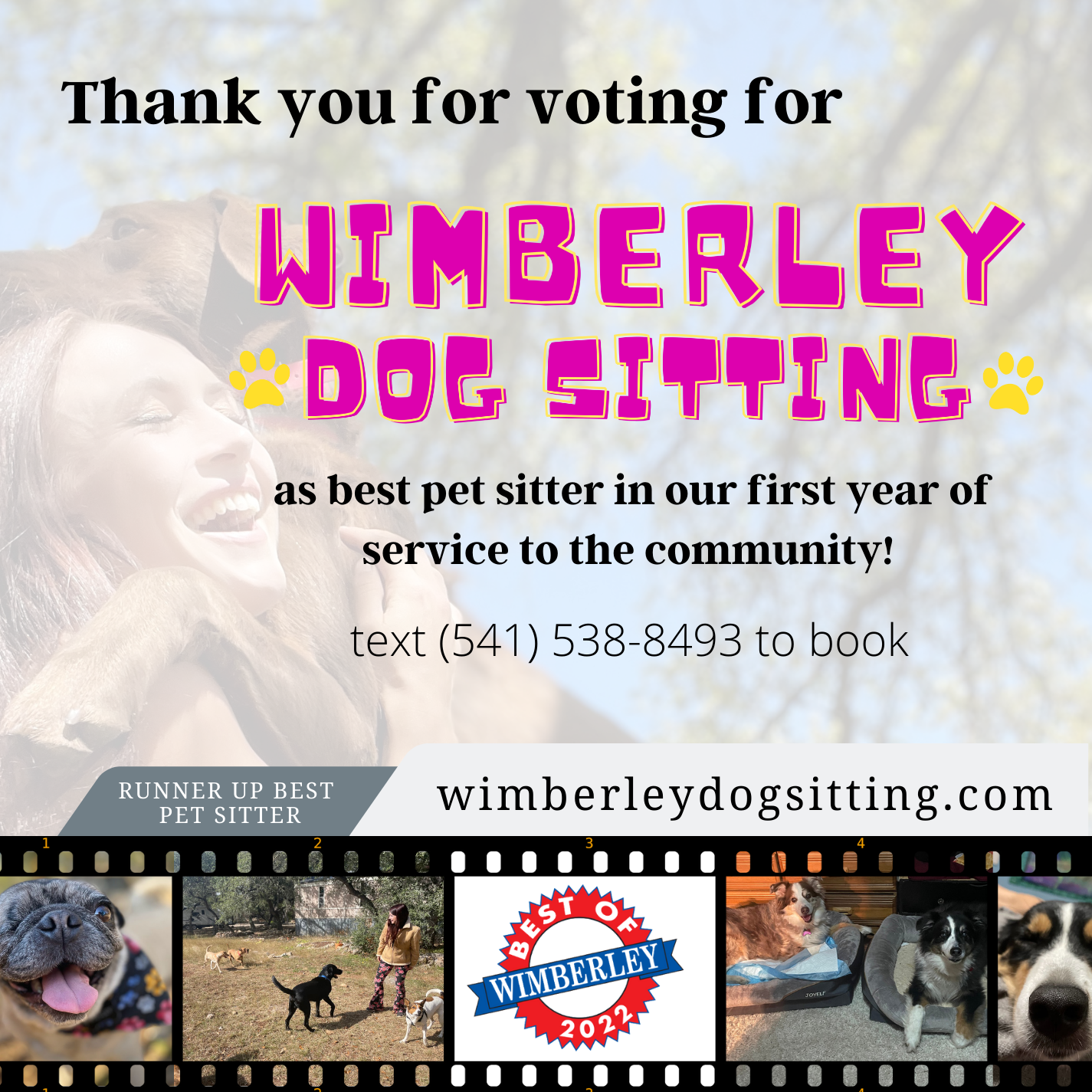 The votes are in and Djemilah Birnie, the owner of Wimberley's newest pet sitting business - Wimberley Dog Sitting, is celebrating their "Best of Wimberley" win by being voted the "runner up best pet sitter" in their first year of service to the community.
May 12, 2022 - Wimberley, Texas - Wimberley Dog Sitting has been serving the Wimberley community since November of 2021 after seeing the great need for this service in Wimberley Texas during the Thanksgiving holiday (and falling in love with several pups). After doing some dog sitting on the side, the founder, Djemilah Birnie, decided to fully dive into providing a professional, loving, and safe dog sitting and dog boarding environment for the pets of Wimberley. Djemilah has always had a great love for animals of all kinds, but dogs in particular she has had a special bond with. Growing up as an only child on a farm- her dog became her best friend and that love for animals has only continued to grow over the years. 
Wimberley Dog Sitting wants to make sure that every pup that stays with them has the best experience possible, which is why they require a detailed intake form about your pet prior to boarding or daycare. In addition to this they are bonded and insured through the Pet Sitters Association LLC. Djemilah Birnie is passionate about providing a high quality, safe, and fun environment for everypup! For that reason she is always continuing her education to add additional tools to her tool belt and has taken classes in; Simple Solutions for Common Dog Behavior and Training Problems, The Treatment and Prevention of Aggression: Biting and Fighting, Crucial Concepts in Dog Behavior and Training, and Djemilah has completed Cat and Dog First Aid Training via the American Red Cross.
To learn more about Wimberley Dog Sitting visit: https://wimberleydogsitting.com/ 
About Djemilah:
Djemilah Birnie is an author, mother, and entrepreneur. She is passionate about spending time outdoors and loves to create. You will often find her in the garden, playing with the pups, taking photos, and even making Reels with her furry friends!
To learn more about Djemilah, go to https://www.djemilah.com/
Media Contact
Company Name: Wimberley.Info
Contact Person: Trey Carmichael
Email: Send Email
City: Wimberley
State: Texas
Country: United States
Website: wimberley.info