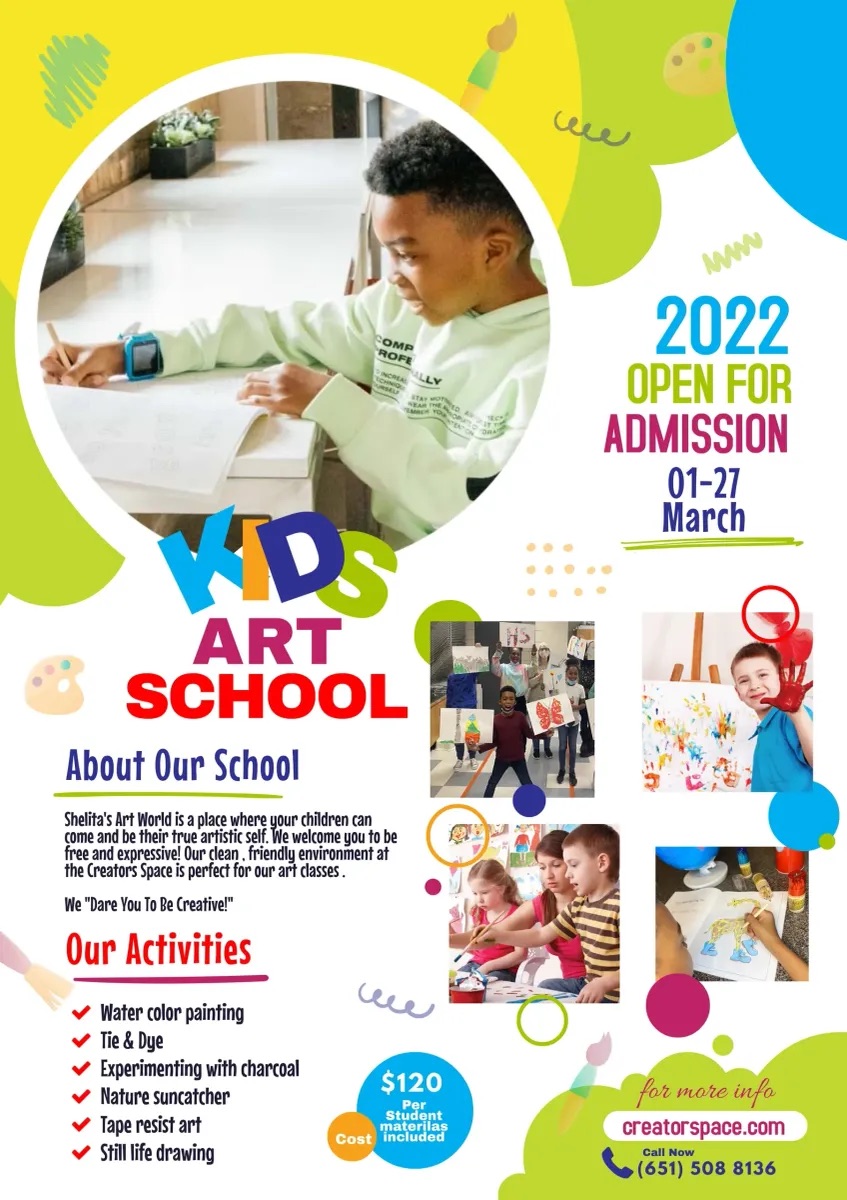 Shelita's Art World
Shelita's Art World is a place where your children can come and be their true artistic self. Your child is welcomed to be free and expressive
March 24, 2022 - Minneapolis, MN - Engaging in art is essential to the human experience. Art education helps children explore their innovative side, develop motor skills, communication skills, socialization, cognitive decision-making, attention, and intention. Visual arts teach learners about color, layout, perspective, and balance: all techniques that are necessary in presentations (visual, digital) of academic work.
Shelita Dietrich, founder, and CEO of Shelita's Art World has had a passion for art ever since she was an infant. Born and raised in Jamaica, she moved to Minnesota four years ago with nothing but her son and a dream.  "My goal as an artist and entrepreneur is to inspire everyone out there who has a passion for art or aspires to be an artist but is afraid to take that leap of faith that it can be done." Shelita started her business eight years ago while still living in the islands. Her vision was bigger than circumstances would allow it to expand. On faith, she relocated to America, to pursue a new world of opportunities
Shelita has been an artist since age 6. Therefore, she believes in nurturing the creative imaginations of children. Being an Island-born female artist in a male-dominated industry, she's managed to defy the odds. In 2017, she was the recipient of The Youth Empowerment Award for Fine Arts and has now published a motivational coloring book. Her talent has gifted her the opportunity to give back to her community in Jamaica by providing school supplies to children in low-income homes. "My coloring book is motivational because not only does it show that in the images, but they are also all followed up by motivational quotes. The book is not just filled with beautiful images but also words that explains why each image looks the way they do." says Shelita.  
Minneapolis/ St. Paul is long known for its vigorous history in art. This is what excites Shelita to create a unique opportunity for the children of these communities. Shelita's Art World is now offering kids spring art classes at the Creators Space in St. Paul. Your child will be in the perfect environment at the Creators Space in St Paul that is filled with experts and creatives they can connect with. The classes will focus on 6 life skills your child needs to succeed in life. Art is an expression and should be cultivated. This program offers learning a loving art in a unique way and is an affordable investment in your child's future. Shelita, shared, "My techniques in portrait drawing are manually and deliberate to being sentimental. I have simultaneously created pieces an extension from the past, what's happening today and a snippet into the future. Each stroke of my pencil reveals a significant part of my muse's features, it tells a story happy, sad, excited etc. I feel a great sense of purpose when I see how my art affects my audience positively and for this, I know that I am doing what I was called to do."
There's still time to register for the spring art classes, held on Saturdays from 3pm- 5pm, starting April 2, 2022- June 25, 2022. The classes motto is "Dare You To Be Creative" and the activities will include -
Watercolor painting
Tie & Dye
Experimenting with charcoal
V Nature suncatcher
Tape resist art
Still life drawing

The cost of the spring art program is $120 for the season or $35 per session.  Registration is available at https://shelitaartworld.com/
Media Contact
Company Name: Shelita's Art World | Shelita Visual Arts
Contact Person: Media Relations
Email: Send Email
Phone: 651-508-8136
City: Minneapolis
State: MN
Country: United States
Website: https://shelitaartworld.com/