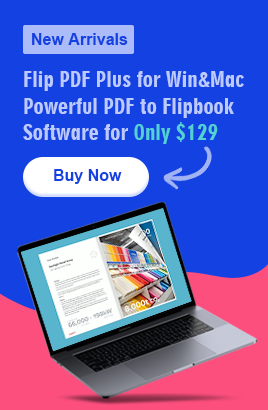 Create a flipbook online that empowers digital marketing campaigns with enticing content.
Flipbooks are a more appealing way to present content digitally and get audiences' attention. Flip PDF Plus makes it easy to create a flipbook online in minutes.
Flipbooks are a modern-day wonder. They take ordinary content and present it in extraordinary ways; they also make great content more attractive to audiences. Another benefit is the accessibility that flipbooks provide, reaching audiences all over the world in ways traditional books can't. FlipBuilder offers a quick and easy way to create a flipbook online. Whatever the type of publication that's needed, Flip PDF Plus is the answer. And with Black Friday approaching, users can expect great deals.
Flip PDF Plus is the simplest way to create a flipbook online. One only has to import the PDF version of their publication to the software and it will be automatically converted to a dynamic flipbook in no time. They can publish the flipbook as-is or use Flip PDF Plus's amazing features to make it even more appealing.
Users can apply premade templates, themes, backgrounds, and scenes to their flipbook when they use Flip PDF Plus to create a flipbook online. They can also define template details and customize their own templates by saving the book configuration. Flip PDF Plus allows for the addition of multimedia elements such as audio, video, hyperlinks, and animation to make flipbooks more fascinating.
Flip PDF Plus offers a cloud publishing service for persons who use the platform to create a flipbook online. They don't even need FTP or other upload tools. An embed code is available to embed flipbooks in websites and blogs. Plus, users can easily share their flipbooks on social media or via email. If they have multiple flipbooks, they can display them in a digital bookcase from FlipBuilder.
There are several output options available to users when they create a flipbook online using Flip PDF Plus. These include HTML, EXE, Zip, Mac App, Android Application, and WordPress Plugin. The flipbooks will be accessible on browsers as well as iOS and Android mobile devices.
Once users create a flipbook online and upload it, they can get real-time customer insight data by integrating their Google Analytics account in the flipbook. They can see the flipbook's performance so that they can make any required adjustments.
Flip PDF Plus is designed to create a flipbook online in the most advanced way," says Sam Huang, Senior Software Development Engineer of FlipBuilder.
Learn more about creating a flipbook online at FlipBuilder.
About FlipBuilder
FlipBuilder is a simple yet professional way to create a flipbook online.


Video Link: https://www.youtube.com/embed/sFxLq23m0RA
Media Contact
Company Name: FlipBuilder.com
Contact Person: Customer Service
Email: Send Email
Phone: +86 020-61972665
Country: China
Website: https://www.flipbuilder.com/